Daenerys Targaryen is the Mother of Dragons, the Unburnt, the Breaker of Chains. But how will she fare with working-class white men in the Rust Belt?
"Game of Thrones" has paralleled real-world American politics for much of its eight-year run, but the most recent episode Sunday earned special notice among viewers for the way it mirrored gendered ideas of "electability" ahead of the 2020 election.
Twitter users and "Game of Thrones" commentators dissected a pair of conversations between Daenerys' steadfast adviser, Tyrion Lannister (Peter Dinklage) and the cunning courtier Varys (Conleth Hill), whose loyalties are more ambiguous.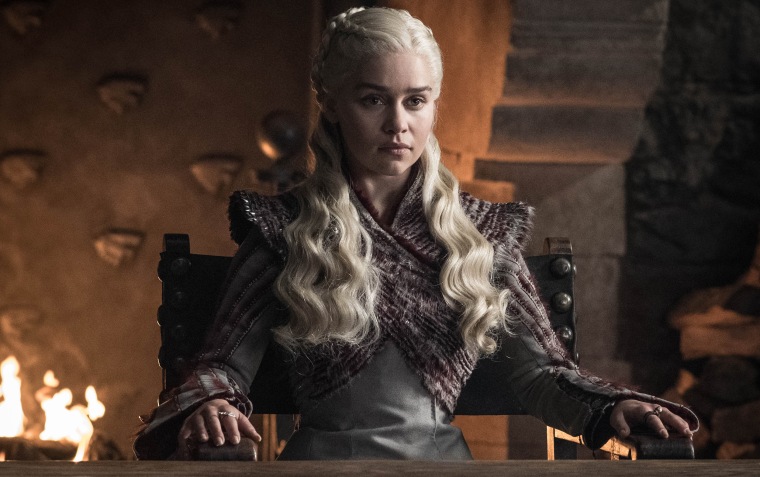 In discussing whether the Iron Throne belongs to Daenerys (Emilia Clarke) or the stoic warrior Jon Snow (Kit Harington), Varys made a case for the latter that might have sounded familiar to those who followed the 2016 election and await the 2020 Democratic primary battle.
In the first exchange, Varys touts what he considers signs of Jon's charisma and affability: "The fact is, people are drawn to him — Wildlings, Northmen."
"He's temperate and measured," Varys told Tyrion in a later scene, before adding another eyebrow-raising rhetorical flourish: "He's a man, which makes him more appealing to the Lords of Westeros, whose support we are going to need."
In the minds of some viewers, Varys sounded like some pundits who have suggested Democratic contenders Joe Biden and Bernie Sanders have a better shot at defeating President Donald Trump than Kamala Harris, Elizabeth Warren and other female candidates in the race.
"So basically Varys is just making an electability argument to buttress an incompetent Jon Snow to undermine a tough woman who has a plan and has worked tirelessly toward a goal in the service of others," Twitter user @THEKrishnaDesai tweeted. "Cool, cool, cool, cool."
The most recent episode also provoked debate around what some critics saw as last-minute changes to Dany's character arc and basic personality, drawing more comparisons to real-world political stereotypes.
Dany, once seen by her fictional allies and real-life admirers as a benevolent liberator who would "break the wheel" of tyranny and seek justice above all else, has lately been portrayed as ruthless and potentially despotic, too unstable to lead.
Is she unfit to rule the Seven Kingdoms, as Sansa Stark and her sister, Arya Stark, suggest? Is she doomed to become the "Mad Queen," gripped by insanity like her father, Aerys II Targaryen?
"The wildly popular show has started covering its frontrunner female candidate in much the same way that Hillary Clinton was treated during the 2016 election, relitigating her worst mistakes, overlooking her accomplishments, and suggesting that perhaps we've always been wrong to like her," Lindsey Mantoan, a professor at Linfield College, wrote for CNN.
The New York Times television critic James Poniewozik was among those who slammed how the series "seems to be warping Daenerys' character to engineer & prepare the audience for an outcome," as he said on Twitter.
Meanwhile, on the real-world campaign trail, several of the female Democratic candidates have tackled the gendered (and sometimes racialized) idea of "electability" head-on.
"In 2018, I flipped 18 Trump counties in NY," Sen. Kirsten Gillibrand tweeted Sunday, linking to a New York Times article about candidates who have encountered misogyny during the campaign so far.
"So yes, I'm 'electable.' But I'm also the right candidate to take on Trump because I have the experience, vision and record to win," Gillibrand added.
It is at least symbolically meaningful that Warren, who was recently asked if voters should feel confident that Americans are ready for a female president, has publicly picked her preferred candidate for the Iron Throne.
"Daenerys 'Stormborn' Targaryen has been my favorite from the first moment she walked through fire," Warren wrote for The Cut last month.
"A queen who declares that she doesn't serve the interests of the rich and powerful? A ruler who doesn't want to control the political system but to break the system as it is known? It's no wonder that the people she meets in Westeros are skeptical," Warren added.