Cows exploding, leaked videos, and a nasty fight between a farmer and the agribusiness he takes on sets the stage for a new Hulu original comedy series whose producer might surprise you more than the detonating livestock.
"Farmed and Dangerous," a comedy set in the world of industrial agriculture, explores a new frontier in branded entertainment and is brought to you by fast food chain, Chipotle Mexican Grill. Impressively, the four-episode series never tries to directly sell tacos and burritos, even though it's produced by Chipotle and Piro, a New York film and television studio.
Instead, it satirizes the debate between sustainable farming and industrial agriculture practices with the goal of getting viewers (and Chipotle customers) to care more about the food they eat. In the series, an industrial agriculture corporation (Animoil) saves money by feeding cows petroleum-based animal pellets called PetroPellets. Ray Wise ("Good Night, and Good Luck" and "Twin Peaks") plays spin doctor Buck Marshall of the Industrial Food Image Bureau who is hired by Animoil to fix its image when a video of an exploding cow is leaked and goes viral. In the midst of that insanity, there's also a brewing romance between sustainable farmer Chip Randolph (John Sloan), who leaked the video, and Buck's daughter, Sophia (Karynn Moore).
Playing dapper men with a naughty side comes easy to Wise. But the veteran actor has never done it for a Web series, and his boss has never been a fast food chain. None of those things mattered to him when he considered the role.
"I approached it the way I approach everything—like a theatrical project," he said. "I was not really concerned about the medium or that Chipotle was behind it. They had a very light footprint in the whole production. I have to give them all the credit in the world for starting a new model for this kind of show. It's the wave of the future and I'm glad to be in on the ground floor of it. It's something new, something different, and I think it's going to matter to people."
Chipotle has spent $1 million on the series, but the company's name is spoken only once and seen only once in the four 22-minute episodes. The opening and closing credits don't disclose Chipotle's involvement either.
It's a long way from the in-your-face product placement strategies we've grown used to: "New Girl" plugged a Ford Fusion in its post-Super Bowl episode; everyone on "Shark Tank" uses T-Mobile phones. But it's how Chipotle has determined it prefers to reach its customers as the company has committed to spending more money on its ingredients than its advertising, and has publicly denounced issues in the agriculture industry, such as the overuse of antibiotics on animals.
"A big television ad campaign would wipe out our marketing budget so we have to take a very different approach to marketing," said Chipotle's chief marketing and development officer Mark Crumpacker. "What we wanted to do was create entertainment first that would engage people on these issues. Whether they figure out or not that Chipotle has anything to do with it and they come out caring a little bit more about where food comes from, or realizing that they never knew that, that indirectly benefits Chipotle. Of course, that's a very long-term game we're playing there in terms of changing people's perceptions of food."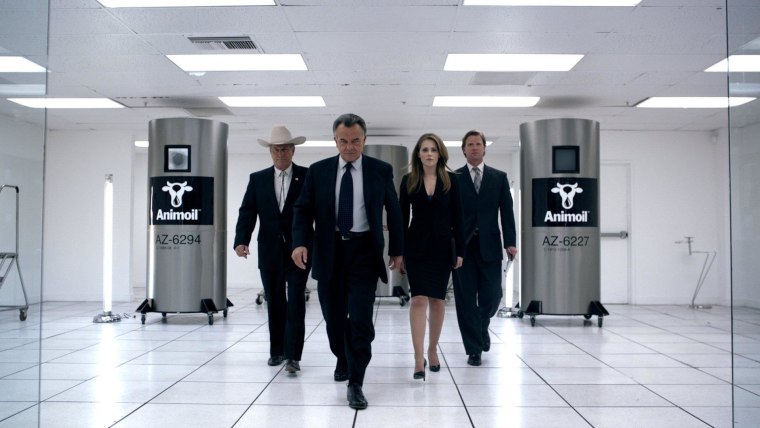 Branded entertainment and content marketing is everywhere now, but Chipotle has been breaking ground over the last two years with a strategy that seeks to build an emotional connection to its brand by creating educational and discussion-driven content. Two short animated videos about how its food is prepared, "Back to the Start," and "The Scarecrow," featuring songs by Willie Nelson and Fiona Apple, generated a combined 20 million YouTube views. The company will now test new waters with long-form entertainment.
"Chipotle has really figured out what they want to say to a certain group of consumers and they're looking at new ways to say that," said Jackie Kulesza, a senior vice president at the ad-buying firm Starcom. "This is an area where we're seeing a great amount of creative attention being paid. Certainly, innovative product placement has been going on in television and in the digital space for a while. But what they're doing is absolutely on brand and it's interesting that they're focusing on these things first before a more mass media strategy."
Although Chipotle is not the first company to venture into this territory, its approach is more subtle and ambitious than some of the other product-oriented brands that have made the transition from creating ads to creating entertainment. Subway, for example, produced the Hulu comedy hit "The 4 to 9ers," which featured people working at the sandwich shop. Ikea was successful with Illeana Douglas' "Easy to Assemble," in which she quit her Hollywood career to work at an Ikea store. Jason Bateman and Will Arnett starred in and produced three shorts for Wrigley's Orbit gum brand, which featured a lot of gum-chewing.
"We've seen a lot of the ad industry going after branded entertainment funds and avenues," said Tim Piper, co-founder of Piro and director of the series. "The difference with Chipotle is the collaboration between agency creatives who spent their lives creating great ads and Hollywood creatives who have spent their lives creating great stories. We don't see many of them teaming up and working on a project together."
The impact of directly placing or integrating products into the content of a TV show or movie is certainly more easily measurable than the strategy Chipotle has taken, said Daniel Rosenberg, co-founder of Piro.
"But I don't think you can compare the value to the audience, especially when you're giving them something at this high production value," he said. "You're entertaining them, rather than interrupting them. You're adding value to their lives. We hope more brands move in this direction. It's about having an important thing to say."
"Farmed and Dangerous" will be presented weekly on Hulu and Hulu Plus, beginning on Monday.