Netflix will suspend production on the sixth season of its popular political drama "House of Cards" in the wake of sexual misconduct allegations against star Kevin Spacey, the streaming service announced Tuesday.
In a joint statement, Netflix and production company Media Rights Capital said the move would "give us time to review the current situation and to address any concerns of our cast and crew."
The company had already decided to end the series, in which Spacey plays scheming President Frank Underwood, after production wrapped on the sixth season.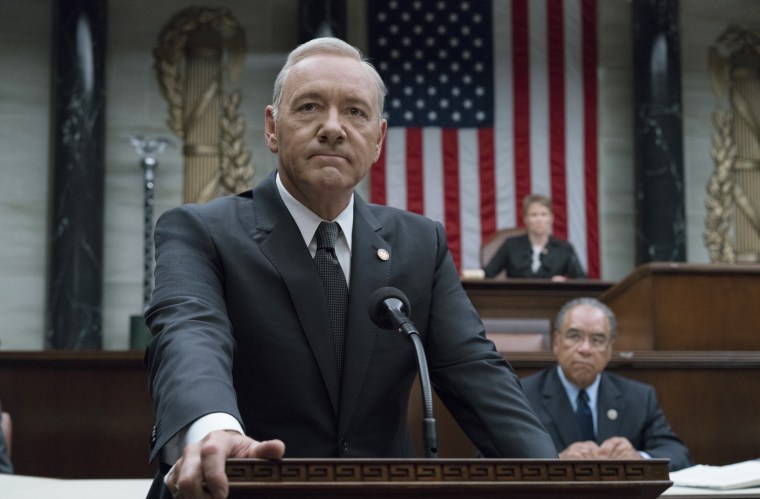 Spacey, 58, apologized Sunday after "Star Trek: Discovery" actor Anthony Rapp alleged the Oscar-winning actor made a sexual advance when Rapp was 14. Rapp, 46, was quoted in an interview with BuzzFeed New as saying Spacey climbed on top of him in a bedroom at a 1986 party in New York.
Related: Netflix Explores 'House of Cards' Spinoff Amid Kevin Spacey Controversy
Spacey, who would have been 26 or 27 in 1986, said in a statement Sunday night on Twitter that he didn't remember the alleged incident involving Rapp, but he wrote: "If I did behave then as he describes, I owe him the sincerest apology for what would have been deeply inappropriate drunken behavior, and I am sorry for the feelings he describes having carried with him all these years."
The embattled actor has been sharply criticized for appearing to conflate being gay with sexual misconduct against minors. In the statement, Spacey said the accusations from Rapp "encouraged me to address other things about my life ... I choose now to live as a gay man."
Netflix is considering a possible spin-off of the political thriller, according to The Associated Press. The series helped put Netflix on the map, proving that viewers would embrace original content on streaming platforms and leading the way to similarly successfully projects on Hulu and Amazon.