In the 1990s, Jerry Springer ruled American daytime television. He was the ringmaster of a vulgar circus, a brash showman who some critics accused of dumbing down the culture.
In the words of one magazine profile, Springer was a "purveyor of the puerile and arbiter of the aberrant."
He was also a small-screen pioneer.
The talk-show host, who died Thursday at 79, helped usher in a new era of television that is instantly recognizable to anyone who has scrolled through a cable guide in the last 30 years: gleefully lowbrow, unapologetically raucous and can't-look-away addictive.
Springer's cultural influence can be felt across several genres, from reality television shows and bombastic cable news broadcasts to the all-too-real political spectacles that blur the line between the two.
He intuited that the appetite for fist-throwing, chair-hurling, profanity-spewing, high-decibel chaos could be tapped for ratings gold. "The Jerry Springer Show," at its peak in the '90s, was a commercial smash and certifiable cultural phenomenon.
He was not the only talk-show provocateur of the time. Ricki Lake, Maury Povich, Sally Jessy Raphael and Montel Williams also treated their viewers to a seemingly endless parade of dysfunctional families and feuding couples.
But the Springer circus was the market leader by far. None of his competitors were big enough to inspire a feature-length film: "Ringmaster," a $20 million comedy starring Springer as a fictional version of himself named Jerry Farrelly, debuted in theaters in November 1998. (The tagline: "America's #1 Action Hero.")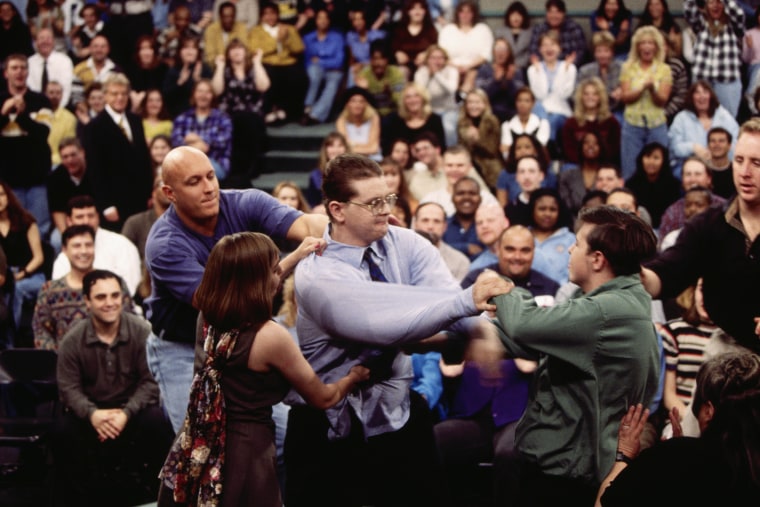 Springer was seen by some at the time as a pariah — the "new Satan," as the humorist David Sedaris wrote in an essay for The New York Times in 1998. Yet there was a disarming earnestness to his on-screen persona. Springer's catchphrase: "Take care of yourself, and each other."
In some interviews, Springer seemed to distance himself from the tabloid sensationalism of his most famous creation. After all, he was the former mayor of Cincinnati who had once worked on Robert F. Kennedy's ill-fated presidential campaign.
"I would never watch my show," Springer told Reuters in 2000. "I'm not interested in it; it's not aimed toward me. This is just a silly show. I don't take it seriously."
But in the same interview, Springer appeared to defend the worthiness of his creation, which often put a national spotlight on taboo subjects and outside-the-mainstream guests.
"When people argue about the show intellectually," he said, "then I'm prepared to answer about why I think it is OK to do it and why I think it's important that shows like that are on the air."
"The Jerry Springer Show" may have been built on nonstop confrontation between guests. But for years, Springer and his audience got along famously.
"Jerry's ability to connect with people was at the heart of his success in everything he tried," Springer family spokesperson Jean Galvin said Thursday, "whether that was politics, broadcasting or just joking with people on the street who wanted a photo or a word."