Kristen Stewart was so excited to make her hosting debut on "Saturday Night Live" that she just couldn't contain herself, letting an F-bomb slip before the first commercial break.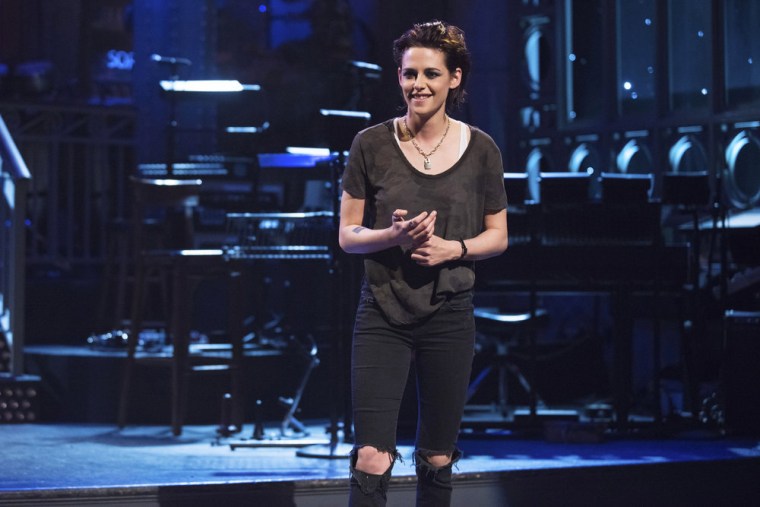 At the tail end of an opening monologue that mocked the "Twilight" actress for seeming "too cool for school," she wanted to let the audience know that she was actually thrilled to be there.
"We've got a great show and I totally care that I'm here 'cause it's the coolest f***ing thing that I've... Oop!" The actress quickly covered her mouth realizing what she had said as cast members Aidy Bryant and Kate McKinnon stood wide-eyed next to her.
Stewart did an embarrassed twirl before trying to recover.
"Oh my god, and I'm sorry, and (musical guest) Alessia Cara is also here. And I'll never come back," she said.
It was not the first time in the live show's 42-season run that the mother of all swear words has slipped out on air.
Featured player Jenny Slate was famously fired in her first season after fudging her first live sketch in 2009, and cast member Charles Rocket got a pink slip in 1981 after loudly uttering it at the end of a show. Seasoned players Norm McDonald, Paul Shaffer and Jon Lovitz all let it slip over the years without much public consequence.
Prince, Janet Jackson, Michael Stipe of R.E.M., Ad Rock of the Beastie Boys and Daron Malakian of System of a Down all lobbed F-bombs during performances as well. Samuel L. Jackson is thought to have let it out during a 2009 cameo, although the actor swears all he said was "fuh."
Before her foul-mouthed faux pas, Stewart delivered a humorous monologue about all the times President Donald Trump tweeted about her over the years.
"I'm a little nervous to be hosting because I know the president is probably watching, and I don't think he likes me that much," she began.
The actress said Trump wrote nearly a dozen tweets commenting on her former relationship with "Twilight" co-star Robert Pattinson, whom she dated off and on for four years.
"We broke up and then we got back together and for some reason it made Donald Trump go insane," she marveled.
"The president is not a huge fan of me, but that is so OK. And, Donald, if you didn't like me then you're really probably not going to like me now 'cause I'm hosting 'SNL' and I'm like, so gay, dude."
Here's a look at some of Trump's tweets about "Robsten" over the years.
Looks like the White House is definitively #TeamEdward.