There were plenty of jokes and a few tears Thursday as "The Daily Show" host Jon Stewart appeared on his last show, ending a 16-year run that established him as one of America's foremost satirists of politicians and the media.
"Guess what?" Stewart said. "I've got big news. This is it."
Stewart's final show began as what was billed as a report on the first Republican presidential debate, but which quickly turned into a reunion of correspondents who have appeared on the program over the years — including Lewis Black, Steve Carell, Ed Helms, Aasif Mandvi, John Oliver, and Stephen Colbert.
"Rather than saying goodbye, or goodnight, I'm just going to say: I'm gonna go get a drink."
Video cameos poked fun at the longtime host. Hillary Clinton sarcastically said: "And just when I'm running for president. What a bummer." Chris Christie said, "I'll never forget you, Jon — but I will be trying."
"Have fun feeding your rabbits, quitter," said Bill O'Reilly, a frequent target of Stewart's jabs.
Wolf Blitzer wished Stewart well as the screen behind him on the CNN set read, "Screw you, Stewart."
And Stewart's predecessor on The Daily Show, Craig Kilborn, gibed: "I knew you were going to run this thing into the ground."
Colbert offered Stewart a heartfelt thanks for providing the opportunities that launched many comic careers, which appeared to bring the host close to tears.
"You said to me and to many other people here years ago, never to thank you because we owe you nothing. It is one of the few times I've known you to be dead wrong," Colbert said. "We owe you, and not just for what you did for our careers … we owe you because we learned from you."
"You were infuriatingly good at your job, OK? All of us who were lucky enough to work with you for 16 years are better at our jobs because we got to watch you do yours — and we are better people for having known you."
All the correspondents surrounded the comic in a group hug as the show went into commercial break.
Stewart offered a soliloquy on what was his central job as host — finding doubletalk in the public arena and exposing it for the world to see, although he used a stronger term for it. He urged viewers to be vigilant in watching for it themselves. "If you smell something, say something," he said.
Stewart thanked the many people he's worked with on the show, Comedy Central which aired it, and the audience. He called the show "the most beautiful place I've ever been." He thanked his wife and two children "for teaching me what joy looks like."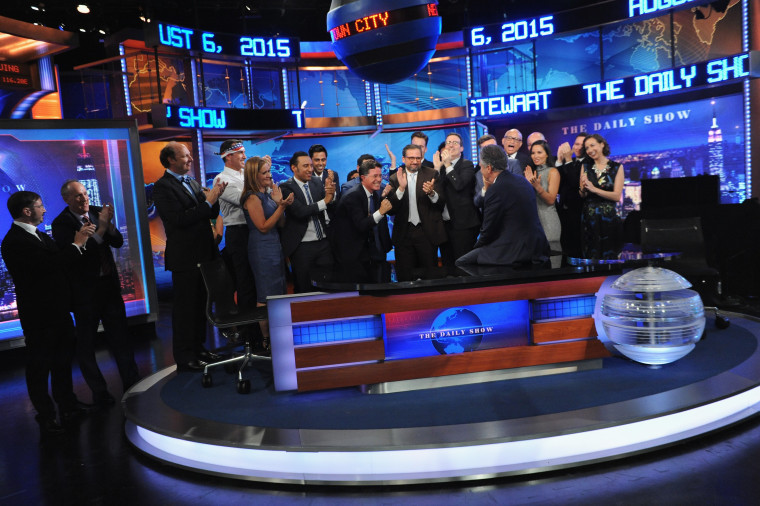 In his final comments as host, Stewart said he considered his time on the show to be a long conversation with the audience, and said Thursday was not the end.
"This is just, it's a conversation," Stewart said. "This show isn't ending, we're merely taking a small pause in the conversation — a conversation which, by the way, I have hogged, and I apologize for that."
"Nothing ends. It's just a continuation. It's just a pause in the conversation," Stewart said. "Rather than saying goodbye, or goodnight, I'm just going to say: I'm gonna go get a drink. And I'm sure I'll see you guys before I leave."
Those words were not the end of Thursday's show, either. Stewart presented "my moment of zen," which launched a performance by Bruce Springsteen and the E Street Band, who played "Land of Hope and Dreams," followed by "Born to Run."