The president of the United States on ABC's "Scandal" is a killer. But he's not alone: the two people running against him in his bid for re-election also have committed murder.
It's a fact not lost on crisis handler Olivia Pope (Kerry Washington), who in last week's episode laughed maniacally at the prospect of a "murderer's row" of political leaders vying for the nation's highest office. Fitzgerald Grant (Tony Goldwyn) is a promiscuous president who was elected illegally and who killed a Supreme Court justice with his bare hands to keep that secret. His vice president, now running against him, stabbed her husband to death after he slept with another man. The third candidate, the Maryland governor, murdered his wife's lover.
With its over-the-top take on life in Washington, "Scandal" is demonstrating "how dirty and dark it is behind the curtain of power," as Olivia put it in the episode. But it's not the only TV show going there. On Netflix's "House of Cards" (pictured above), we now have a president who committed one murder as a member of Congress, another as vice president, and is expected to do worse now that he occupies the Oval Office. Gone are the days of "The West Wing's" President Jed Bartlet (Martin Sheen), a politician of supreme integrity whose only lie in office was not disclosing he was battling multiple sclerosis.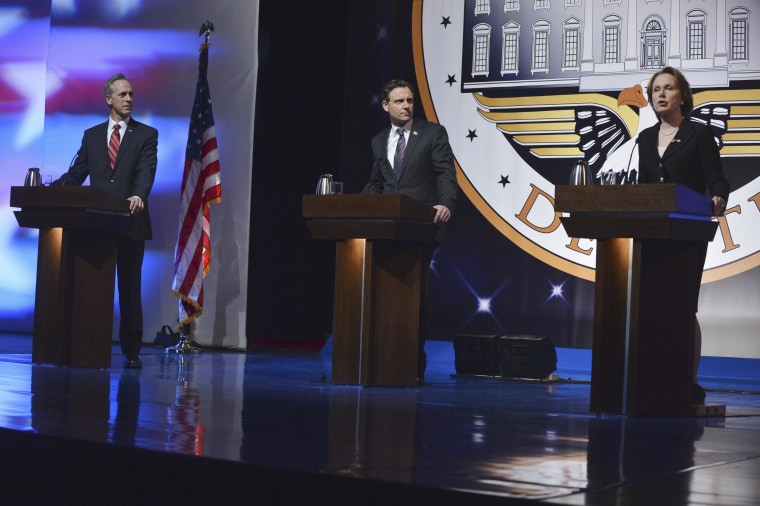 "What I would like to know is: what took us so long?" said Robert Thompson, director of the Center for Television and Popular Culture at Syracuse University. "The U.S. presidency has not been filled by choirboys by any stretch of the imagination. History tells us presidents have been misbehaving from the get-go but in the modern era, popular culture did deal very, very respectfully with presidents. They were demigods, truly special, exceptional individuals."
America has always had lying, cheating presidents; commanders in chief embroiled in sex scandals; and others who were just plain crooks. In the last 100 years alone, the nation's highest elected office has been disgraced with the Teapot Dome scandal of the 1920s, President Eisenhower's spy plane cover-up, President Kennedy's womanizing, Watergate, the Vietnam War, the Iran Contra scandal, and President Clinton's relationship with a White House intern.
"By the time 'West Wing' came along, we'd already been through Vietnam, Nixon, and Monica Lewinsky," Thompson said. "But Bartlet was so old school and that was what was refreshing about 'The West Wing.' It was a fantasy and it gave us a sense of optimism. By the time we got into the new century, we began to realize this deep cynicism that anybody who has done the things that it takes to get to the office of the presidency in the U.S. is probably not someone to be trusted."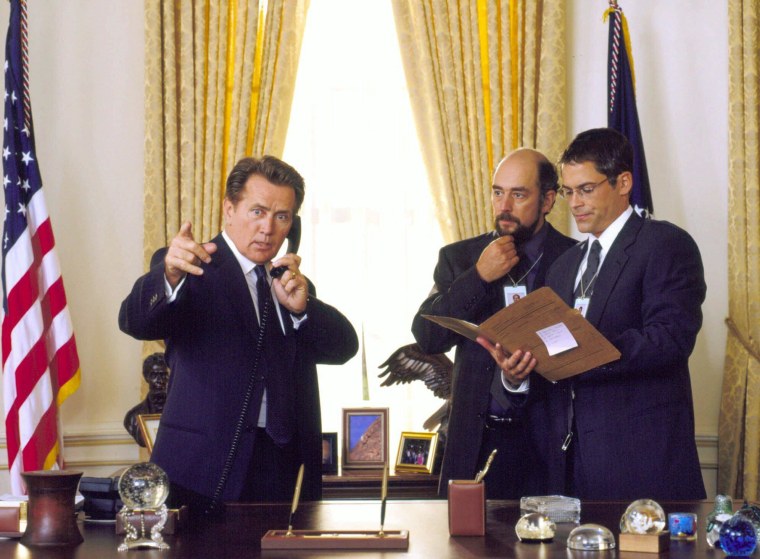 When "West Wing" signed off in the spring of 2006, the tide in fictional politics was changing. As the nation said goodbye to its most beloved TV president on NBC, the immoral president Charles Logan (Gregory Itzin) on Fox's "24" was shocking viewers with the delicious conniving he hid under a cloak of wishy-washy insecurity. If male anti-heroes from all walks of life — from HBO's Tony Soprano to "Breaking Bad's" Walter White — were dominating television, why not include representations of the nation's leaders as flawed, ill-intentioned, and ultimately human?
Itzin, who was nominated for two Emmys for his portrayal of a commander in chief aligned with terrorists, said in an interview that he was as surprised as viewers to learn Logan was aiding in the selling of nerve gas to terrorists and supported the assassination of a former president.
"I think it definitely paved the way for the take on the Oval Office that is depicted now," Itzin said. "Bartlet was the president we would have loved to have. I still watch the re-runs and I get tears in my eyes because it's such a beautiful thing. But a lot of things in the world seem less precious than they used to — the rules seem looser. There's not much reverence paid to the presidency or the Senate or to anybody in politics. They're looked down on, made fun of, vilified. They're hated by a large part of the populace. It makes sense that it's a frontier to be explored in TV and film."
The writers of "24" were not aiming to shift cultural perception of the presidency or consciously respond to changes in the country's political climate. Over the course of eight seasons, they sought to create leaders that could serve as allies or foils of their lead character, counterterrorist agent Jack Bauer (Kiefer Sutherland). The series began with noble African-American President David Palmer (Dennis Haysbert) and featured seven other commanders in chief before the show ended in 2010 with an embattled female President Allison Taylor (Cherry Jones).
"They're all variations of the theme, of the office," '24' executive producer Howard Gordon said. "There's a price you have to pay when you reach that level of power. No one gets out unscathed. It's always interesting and dramatic to find the price these people pay in the course of trying to do the right thing. Inevitably, they're forced into making the better of two bad choices. And it erodes their character in ways that make for really good drama. We didn't invent that. Shakespeare certainly did a hell of a job time and again when he described kings and princes in search of power and higher office, even well-intentioned ones."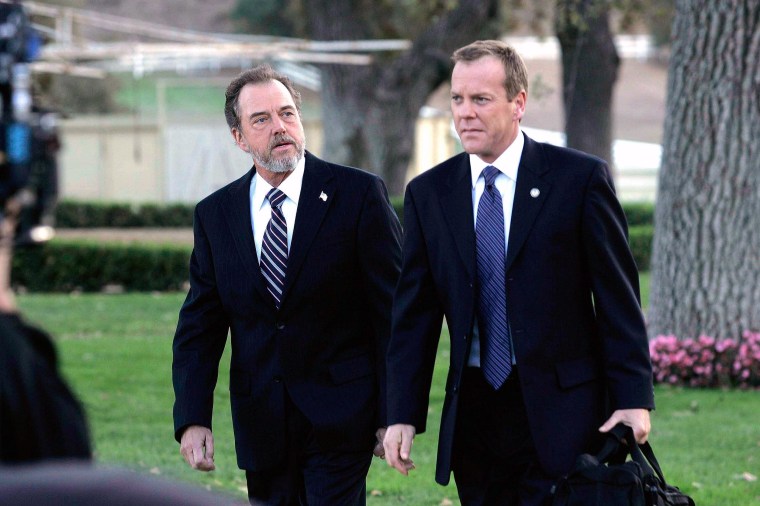 In the era of binge-watching and cliffhanger-filled serialized storytelling, high drama has come to be expected, Syracuse's Thompson said. From the time viewers met Frank Underwood (Kevin Spacey) in the first episode of "House of Cards" and saw how the congressman dealt with a wounded dog, we knew he would never be Jimmy Carter. The series also has featured an easily manipulated tool of a president (played by Michael Gill) who opted to resign instead of being impeached. "Scandal's" Fitz murdered more out of desperation than a dark heart but he can never uncross that line.
"For all of our cynicism, I think the history of TV storytelling was on an evolution that it was ratcheting up what was dramatically at stake anyway," Thompson said. "President Obama has had Ben Ghazi and the NSA scandal but no rational person believes this is an administration that's offing people. Yet, we're seeing that very much in fiction. I just think these stories are more exciting."
Itzin calls Logan the role of his career, but admits to feeling slightly uneasy when he learned he wasn't just playing an indecisive weasel.
"I did feel a little uncomfortable at first," Itzin said. "I felt like I was cheating on the president or something like that. But it was so challenging and such a joy to be on the show doing what I was doing. Logan was a great character. He was wrought with guilt, self-loathing and all the things that a guy in that position would be. They were definitely good times."
Even comedy writers are zeroing in on political ineptitude for laughs. Comedy Central had "That's my Bush!" and "Lil Bush," which both mocked the George W. Bush presidency while he was still in office. NBC recently aired the short-lived "1600 Penn," which featured a dysfunctional first family like no other, and HBO boasts the twice Emmy-nominated comedy "Veep," starring Julia Louis-Dreyfus as a powerless but hilarious vice president who gains some influence as the series goes on and will run for president in the third season, which premieres next month.
"No one treats the office of the presidency with the same respect — not in the world and not in fiction," Itzin said. "I don't think that's necessarily bad. I just think the cat's out of the bag. They're all human beings. We're all human beings."