Instead of airing a previously announced rerun, "Saturday Night Live" dedicated Saturday's airtime to commemorating Prince's life and performances on the show.
The special episode was hosted by "SNL" alum and "Tonight Show" host Jimmy Fallon, who called Prince "a special presence" on the show for the last four decades.
Saturday's show featured performances ranging from 1981 to just last year by the iconic performer, who was found dead Thursday at age 57 at his Paisley Park estate in Minnesota.
"Other people may have been on the show more times or performed more frequently, but there was always something different about a Prince performance — it was special, it was an event, it was Prince," Fallon said.
Related: Prince's Family Holds Private Ceremony to Say Goodbye
Saturday's show featured Prince playing "Party Up" during his first appearance on the show in 1981, when he was just 22 years old, "Electric Chair" during a 1989 appearance, 2006 performances of "Fury" and "Beautiful, Loved & Blessed," and his incredible 8-minute medley during a 2014 show.
The show also aired a never-before-seen surprise performance by Prince during an after-party that took place following the show's 40th anniversary special on February 15, 2015.
Fallon recounted how during the star-studded party at New York's Plaza hotel around 4:30 a.m., Dave Chappelle approached to tell him Prince was there and he should try to get him to perform.
"I just said, 'Prince, if you're in the room, I dare you to come up and sing something with us,'" Fallon recalled.
GALLERY: Prince's Career in Photos
He said the crowd of celebrities from 40-years worth of former cast members to Paul McCartney to Beyoncé and Jay-Z suddenly parted and with "a cloud of purple smoke" Prince took the stage, handed Fallon his gloves and began to play.
"He got up and it was unbelievable," Fallon said. "He just destroyed."
"It was the greatest, coolest party you could imagine."
Fallon said he and Chris Rock sang backup on "Let's Go Crazy."
"We were like the Vanity and and Apollonia of the night."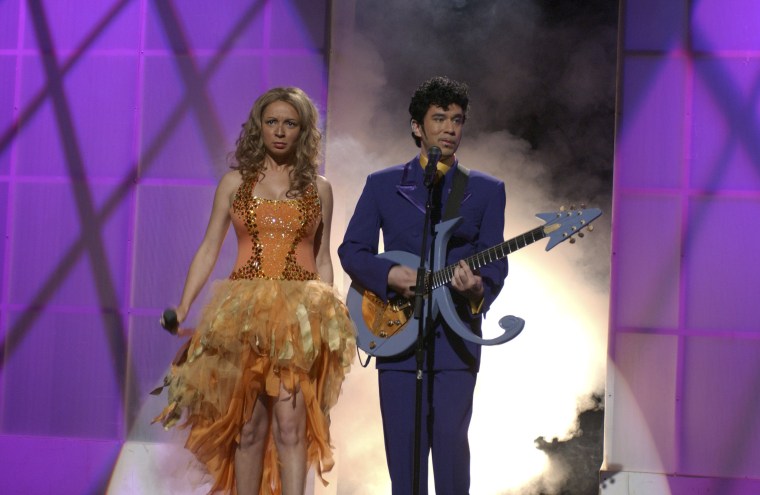 "He floated off and that was the last time I saw him."
Saturday's tribute show also featured past sketches in which Fred Armisen famously played the purple-loving pop superstar in "The Prince Show" with Maya Rudolph playing his side-kick, Beyoncé.