Hi-keeba! Twenty-five years, 197 episodes, one feature film and a million catchphrases ago, "Mystery Science Theater 3000" premiered on Twin Cities' television station KTMA, back on Nov. 24, 1988.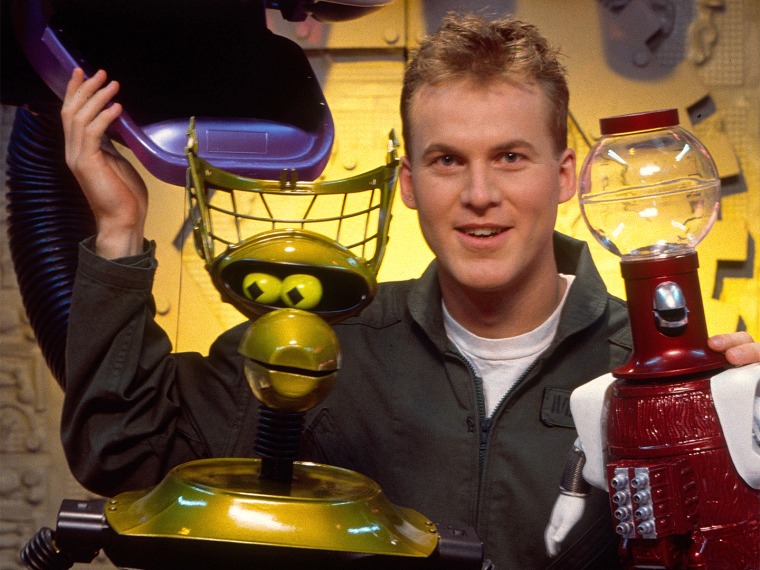 The show's often called a cult classic, but it's beloved by so many of all ages that the word "cult" isn't really applicable any more. It's just a classic. And while it's been off the air since 1999, it's about as dead as the "Space Mutiny" character who's killed, then reappears with no explanation in a 1997 episode.
MSTies can take heart -- the cast is still around, and still skewering terrible cinema. Original host Joel Hodgson and cast members Frank Conniff (TV's Frank), Trace Beaulieu (Dr. Clayton Forrester and the original Crow), Mary Jo Pehl (Pearl Forrester) and J. Elvis Weinstein (Dr. Erhardt and the original Tom Servo) are now working together as Cinematic Titanic, riffing on feature-length B movies much as MST3K once did. In addition to selling DVDs, they also perform live -- a Philadelphia show is planned for Dec. 30.
Host Mike Nelson, who took over from Hodgson in 1993, is a member of RiffTrax, along with Kevin Murphy (Tom Servo and Professor Bobo) and Bill Corbett (Crow and Observer). The trio provide snarky commentary to accompany Hollywood blockbusters, B movies and mental-hygiene shorts, selling DVDs and downloads, as well as performing live shows that are broadcast to theaters nationwide.
This year, Shout Factory, which releases the MST3K episodes on DVD, is releasing a special 25th anniversary box set featuring six episodes and bonus features, including the history-of-the-show documentary, "Return to Eden Prairie: 25 Years of Mystery Science Theater 3000." Shout Factory has also nabbed Hodgson to curate and host a six-film "MST3K" online-only Turkey Day marathon starting at noon ET on Thanksgiving. It's a throwback to Thanksgivings past when Comedy Central (and once, Sci-Fi) would run MST3K Turkey Day marathons.
In honor of a quarter-century of Torgo, Rowsdower and Pumaman ("he flies like a moron!"), TODAY asked some "MST3K" veterans to share their favorite episodes with us.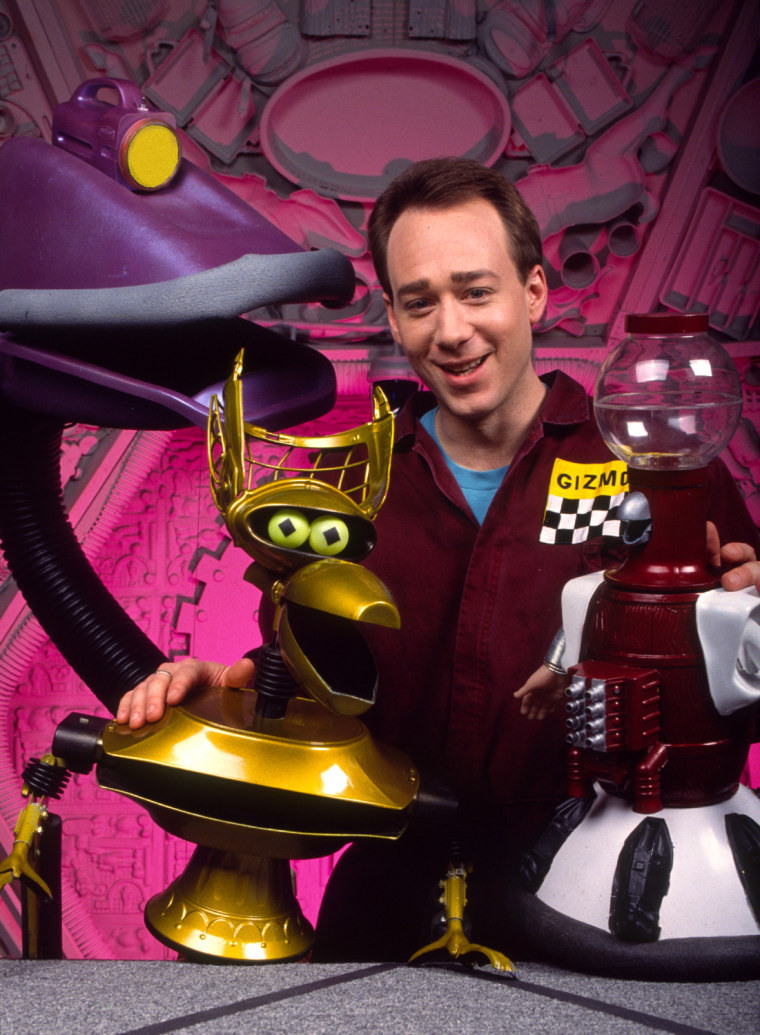 Joel Hodgson, 'Pod People'
"I'm a fan of 'Pod People,' mostly because the entire production seems to be one big misunderstanding: Trumpy, the Pod Person, is modeled after E.T., whereas his mom is modeled after the Queen Alien in 'Alien 2.' The costumes are poorly designed for each of the creatures, they are actually more like high-school mascots, and it's likely that when they opened the crate and saw the costumes, it was too late into the production to do anything to correct them. Also, it appears, as if the film was made in the Czech Republic under very tight budget constraints and then hastily dubbed into English. Finally, throw in a sleazy rock band and their entourage bombing around in a Winnebago and you've got 'Pod People!'"
Mike Nelson, 'Merlin's Shop of Mystical Wonders'
"'Merlin's Shop of Mystical Wonders' probably tops my list. Ernest Borgnine traumatizing his poor grandson with a bizarre story of demons, evil monkeys and roasted cats -- can't beat that. It also had a fortune-teller character who brought to her role perhaps my favorite thing in a minor character: unmotivated rage. Puts me in mind of the old guy from 'Brute Man,' and that is high praise indeed."
Mary Jo Pehl, 'Space Mutiny'
"My favorite 'MST3K' episode changes from year to year, viewing to viewing, but lately I've been especially enamored of 'Space Mutiny.' It's the self-serious over-the-topness. There's just something about the industrial floor cleaners passing for a means of futuristic travel within the spaceship, the leading lady wearing an aerobics leotard as her space suit, and the doofus leading man that just gets me where I live. Plus, the many many nicknames we gave the lead actor practically became a Zen exercise."

Bill Corbett, also 'Space Mutiny'
"My love of 'Space Mutiny' is boundless. What can you say about a super-cheesy movie filmed on the cheap, lifting heavily from TV's old 'Battlestar Galactica'? And speaking of lifting heavily, there's our musclebound-but-not-very-bright hero, officially 'David Ryder' in the movie, but a man of many names (Slab Bulkhead, Blast Hardcheese, Butch Deadlift, so many more) in our riffed version. And his lady friend, Sexy Grandma. And the murdered crew member who, thanks to a dopey continuity error, quietly returns to her post post her murder. And so much more. What can you say about a movie like this? 'I love you, 'Space Mutiny.' That's what."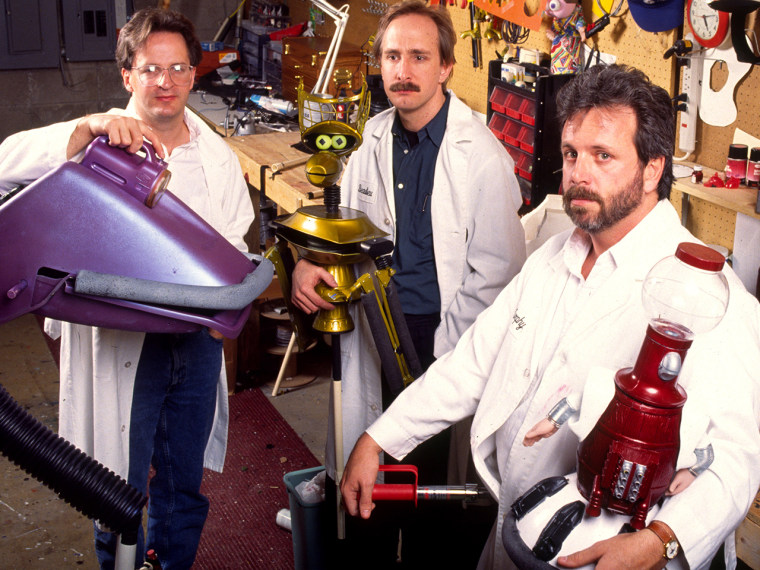 Trace Beaulieu, the educational shorts
"My favorite episodes were the educational shorts. 'A Date With Your Family,' 'Johnny at the Fair,' 'Mr. B Natural,' etc. They presented a bombastic authoritarian worldview that was fun to shoot holes through."

Kevin Murphy: Too many to name
"You're asking the impossible! There are just too many. The Gamera movies, The Russian-Finnish epics, 'Space Mutiny,' 'Pumaman,' 'I Accuse My Parents,' 'Outlaw of Gor,' these encompass the heart of the show, all our goofy songs and sketches and peripheral characters we picked up along the way, the pure cheesiness of the movies, the everyday joy we had in making the damn thing. I have no single favorite episode, but I do have a lot of favorite moments."