Add Sarah Palin to the list of people offended by comedian Sacha Baron Cohen's style of humor.
The former vice presidential candidate said in a Facebook post that she and her daughter were "duped" into participating in an interview for Cohen's Showtime series "Who Is America?" She referred to his humor as "evil, exploitive" and "sick."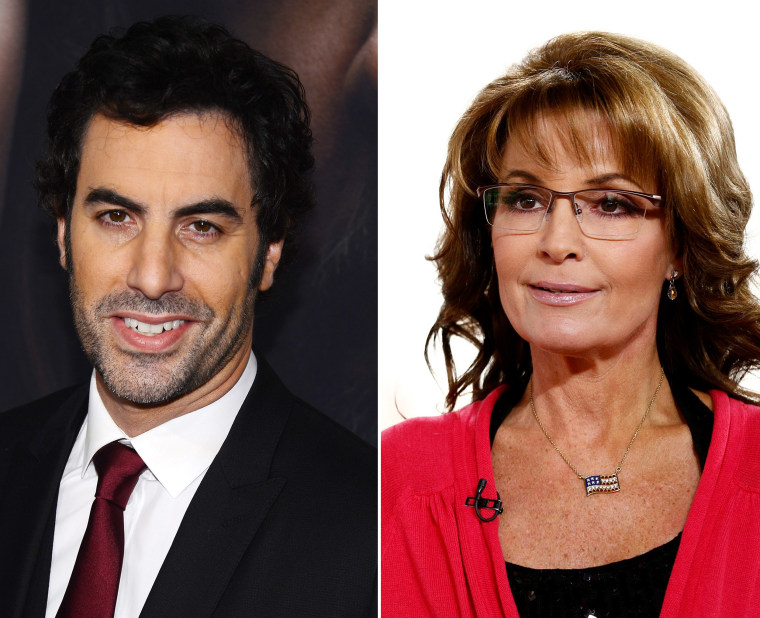 According to Palin's post, she was contacted via a speakers bureau for a "legit opportunity" to honor American veterans and contribute to a Showtime historical documentary. She said that once she arrived, she was met by someone who she presumes was Cohen, heavily disguise as a disabled U.S. veteran, "fake wheelchair and all."
"I sat through a long 'interview' full of Hollywoodism's [sic] disrespect and sarcasm — but finally had enough and literally, physically removed my mic and walked out," Palin wrote. "The disrespect of our US military and middle-class Americans via Cohen's foreign commentaries under the guise of interview questions was perverse … Mock politicians and innocent public personalities all you want, if that lets you sleep at night, but HOW DARE YOU mock those who have fought and served our country. Truly sick."
She challenged CBS and Showtime to donate the "proceeds" of the show to "a charitable group that actually respects and supports American vets" — though exactly what she means by proceeds is unclear, as Showtime, a premium cable channel, only earns revenue from monthly subscribers, not ads tied to specific airtime.
Palin also claimed tthat the production company intentionally dropped her and her daughter off at the wrong Washington airport, causing the pair to miss their flight back to Alaska.
CBS and Showtime did not immediately comment on Palin's criticisms.
In online teaser trailers, the show does not specify when it will debut. In one trailer, former Vice President Dick Cheney is seen sitting in a chair holding a jug.
A voice off screen, sounding like one of Cohen's characters, asks, "Is it possible to sign my waterboard kit?"
"Sure," Cheney says. The clip cuts to him saying, "That's a first. That's the first time I've signed a waterboard."
The timing of the interview and the circumstances surrounding it are unclear. Cheney has defended the use of certain controversial interrogation tactics during the war in Afghanistan, and told "Meet the Press" in 2014 that the waterboarding the U.S. conducted overseas was "not torture."
Cohen interviewed Donald Trump, Newt Gingrich and Pat Buchanan in his satirical HBO series "Da Ali G Show" in the 2000s.