"Saturday Night Live" remained silent Friday after the growing furor that one of its newest cast members has a history of racist and homophobic remarks.
The controversial comments — made by standup comedian Shane Gillis in a podcast video uploaded a year ago — surfaced Thursday on social media, just hours after "SNL" announced his hiring, and led some fans to demand the long-running sketch comedy show drop him ahead of the new season.
But whether the outcry is enough to make "SNL" reverse course has only highlighted criticism of the show's lack of diversity and opened up a wider discussion on the ever-evolving boundaries of what makes for acceptable comedy.
"It can be unfair when what you've said is dissected and taken out of context," said Nick Marx, an editor of the 2013 book, "Saturday Night Live & American TV." "I don't think in this case that's what we're seeing — these are comments made in the past year. So I don't doubt that there are some pretty intense conversations happening behind closed doors at 'SNL' today."
Marx, an associate professor of film and media studies at Colorado State University, said he expects producers to dump Gillis given how other videos have come out showing that the podcast "does not seem to be an isolated incident but a pattern of behavior."
In clips from "Matt and Shane's Secret Podcast," which have been removed from its YouTube channel, Gillis and his co-host denigrate Chinatown and Chinese food, speak in caricature Asian accents and make sexist comments about Asian women. Gillis also uses an ethnic slur used to describe the Chinese.
Gillis has taken part in other recorded conversations in which he mocks an Asian boy with Down syndrome and uses homophobic slurs about other comedians.
In a statement tweeted Thursday night, he defended himself as a "comedian who pushes boundaries" and said he would be "happy to apologize to anyone who's actually offended by anything I've said. My intention is never to hurt anyone but I'm trying to be the best comedian I can be and sometimes that requires risks."
"SNL" has not returned a request for comment. The show airs on NBC, a division of NBCUniversal, which is also the parent company of NBC News.
On social media, some have decried how Gillis may become the victim of "cancel culture," in which large-scale social media outrage can be used to reject someone's career or celebrity status, and that a perception of oversensitivity has forced people to dull their comedic impulses.
Standup comic Anthony Jeselnik tweeted Thursday: "I truly enjoy the annual tradition of trying to destroy a new SNL performer on the happiest day of their life."
But Marx said "SNL" can't ignore the "cruel irony" that the controversy over bringing on Gillis came as the show also announced the hiring of Bowen Yang, who is Chinese-American and now the first cast member who identifies as East Asian. Yang, who joined as a writer on the show last season, will also be one of the few openly gay cast members.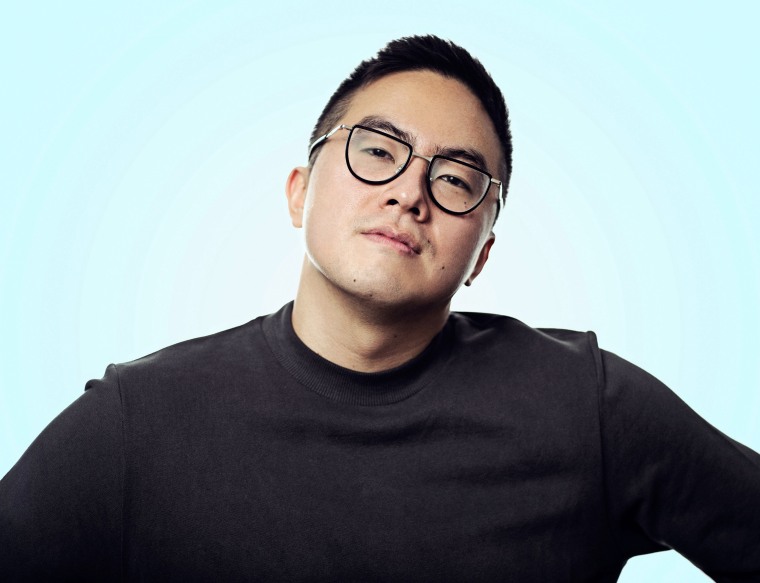 In 2016, another new "SNL" cast member, Melissa Villaseñor, was criticized for observations she wrote on social media years earlier about black, Mexican and Japanese people. But Villaseñor, who joined as the first Latina cast member, remains on the show, and neither she nor "SNL" commented about the offensive tweets.
Marx said comedians who are of marginalized identities can be given more leeway, although more recently, they are also paying a price for past transgressions. Kevin Hart withdrew from hosting this year's Academy Awards after he came under fire for homophobic tweets dating back a decade.
But for someone like Gillis, Marx added, it's different: "He's a straight white guy punching down with those jokes."
Comedian Darin Patterson, who hosts the podcast "SNL Nerds," said he understands balancing the desire to be funny with not overstepping just for the sake of a punchline.
"If you're going for an actual joke, you have to be ready for all the blowback you may get," Patterson said.
He added that "SNL" could have to address what happened because Gillis' comments are more recent, but that he could survive losing his job if they "wait for this to blow over — there's always something new to make us angry and upset."
If anything, he said, this should teach the show's producers to better vet its new hires.
How the show has tackled race has made strides in recent years, Patterson said, and in some respects, has come a long way from when white cast members wore blackface in the 1980s — Joe Piscopo once portrayed Jesse Jackson and Billy Crystal played Sammy Davis Jr. — and even up to the 2000s.
The lack of diversity on the cast was glaring after Maya Rudolph, who is biracial, left in 2007, creating a void of black women. In 2013, black cast member Kenan Thompson, who was tasked to play black women such as Maya Angelou and Jennifer Hudson, announced he would stop doing so, while also saying there was a lack of "ready" black female performers for "SNL" to tap.
The statement drew criticism, but also forced the show to step up its diversity hiring, which currently includes Ego Nwodim, who joined the cast last year as the seventh black woman in its history. Leslie Jones, who was hired in 2014 and endured racial and misogynistic harassment online, left the show last month ahead of the season premiere on Sept. 28.
While "SNL" has aired for more than four decades, turning its cast members into household names and capturing the American cultural zeitgeist with enduring characters, it has done a better job in recent seasons to capitalize on its diversity, Patterson said.
Last year, when the show's four black cast members — Thompson, Jones, Nwodim and Chris Redd — appeared on stage together for a Black History Month presentation, Patterson said he stopped and admired how far the show had come.
Regardless of what happens with Gillis' employment, he added, "SNL" has the chance to build on its successes as of late while maintaining its television legacy.
"And you can do all that while being funny first," Patterson said.