"Saturday Night Live" may finally be facing its Trump problem head on.
When Donald Trump hosted the show last season, hot off his comments tying undocumented immigrants to violent crimes and suggesting a border wall with Mexico, it left a bad taste in many people's mouths, especially Latino groups, who protested his appearance in droves.
On Saturday night's episode — notably hosted by a Latino, "Hamilton" creator Lin-Manuel Miranda — the show seemed to actively try to distance itself from the GOP contender by taking him down repeatedly, and even referencing its relationship with him with unbridled disdain.
To kick things off, Alec Baldwin returned to the show as Trump in a brutal take-down of the candidate's hot mic scandal and apology video that had dropped less than 24 hours before "SNL" went live.
In the cold open, Baldwin's Trump appears on CNN to brush off the lewd comments he was heard making in a leaked 2005 video.
"I was just a young, childish 59-year-old man," Trump explains, before launching into vulgarities, including uttering "p*ssy" three times. The show aired it uncensored.
"Listen women, I promise I can do a whole lot more than grab it. I can also bop it, twist it and pull it," Trump says sleazily.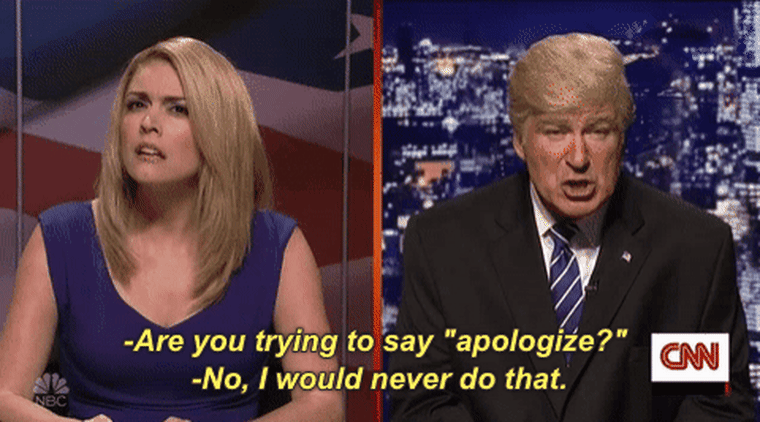 Trump then takes a serious turn to offer his condolences to the people of Florida affected by Hurricane Matthew. The host appears taken aback by Trump's sincerity, but then the candidate gets caught on a hot mic in studio.
"I wish that I was that hurricane, tearing through all of that hot Miami p*ssy," Baldwin as Trump says. "I would just destroy it."
Meanwhile, the camera checks in on the Democratic campaign headquarters where Kate McKinnon's Hillary Clinton is dancing and popping champagne, clearly ecstatic over the Trump tape. She calls the latest Trump scandal her "reward" for having to deal with Whitewater, Benghazi and Mary J. Blige singing at her.
Baldwin transformed into a more unsettling Trump this week, an overbearing creep who grunted out mispronounced words like "apple-a-gize" instead of "apologize." It is clear the show was no longer holding back.
The harsh mockery in the opening was only the beginning. Miranda's monologue found him dancing down the storied halls of Studio 8H, singing a parody of the "Hamilton" hit "My Shot."
As he passes by photos of celebrities who hosted the show the previous season, he fondly references Miley Cyrus, Amy Schumer, Tracy Morgan, "and this piece of..." he trails off as he passes Trump's picture, eliciting huge cheers from the studio audience.
"He's never gon' be president now," Miranda tauntingly sings to The Donald's pic, referencing a line from another "Hamilton" number.
The show also took on Trump in a digital short featuring McKinnon as Trump strategist Kellyanne Conway forced to constantly disrupt her daily activities to answer for Trump's foibles, including claims that Mexicans can't read, black people have one less toe than white people, and that it's "gross to watch gay people eat pasta."
McKinnon as Conway expertly spins each lunacy to address an actual campaign issue, pretending that it's what Trump actually meant. Finally, flustered after running to studio in a bath towel to cover for what the slate just calls "Yet Another Trump Controversy," she finally throws in the metaphorical towel.
"What do you want me to say?" she sighs. "Yes, he said that. He's crazy. He's the worst person that I've ever met."
It was as if the writers were just waiting to get that out.
The show's "Weekend Update" segment, which has skewered Trump since the beginning of the campaign — even when he was on the show — was equally relentless.
Trump tried to brush his comments off as locker room talk, Colin Jost began. "What locker room? Penn State?"
Co-anchor Michael Che remarked that Trump had "apologized the way your drunk ex would."
"You know this isn't even the worst thing he's said. This is just the worst thing he's said to Billy Bush while miked on an Access Hollywood bus," Jost quipped.
"I don't think the problem women have with sexual assault is bad breath," Che said, referring to Trump's talk of Tic Tacs in the 2005 video. "That's like Bill Cosby using a coaster for his love potions."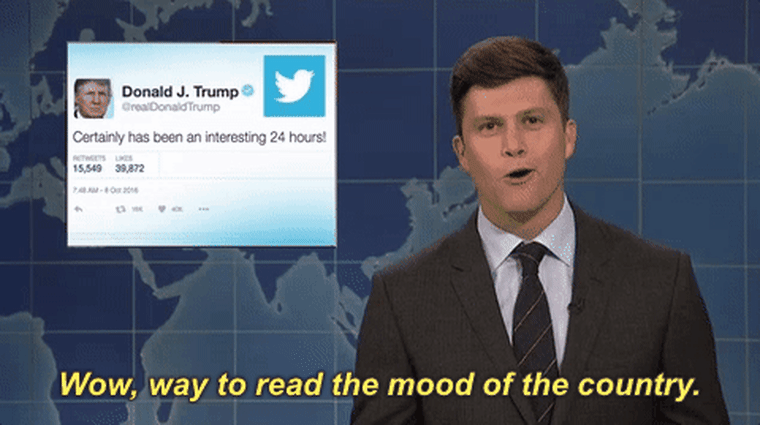 Jost and Che continued to trade Trump barbs before welcoming former "Update" co-hosts Tina Fey and Jimmy Fallon in character as undecided female voters from Philadelphia.
"Everyone thinks you love Trump. You're like 'Oh, his hair is real!'" Fey's character teases to Fallon's, a clear tongue-in-cheek reference to heat Fallon himself faced after playfully ruffling Trump's hair during a "Tonight Show" appearance and not asking any politically relevant questions.
"I don't like that he called Alicia Machado fat," Fallon clarified. Fey, Fallon and Jost then agree that "Trump is like a drunk clown."
The show may never have issued an apology for inviting Trump to host, but Saturday's episode felt like much more of an apology to the nation than Trump's video message did.