It was a whirlwind week for the Trump Administration and "Saturday Night Live" did not miss a beat in an episode hosted by the show's resident White House press secretary — Melissa McCarthy.
McCarthy was back for her fifth time as host, cementing her in "SNL" history as part of the Five-Timers Club along the likes of Steve Martin and Alec Baldwin, who were both there to celebrate her achievement.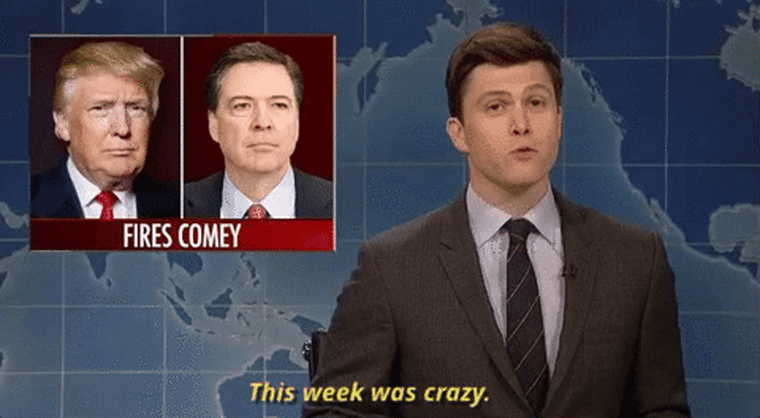 The "Bridesmaids" actress received an Emmy nomination for each of her past appearances hosting the show, and, although her monologue was more low key this time around — previous appearances have seen her crawl, dance and fly through the air on wires — the show managed to work in plenty of the physical comedy chops she's become known for.
The show kicked off with a spoof of President Donald Trump's exclusive interview with NBC News' Lester Holt that saw Alec Baldwin return as the president to tell Holt, played by Michael Che, to discuss the firing FBI Director James Comey.
"I fired him because of Russia. I thought: he's investigating Russia, I don't like that, and I should fire him," Baldwin's Trump admits. "But that's obstruction of justice," the host clarifies.
"Sure, OK," the president replies.
"Wait, so did I get him? Is this all over?" an excited Che as Holt asks. The producer in his earpiece tells him no and Che's Holt says "No, I didn't?" Nothing matters, absolutely nothing matters anymore? Fine."
Baldwin as Trump tells Che's Holt that he's got the "Republicans in the palm of my hand" as he rings a bell summoning a soda shop uniformed Paul Ryan — played by Mikey Day — who brings the president two scoops of ice cream in a reference to a tidbit from a Time article that was buzzed about online days earlier.
When Holt tells Trump that many drawing comparisons between the president and Richard Nixon, Trump fires back: "No, I am nothing like Nixon because I am not a crook," adding, "Plus, I bet Nixon only got one scoop of ice cream for dessert but I get two scoops, OK?" he says, arms raised with two fingers extended on each hand ala Nixon. "Two scoops."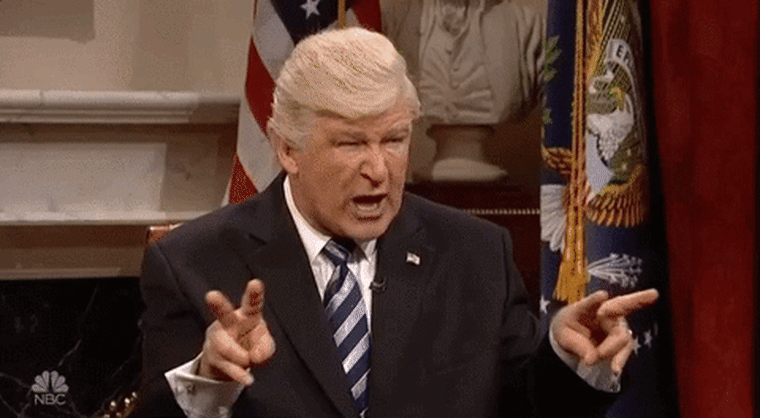 "You're also very different from Nixon because he won the popular vote," Che's Holt says matter-of-factly.
The cold open was far from the last dig at Trump in an episode that was heavy on politics, seeming to go harder at the president than the past few weeks.
Colin Jost kicked off Weekend Update by hitting on the optics of Comey's dismissal. "Trump said he decided to fire Comey himself because Comey wasn't doing a good job, adding, for example, I'm still president," Jost said.
But the show's coup de grace was the one sketch everyone knew was coming — McCarthy took her fan-favorite Sean Spicer impression on an extended ride in a sketch that was nearly spoiled when sightings of McCarthy in costume hit Twitter on Friday.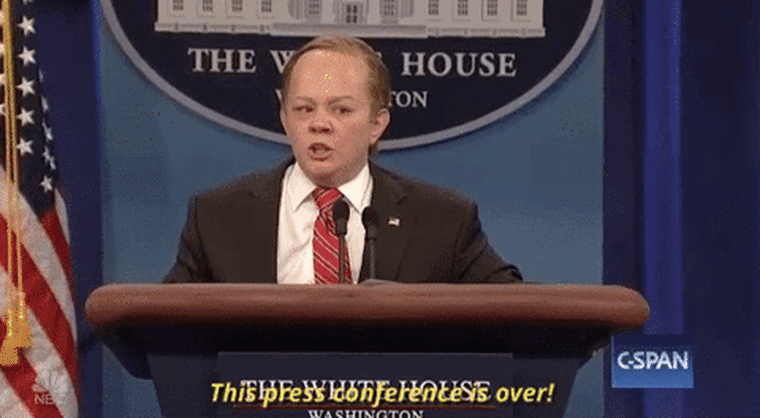 The White House press corps pleads with Deputy Press Secretary Sarah Huckabee Sanders, played by Aidy Bryant, to stay on instead of McCarthy's Spicer, who is spotted hiding in the bushes outside a window.
After McCarthy's Spicer returns to berate reporters over the Russia investigation — "Trump is innocent. How do we know? Because he told us so. Period," McCarthy's Spicer badgers — before the character has a crisis of conscience and takes the rolling podium on a trip to New York City in the search for Trump.
"I promise I'll talk better," sad Spicer whispers to the wind as Simon & Garfunkel's "The Only Living Boy In New York" plays softly in the background.
It turns out the president is at a New Jersey golf course. McCarthy's Spicer asks: "Have you ever told me to say things that aren't true?"
"Only since you started working here," Baldwin's Trump replies. Baldwin as Trump coaxes a hesitant McCarthy as Spicer to kiss him, assuring "I'm famous; it's OK," before the sketch ends in the characters sharing an embrace.
"Saturday Night Live" is back for its final episode of the season next week with host Dwayne Johnson — who will also be hosting for a fifth time — and musical guest Katy Perry.