Tina Fey brought her iconic Sarah Palin impression back to "Saturday Night Live" during the show's cameo-filled and politically heavy season 43 finale.
The show kicked off with a "Sopranos"-style cold open that had Alec Baldwin's Donald Trump sitting in a diner as Kate McKinnon's Rudy Giuliani, Ben Stiller's Michael Cohen and Mikey Day's Donald Trump Jr. trickle in to join him.
In the scene, Journey's "Don't Stop Believin'" plays on a juke box as Trump asks Giuliani, "So, Rudy, did you go on Fox News last night?"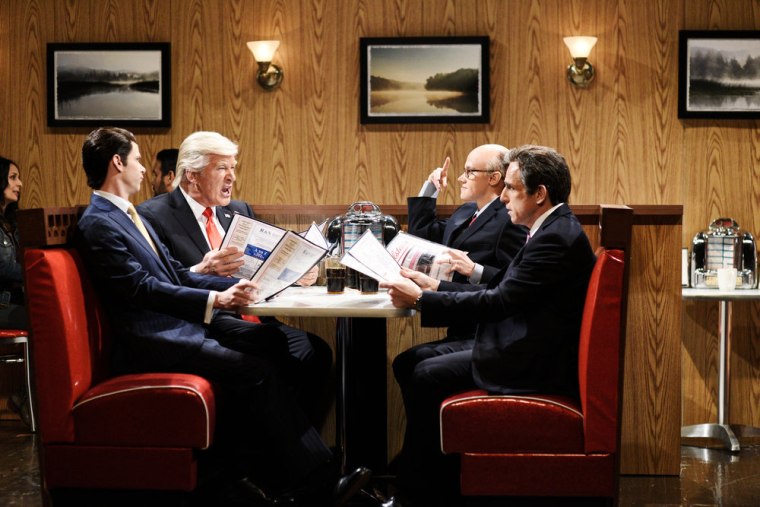 "Yeah, like 20 times," Giuliani replies. "Don't worry, I told them you were openly colluding with Russia but then I ended with, 'So what?' So, it should all be fine. I even confessed to some crimes you didn't do."
The line referred to an appearance the real Giuliani made on Fox News earlier this month in which he seemed to suggest the real Trump had knowledge of an alleged payment to adult film star Stormy Daniels as part of a nondisclosure agreement. Giuliani later walked the comments back.
Toward the end of the sketch, Robert De Niro enters the restaurant as special counsel Robert Mueller and stares Trump (Baldwin) down as the president panics and asks if anyone else can see the special counsel sitting nearby.
Later in the episode, Fey appears in her own political skits as Natalia Veselnitskaya in a sketch about MSNBC's "Morning Joe" and then again as Palin.
But first, she greeted the audience with a star-studded monologue that included appearances from De Niro, Jerry Seinfeld, Benedict Cumberbatch, Chris Rock, Fred Armisen, Anne Hathaway, Donald Glover, and Tracy Morgan.
Lin-Manuel Miranda and John Goodman also made cameos later in the episode.
During her revival of Palin, Fey gave advice to members of the current White House staff.
"Take it from me, politics is a wild ride. One minute you're on top and then you're gone in the blink of a Scaramucci," Fey's Palin says. "I have a message for all the people in the Trump White House: Enjoy your moment. Who knows how long it will last?"
Before long, Palin was joined by Sarah Huckabee Sanders, played by Aidy Bryant, Kellyanne Conway, played by McKinnon, Michael Wolff, played by Armisen, Stormy Daniels, played by Cecily Strong, Rex Tillerson, played by John Goodman, and Omarosa Manigault, played by Leslie Jones. Together, they sang "What I Did For Trump" set to the tune of A Chorus Line's "What I Did For Love."
"SNL" also took time to poke fun at the royal wedding, which took place on Saturday morning. In the sketch, Mikey Day's Prince Harry takes a camera man around the reception, introducing the guests on video.
After going through a table of British celebrities, he exclaims, "An American celebrity, Ms. Leslie Jones!"
"So, I started tweeting about the wedding two days ago, and then I got invited — just like the Olympics. That's my thing," Jones says. "I mght be at that North Korea meeting. We'll see."
Season 44 of "SNL" will return in fall of 2018.