The 2018 Academy Awards logged its lowest TV ratings ever last Sunday, capping off a particularly brutal run for marquee live events that were supposed to be immune from TV's broader woes.
The first quarter of the year is typically full of blockbuster awards shows for music, TV and film as well as the Super Bowl, bolstered in 2018 by the Winter Olympics. This year, they've underdelivered, leaving advertisers feeling queasy about the millions of dollars they spent in pursuit of mass audiences.
"All of this competition from streaming video has had its impact on regularly scheduled shows," said Brad Adgate, an independent media consultant and ratings expert. "Event programming was exempt from that, but we're starting to see now it's impacting these kind of shows."
The Grammys, the Emmys, the Super Bowl and the Olympics all registered declines in live-TV viewership from previous years or remain near all-time lows. The Oscars, which aired on ABC, put an exclamation point on the end of that run, losing 6.4 million viewers compared with the previous year.
"'The Oscars' is our flagship live telecast of the year that draws more views than anything else we do and is the number one awards show on television," an ABC spokesperson said. "Many factors go into the success of the telecast including our ability to debut trailers and promote upcoming shows. We also have successful sales integrations and an overwhelming demand from advertisers and talent to be seen in the broadcast that evening. We look forward to our continued partnership and airing of what has become entertainments' 'Super Bowl.'"
Rishad Tobaccowala, chief growth officer at advertising firm Publicis Groupe, said consumers are now tied to their smartphones and aren't as invested in awards shows like the Oscars, which lasted nearly four hours this year.
"We snack in short bits and we often have another screen when watching TV," said Tobaccowala. "All this is detrimental to live [TV], which can often be boring in stretches, and unlike a scripted show, one cannot manage the flow of the story to keep one gripped."
Barry Frey, president of the Digital Place-based Advertising Association, which represents the billboard industry among others, said consumers no longer feel any urgency to watch and find out who won. They can get live updates on Twitter just as easily.
"It's a shame that what TV has always been so good at, live-event marquee-driven content, is also being compromised in the multiscreen, multichoice environment," Frey said. "Perhaps one of the reasons the ratings are down is because I can find out who won on a screen in a gym, or in a taxi or an elevator on the way to work."
Aside from the change in consumer habits, a variety of other reasons were trotted out to explain the Oscars' particularly low ratings. One explanation pointed to the movies nominated in 2018 and the lack of A-list stars. President Donald Trump, who has made a habit over the years of tweeting about the Oscars, claimed that the show suffered from a lack of star power.
Some conservative-leaning pundits claim that people are turning away from a variety of live pop-culture events in which celebrities and athletes introduce politics. The day after the Academy Awards, a headline in The Washington Times said: "Oscars hit all-time low in early ratings amid liberal political posturing."
The silver lining for the networks, which pay for the rights to broadcast the events, is that demand for TV advertising during live events is still strong. That's left advertisers forced to spend more money for less reach. ABC commanded $2.6 million per 30-second spot, according to Variety.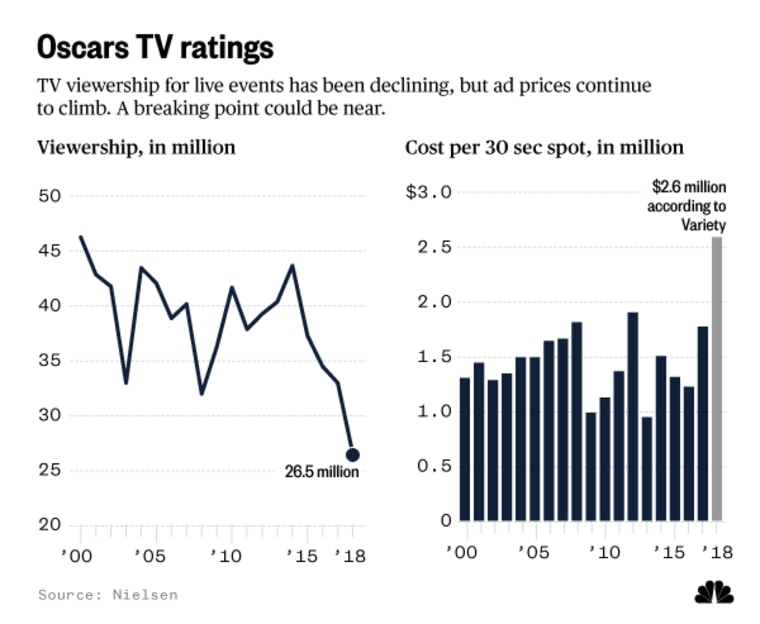 But that could change. Advertisers, which included Twitter, Google, Samsung, Cadillac and Walmart, each spent millions to be part of the so-called Super Bowl for women.
Combined with broader declines in overall TV ratings as well as the number of cable subscribers, the struggles of live events highlight that nothing is safe for broadcast TV companies.
Though the networks can point to an uptick in viewing of their content on their own streaming platforms.
"I believe we are seeing the decline of [the] last bastion of rating power: live television," Tobaccowala said.