Never a show to shy from tough subjects, "Sesame Street" is tackling America's opioid epidemic head on, revealing that Karli, the little green Muppet with yellow hair, was in foster care because her mother suffered from addiction.
Karli will explain on "Sesame Street in Communities" that her mom "was away for a while because she had a grown-up problem."
The "Sesame Street in Communities" project offers supplemental content free to providers, parents and caregivers, designed for kids who are often the unseen victims of addiction.
"How they're impacted by addiction is often something that we don't hear about or, more importantly, don't hear [in] a children's voice or perspective," said Jeanette Betancourt, senior vice president for U.S. social impact at Sesame Workshop, the nonprofit organization behind "Sesame Street."
Karli told NBC News that "I love my mom so much" but that "she couldn't take good care of me because she was having such a tough time."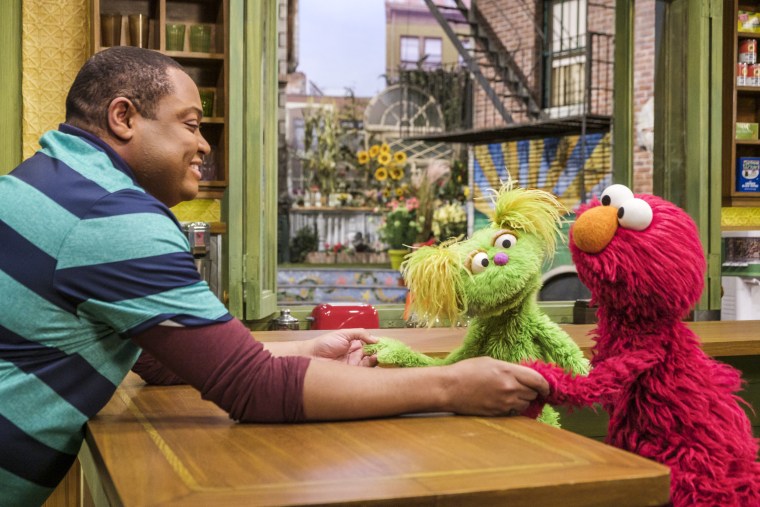 It's a story familiar to Salia Woodbury, a 10-year-old girl whose parents battled opioid addiction and are now in recovery. Salia joins Karli in some of the episodes to reassure children of addicted parents that they're not alone.
"We all feel, like, our big feelings inside," Salia said. But "we're strong, and we can all work together to go through it."
Jaana Woodbury, Salia's mother, said opioid addiction is "a huge crisis." She said the special series "kind of takes away the stigma and the judgment, and it encourages people to be open-minded."
"Sesame Street" has often introduced new characters designed to help children from tough circumstances deal with the stigmas they can innocently fall prey to. Karli was introduced earlier this year to represent children in foster care.
In 2011, Lily, who lives in poverty, showed up in a special episode to tackle childhood poverty and food insecurity. She returned last year in some of the Sesame Street in Communities videos as a homeless Muppet.
In 2013, Alex became the first Muppet to have a dad in jail.
Two years later, the Muppets were joined by Julia, a 4-year-old who is on the autism spectrum.