Charli D'Amelio can pinpoint the video that began her climb to stardom on the short form video app TikTok.
In July, D'Amelio, 15, posted a video duet — a side-by-side video — with another user called "Move With Joy," in which she followed Joy's easy-to-learn dance choreography. The video is simple and straightforward, yet it has been viewed more than 2 million times.
"Ever since then, it's just been growing from there," D'Amelio told NBC News.
Growing is putting it lightly.
D'Amelio's account has exploded in the last several months, with droves of her lip sync and dance videos accruing millions of views and more than 6.2 million followers. On an app where going viral is relatively easy, D'Amelio has risen above many of her peers to become a star in her own right.
"It's kind of crazy to think about it. I never thought that this would happen. Like, everyone thinks, 'Oh, that's so cool,' but when it's actually happening — it's crazy to think about, 'Why do people want to follow me? What am I doing different than everyone?' It's just crazy," D'Amelio said.
TikTok, formerly known as Musical.ly until it was acquired by the Chinese tech company ByteDance in 2017 and rebranded, is known for ever-evolving in-jokes, lip syncs, dance trends and challenges.
D'Amelio said she isn't entirely sure why her account has exploded in popularity — her guess is that something in TikTok's algorithm is working in her favor. The majority of her content showcases her passion for dancing, which she's been doing since she was 3 years old.
"So many people can see my content and see that I dance and maybe it'll draw them to my Instagram where I have longer clips of me and dance classes or improv," D'Amelio said. "TikTok is definitely a great place to show people that dancing is something that I do, and it's very fun for me."
But while dance is a major component of the content created and shared on TikTok, few others have gotten the attention D'Amelio has. Earlier this month, singer Bebe Rexha sent D'Amelio a private message on Instagram and invited her to dance with her during Rexha's opening performance for the Jonas Brothers at Brooklyn's Barclays Center on Nov. 23.
Dozens of videos of D'Amelio dancing on stage with Rexha, which were taken by TikTok users in the crowd, have spread on the app.
"The ways I've noticed my life has changed was being able to do amazing things like that," D'Amelio said. "Something I would have never thought that I could have done before is dancing in front of thousands of people. It changed how people view me in a negative and a positive way."
When it comes to internet fame, trolls and hate are inevitable, and D'Amelio said she's experienced her fair share.
"I'm trying to show people that I'm a person, and I deal with the same things as you guys, and I'm trying to make the best of it. I think I'm working on being a lot more positive in my everyday life because I realize comments and things can hurt," D'Amelio said.
D'Amelio said the hate on her account initially upset her and she'd try to respond to the nasty comments with witty comebacks, but as time passed, she said she decided to put her energy into her supporters rather than her detractors.
And she's in no short supply of fans.
On Nov. 17, D'Amelio held a meet-and-greet, which her parents Marc and Heidi D'Amelio estimated drew in a crowd of approximately 400 people. Tickets sold for the meet-and-greet raised approximately $7,000, all of which went to charity after security costs were paid, Marc D'Amelio said.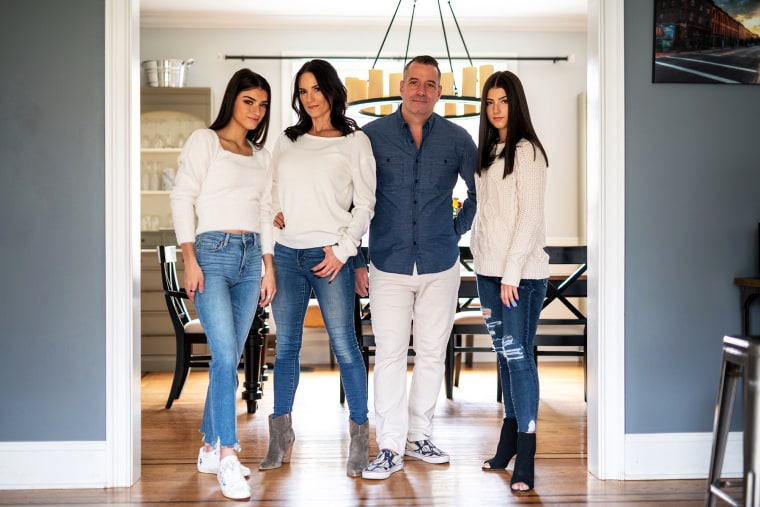 "Parents came up to us and said, 'We're just so happy there's a role model out there that represents good values,' and that's all her. That's not us coaching her," Marc D'Amelio said.
Marc and Heidi D'Amelio said their daughter's seemingly overnight rise to fame has been incredible to watch.
"We knew that she was a special dancer, so we knew at some point we'd see her on stage. We knew that she would do great things at some point in her life, it's just come a lot earlier," Marc D'Amelio said.
The D'Amelios, along with their other daughter Dixie D'Amelio, have become a TikTok family, each of whom has their own account, and Marc and Heidi D'Amelio said their TikTok fame-by-association has been largely positive.
"Overall it's been positive. Even the boys, it's been funny, they'll approach me and say, 'May I marry your daughter?' Every once in a while you'll get someone who crosses the line, and I've gone back and checked them and it's worked out fine," Marc D'Amelio said. "It's all new to us but we're figuring it out as we go and it so far is working."
As her fame has grown, Charli D'Amelio has begun branching out, creating a YouTube channel and sharing blog posts on her TikTok account, which she said is her way of humanizing herself. Her first YouTube video, posted on Nov. 23, has more than 1.1 million views.
D'Amelio hopes that by humanizing herself, her millions of followers will see her as a person who exists beyond their phone screens.
"I have feelings ... I'm a person. I'm more than just a person you see dancing on your 'For You' page. I'm real. That's why I've kind of been posting more stuff about my life ... to show them I do normal things," D'Amelio said. "I'm not just a person who posts on TikTok 24/7."