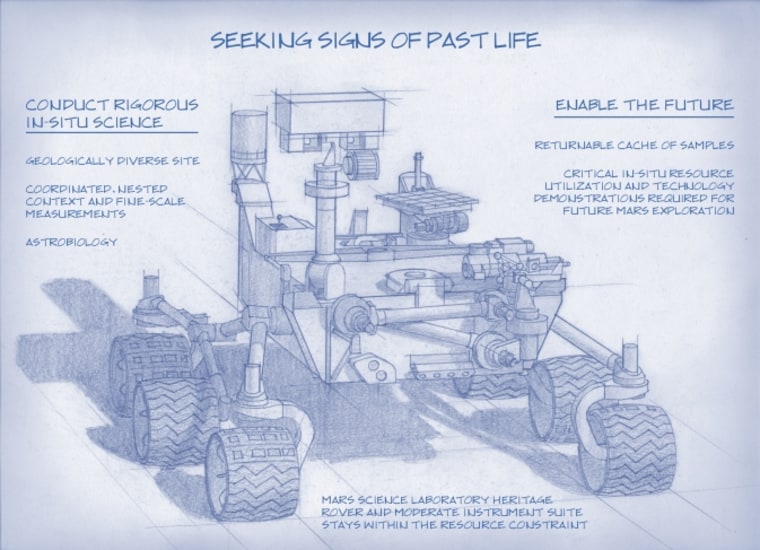 The team in charge of defining the mission for NASA's next Mars rover says the Curiosity-like machine should look for signs of past life and gather samples of rock and soil for eventual return to Earth.
The goals came to light in a report issued by the Mars 2020 Science Definition Team on Tuesday.
Such a sample return mission has been on NASA's agenda for more than a decade, but it has always lost out due to the technical challenges and limited budgets.
Multi-mission plan
The rover due for launch in 2020 would perform only the first step in a multi-mission plan, as envisioned by the science definition team: The six-wheeled machine could drill out as many as 31 core samples of rock and soil, and put them in storage. Years later, future probes could transport the samples back to Earth for study.

The team said the 2020 rover, which has not yet been formally named, should target "a site on Mars that likely was once habitable" and look for the chemical signatures of past life. It should also collect "critical data needed to plan for eventual human missions to the Martian surface." The current plan for human exploration calls for trips to Mars and its moons to begin in the 2030s.
"Crafting the science and exploration goals is a crucial milestone in preparing for our next major Mars mission," John Grunsfeld, NASA's associate administrator for science, said in a news release. "The objectives determined by NASA with the input from this team will become the basis later this year for soliciting proposals to provide instruments to be part of the science payload on this exciting step in Mars exploration."
Grunsfeld told reporters that the details for the actual sample return still have to be worked out, and may involve joint missions with international partners. "I wouldn't rule out that perhaps human explorers will go and retrieve the cache 20-plus years from now. ... We don't have a requirement that we bring samples back before we send people," he said.
Based on Curiosity
The 2020 rover would be based on the design used for NASA's nuclear-powered Curiosity rover, which was delivered to the Red Planet using an innovative sky-crane system. Curiosity's Mars Science Laboratory mission cost $2.5 billion, but NASA says the 2020 rover's mission could be done for $1.5 billion because of the savings on design and parts.

Funding is a major concern for NASA's Mars exploration program: Last year, the space agency had to make drastic reductions in its contribution to the European-led Exomars effort due to budgetary restraints. Between now and 2020, NASA is planning two smaller-scale missions to Mars: the $670 million Mars MAVEN orbiter, which is due for launch this fall to study changes in the Red Planet's atmosphere; and the $425 million InSight lander, which would go to Mars in 2016 to study its deep interior.
Update for 5:30 p.m. ET July 9: During a teleconference with reporters, Grunsfeld and other experts involved in planning the 2020 mission faced repeated questions about the plan to look for signs of past life rather than seeking out extant life — that is, organisms that may be living on Mars today.
Brown University geologist Jack Mustard, who chaired the science definition team, said that a search for extant life "drives you to go to regions of the planet that are particularly challenging." He suggested that the chances for success would be greater if the rover were to look for the biosignatures of life — past or present — in relatively accessible areas.
Another member of the team, Lindy Elkins-Tanton, director of the Carnegie Institution for Science's Department of Terrestrial Magnetism, told NBC News in a tweet that the idea of hunting specifically for extant life was discussed. "But there was no dissent — and note that we may still be able to look for extant life!" she wrote. "Depends on proposals."
Update for 2:25 p.m. ET July 10: I've revised the description of future sample return missions to reflect the fact that the specific plan for getting the samples back to Earth has not yet been laid out.
More about the 2020 rover from NASA:

More about NASA's Mars plans:
Alan Boyle is NBCNews.com's science editor. Connect with the Cosmic Log community by "liking" the NBC News Science Facebook page, following @b0yle on Twitter and adding the Cosmic Log page to your Google+ presence. To keep up with NBCNews.com's stories about science and space, sign up for the Tech & Science newsletter, delivered to your email in-box every weekday. You can also check out "The Case for Pluto," my book about the controversial dwarf planet and the search for new worlds.