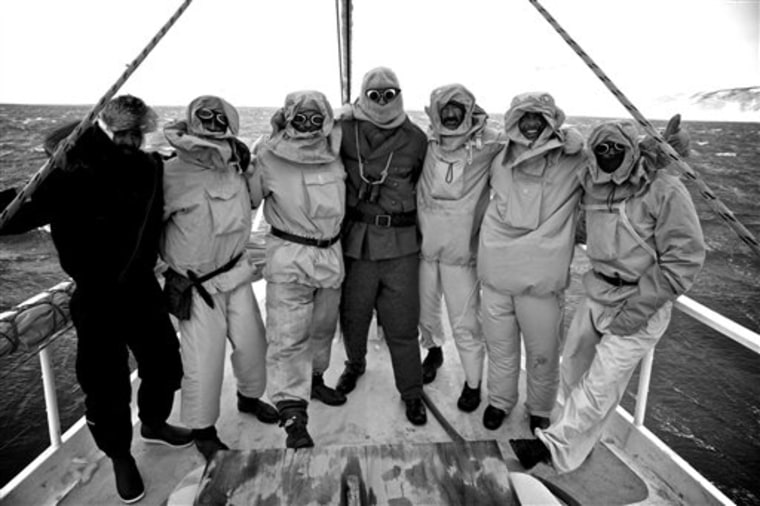 WELLINGTON, New Zealand — It's been lauded as one of the greatest survival stories of all-time.

Nearly 100 years later, a group of British and Australian adventurers have discovered why. They re-enacted Ernest Shackleton's journey to save his crew when their ship got stuck and sank in Antarctica's icy waters.
Tim Jarvis and Barry "Baz" Gray reached an old whaling station on remote South Georgia island Monday, 19 days after leaving Elephant Island. Just as Shackleton did in 1916, Jarvis and his team sailed 800 nautical miles across the Southern Ocean in a small lifeboat and then climbed over crevasse-filled mountains in South Georgia.
The modern-day team of six used similar equipment and clothes. But the harsh conditions forced several of them to abandon their attempt along the way.
"It was epic, really epic, and we've arrived here against the odds," Jarvis told his project manager Kim McKay after reaching the station, adding that "we had more than 20 crevasse falls up to our knees and Baz fell into a crevasse up to his armpits."
McKay said Jarvis was suffering some frostbite in his right foot after the journey. He was sleeping Monday and planned Tuesday to hike to the grave site of Shackleton, who was buried on the island years after his journey.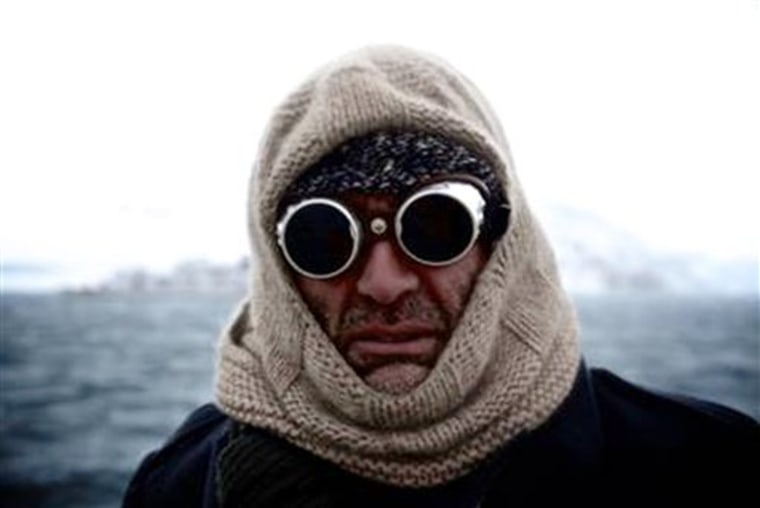 Jarvis wasn't the only one suffering foot problems. Three of the men couldn't complete the climb after suffering the ailment trench foot, caused by prolonged exposure to cold and wet conditions.
"The boat was only 22½ feet long. At any one time, only four men could be below deck, while the other two had to be on deck. They had 8-meter (26-foot) waves crashing onto the boat," McKay said. "It was like they were playing a game of twister. If one moved, they all had to move. They were constantly wet and cold and they all arrived with varying degrees of trench foot."
Shackleton completed the climb without a tent. Jarvis and his team were planning to do the same but were forced to use modern-day tents and sleeping bags when a blizzard hit. One member of the team turned back and then later rejoined Jarvis and Gray with more provisions and wearing modern-day clothing.
Shackleton's survival story was remarkable in that the final two legs of his journey came after the 28 crew had endured more than a year in Antarctica. Their ship "Endurance" was trapped and then crushed by the ice pack and the men later sailed in lifeboats to Elephant Island, where 22 of them stayed, waiting for help. After reaching the whaling station, Shackleton was able to raise the alarm and save all his crew.
While Jarvis, who lives in Australia and also has British citizenship, and his team tried to recreate many of the conditions, there were limits — they decided to eat salami rather than the penguins and seals on which Shackleton's crew subsisted.
"These early explorers were iron men in wooden boats," Jarvis told McKay, adding that he hoped "we've been able to emulate some of what they achieved."