During February 1998, a powerful jet stream pounded California with an unrelenting series of wet Pacific storms. Longstanding rainfall records fell. Oceanfront homes slumped into the roiling surf. Roads washed out across the state. Federal disaster areas were declared in 35 counties. At least 17 people died. The Red Cross opened 79 shelters and fed more than 100,000 people. 
The culprit? An extreme El Niño, a phenomenon triggered by a warming of waters in the equatorial Pacific Ocean that shifts weather patterns around the world. 
El Niño's ills weren't confined to California: In 1997-98, torrential rains washed away villages in northern Peru, heat waves rolled across Australia, and massive peat-bog fires cloaked Indonesia in a thick haze. All told, the impacts caused upwards of $45 billion in global economic losses and claimed an estimated 23,000 lives.
Given the damage from such extreme El Niño events, scientists are anxious to determine how their frequency and intensity will change as the planet warms. Past efforts have been frustratingly inconclusive. But now, new research is bringing a new approach to the problem — and finding that the frequency of extreme El Niño events akin to the 1997-98 episode should double in response to greenhouse warming.
"This is the first study that really says that they think there is a link," Mike Halpert, deputy director of the National Oceanic and Atmospheric Administration's Climate Prediction Center in College Park, Md., told NBC News. He was not involved in the study but calls it "interesting."
The study's conclusion "plausibly makes sense, but … it will be a little while before everybody jumps on board with this," Halpert said.
Based on climate models
The finding, published Sunday in the journal Nature Climate Change, is based on a suite of 20 climate models that accurately portray historic trends in El Niño. For the study, the models simulated the climate for 200 years from 1890 to 2090. In the first half of the run, extreme El Niños occur about once every 20 years. From 1990 to 2090, the extreme events occur about every 10 years. The extreme El Niño that swamped California was 16 years ago.

"We are due for a big El Niño year," the study's lead author Wenju Cai, an atmospheric scientist at Australia's Commonwealth Scientific and Industrial Research Organization, told NBC News. "But nobody can predict when it is going to come."
During an extreme El Niño, Cai explained, a pool of warm water that normally resides in the western Pacific expands to the eastern equatorial Pacific, bringing with it increased atmospheric convection and rainfall.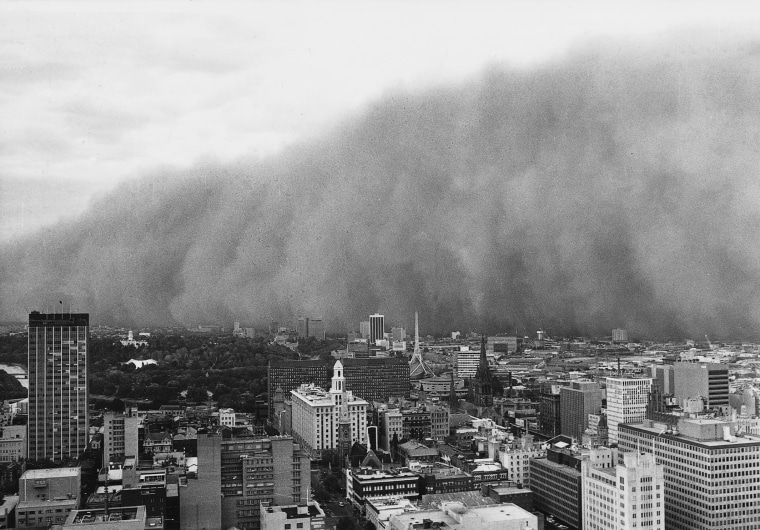 "When that occurs, it involves a massive reorganization of the atmospheric circulation. The western Pacific becomes dry; Australia has drought, heat waves and bushfires; and Indonesia has bushfires," he said. "But in Ecuador and northern Peru, the rainfall increases by 10 times and there are big, big problems."
Historically, the cold seas in the eastern equatorial Pacific served as a barrier to the expansion of the warm waters from the west. But as greenhouse gases have increased in the atmosphere, the eastern equatorial Pacific has warmed faster than surrounding regions, Cai explained. The warming, in turn, has weakened the barrier. "It is easier to have the maximum temperature in the eastern equatorial Pacific," he said.
The faster warming in the eastern equatorial Pacific is shifting the background climate state, explained Kim Cobb, an atmospheric scientist at Georgia Tech who has struggled to find a connection between El Niño and climate change in her studies of paleoclimate records, such as coral reefs. She played no role in the new study but says it brings a new and welcome perspective to the problem.
Given the faster warming in the eastern equatorial Pacific, "even fairly moderate El Niño events … are able to trigger these responses in the atmosphere which we currently associate with the most extreme El Niño events in the instrumental record," she said. "It doesn't take much to push you over the threshold."
Be prepared
The increased ease with which extreme El Niño conditions could form suggests that the world should brace for more catastrophic weather events — such as torrential rains and flooding in regions accustomed to drought, and raging bushfires in the typically moist tropics of Southeast Asia, Cai said. 

The anticipated uptick comes at a time when weather disasters are already on the rise due to a rapidly growing and urbanizing global population, noted Rod Snider, a disaster risk reduction expert at the American Red Cross in Washington. Add climate change to the equation, and "we need to have even more robust disaster preparedness activity," he told NBC News.
For the Red Cross, preparedness includes strategies such as working with communities so they know evacuation routes to storm shelters, as well as communicating when it is safe to plant crops, Snider explained. 
Compared to the historical extreme El Niño event of 1877-78, when an estimated 23 million people died due to drought and famine, the world is already better prepared, Cai noted. "If one region has famine, we can send food aid overnight through those charity organizations," he explained. "In that sense, we are better prepared."
The Climate Prediction Center's Halpert said scientists foresaw the onset of the 1997-98 El Niño event six to nine months in advance. That gave Californians time to prepare by cleaning out storm drains and gutters. Those steps, he said, saved the state $1 billion in damages, compared with what they experienced during the 1982-83 extreme El Niño.
"Fairly insignificant, relatively modest expenditures can have a big payoff down the line," he noted. 
Nevertheless, Cai said, there is an irony here: "We know better how bad these events are, yet we are still continuing to emit more and more carbon dioxide, and that is going to cause more frequent occurrence of what we call super El Niño events."
John Roach is a contributing writer for NBC News. He started this role in November 2005. Roach is responsible for environmental coverage on the website. Roach has also contributed to National Geographic News, MSN and other outdoor and environment-related media outlets. To learn more about him, visit his website.