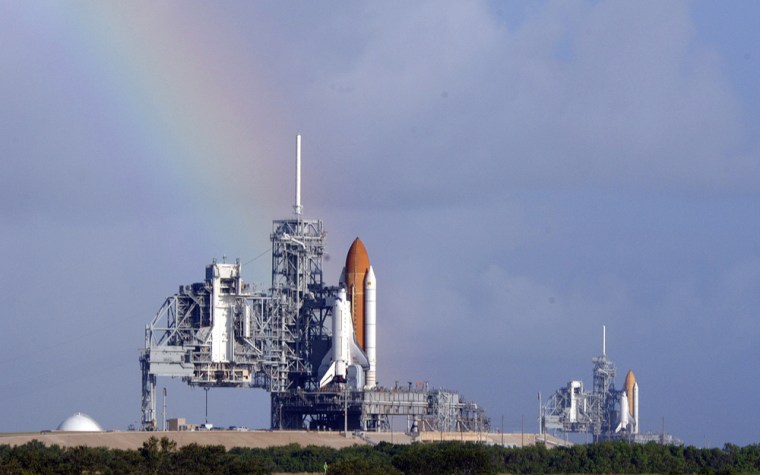 KENT, Wash. — Thanks to Amazon.com billionaire Jeff Bezos' backing, Blue Origin is one of the country's most financially stable rocket ventures, but it has also had one of the lowest profiles — until now.
The company, based in an industrial area south of Seattle, is waiting to hear whether it can take over one of NASA's crown jewels: Launch Complex 39A at Kennedy Space Center in Florida, where the first and the last space shuttle flight blasted off. And Bezos is competing with another billionaire, SpaceX's Elon Musk, to get it.
SpaceX is one of the biggest success stories in space nowadays: The company that Musk founded in 2002 with his dot-com fortune has flown three successful unmanned missions to the International Space Station, has dozens of launches on its manifest, and is said to be turning a profit.
Meanwhile, Bezos' Blue Origin has been quietly working for almost 13 years on a suborbital launch system that would send passengers and payloads on short blasts into space, as well as an orbital system that could deliver astronauts to the International Space Station or other destinations.
With financial backing from NASA, Blue Origin has developed an innovative launch pad escape system as well as a rocket that has gone as high as 45,000 feet (13.7 kilometers). But it hasn't yet put anything in outer space, and the crash of its prototype suborbital spacecraft in 2011 was a significant setback.
"We're a company that doesn't take the easy path," Blue Origin's president, Rob Meyerson, told NBC News during an interview at the company's headquarters in Kent. "These vehicles are challenging."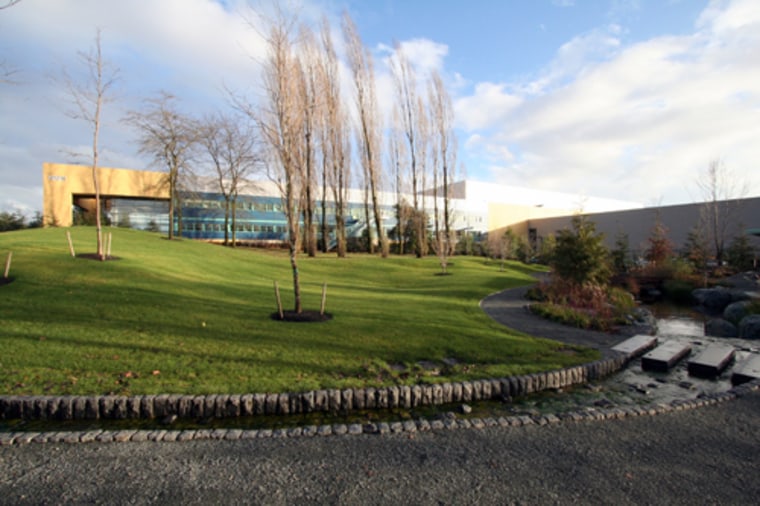 Low profile, high commitment
Meyerson, a veteran aerospace engineer who began his career in 1985 at NASA's Johnson Space Center, acknowledged that Bezos' style is to keep a low profile. The billionaire himself rarely talks to the press about his rocket venture, leaving that to Meyerson and other executives. But Bezos' commitment to enabling "human access to space at a dramatically lower cost and increased reliability" is as strong today as it was at the beginning, Meyerson said.

"His vision has stayed absolutely rock-steady," Meyerson said.
Last Thursday's interview marked the first time that a working journalist was admitted into Blue Origin's headquarters, Meyerson and other company representatives said.

No photos were allowed — but as we walked through the building, there was time to marvel at the two-story-high rocket sculpture (with fireplace) in the lobby, a 10-foot-wide inflatable globe spinning in an entryway, and displays featuring scale models of Hollywood spaceships. A Starship Enterprise model (used for the first three "Star Trek" movies) sat in the lobby. The Discovery One spaceship from "2001: A Space Odyssey" hung from the ceiling. A miniature geodesic dome from "Silent Running" sat on a pedestal in a hallway.
The point of the visit wasn't to gawk at the decor, however. Meyerson wanted to get the word out about Blue Origin's ambitions for Launch Complex 39A.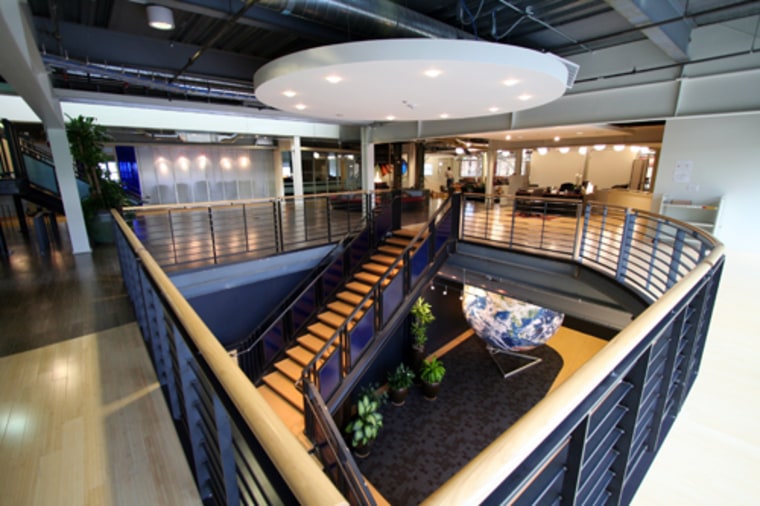 Surplus launch pad
With the shuttle fleet retired, 39A is now considered surplus. NASA plans to use the other shuttle launch pad, 39B, for development and launch of its next-generation heavy-lift rocket, the Space Launch System. But to save money, the space agency wants to turn the operation and maintenance of 39A over to a commercial concern in October.
Both Musk and Bezos are eyeing the launch pad because, for all their billions, it's still challenging to build an orbital launch pad from scratch. Kennedy Space Center would be ideal, because it already has the infrastructure as well as the coastal range clearances for orbital launches. As an illustration of how tough it is to create a new pad, SpaceX has been looking into creating a new commercial launch facility for more than two years, but a deal still hasn't been reached.
SpaceX spokeswoman Christina Ra told NBC News that 39A wouldn't take the place of a future commercial launch facility. "SpaceX would focus on our commercial satellite customers with 39A but could launch any mission from our East Coast manifest. We could also use it for launching crew and Falcon Heavy," Ra said in an email.
SpaceX currently launches its Falcon 9 rocket and unmanned Dragon capsule on cargo flights to the International Space Station from Cape Canaveral Air Force Station, which is near NASA's space center. The company plans to upgrade the Dragon for crewed missions by as early as 2015.
Blue Origin also is looking for an orbital launch facility. The company currently assembles hardware at the Kent facility and tests its suborbital rockets at a 18,600-acre spaceport that Bezos built amid hundreds of thousands of acres of rangeland he owns in West Texas.

Meyerson said the Texas spaceport would continue to be the base for suborbital operations, but Launch Complex 39A would be used for assembly and launch of orbital spacecraft. Commercial operations, perhaps including flights to the space station, would begin in 2018, he said. Meyerson said it was too early to estimate how many jobs would be created for the Florida operation. Blue Origin currently employs more than 250 people, while SpaceX has more than 3,000 employees.

Blue Origin would run 39A as a multi-use facility, allowing other launch providers to send their rockets into space from the pad for a price. "We're open to everyone," Meyerson said. "We think we have the technical background and we have the long-term financial commitment to make a multi-user pad at KSC successful."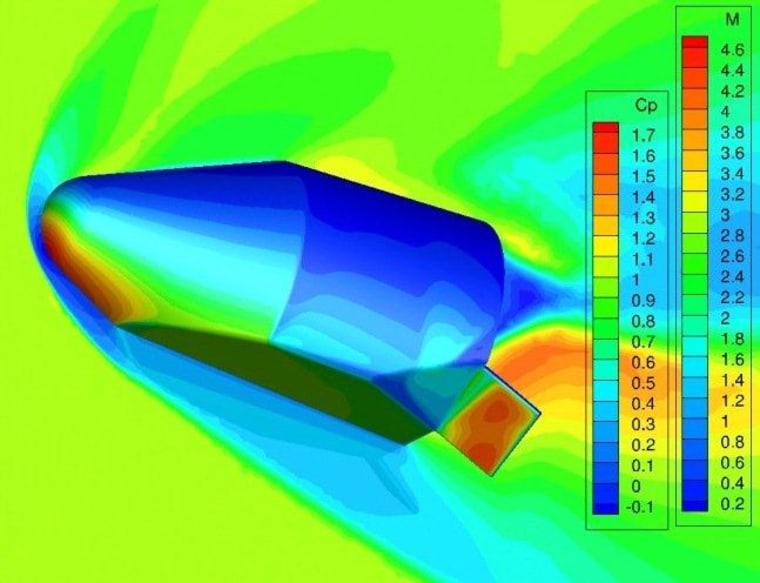 Other rocket companies on board
One of Blue Origin's customers could be United Launch Alliance, which currently sends government and commercial payloads into space from Cape Canaveral Air Force Station. ULA's Atlas 5 rocket is slated to be used by two other SpaceX competitors, the Boeing Co. and Sierra Nevada Corp., to send crews and cargo to the space station and perhaps other orbital destinations as early as 2016. Blue Origin may also use the Atlas 5 while it develops its own rocket.
Blue Origin's director of strategy and business development, Bretton Alexander, said ULA and at least one other launch provider are supporting Blue Origin's bid for Launch Complex 39A. In an emailed statement, ULA spokeswoman Jessica Rye said a multi-user pad could offer a cost-effective option for launches, and could "serve as a backup to our existing sites."
The financial details of Blue Origin's and SpaceX's proposals for running Launch Complex 39A are shrouded in confidentiality, and NASA does not have a formal timetable for deciding which bid will be accepted — other than that the space agency wants to make the handover by Oct. 1.
It's not clear how much money would change hands under either of the proposed arrangements, if any. NASA is already committed to paying SpaceX $1.6 billion for 12 cargo flights to the space station, plus $440 million for the current phase of development for a crew-capable Dragon spacecraft. If SpaceX's bid is accepted, the company would presumably pay out a portion of that money for operation and maintenance of pad facilities.
In this clash of the billionaires, Blue Origin has at least one clear advantage: Bezos' net worth is estimated at $25.2 billion, almost 10 times Musk's estimated net worth of $2.7 billion. Meyerson has said that Bezos intends to be in the rocket business for decades to come. However, he made clear that Blue Origin would eventually have to pay its own way. Launch Complex 39A would be part of that strategy.
"You have to find a way to generate revenue," Meyerson said. "We're committed to the multi-user site. You have to get the price reasonable, you have to find ways to do the job at the right price point, and you have to market. ... This is a different model."
Update for 7:15 p.m. ET July 23: I originally said SpaceX had more than 1,800 employees, but the figure is actually more than 3,000. Also, SpaceX's Christina Ra amended her quote to reflect the company's expected priorities for Launch Complex 39A more precisely.
More about Blue Origin:
Alan Boyle is NBCNews.com's science editor. Connect with the Cosmic Log community by "liking" the NBC News Science Facebook page, following @b0yle on Twitter and adding +Alan Boyle to your Google+ presence. To keep up with NBCNews.com's stories about science and space, sign up for the Tech & Science newsletter, delivered to your email in-box every weekday. You can also check out "The Case for Pluto," my book about the controversial dwarf planet and the search for new worlds.