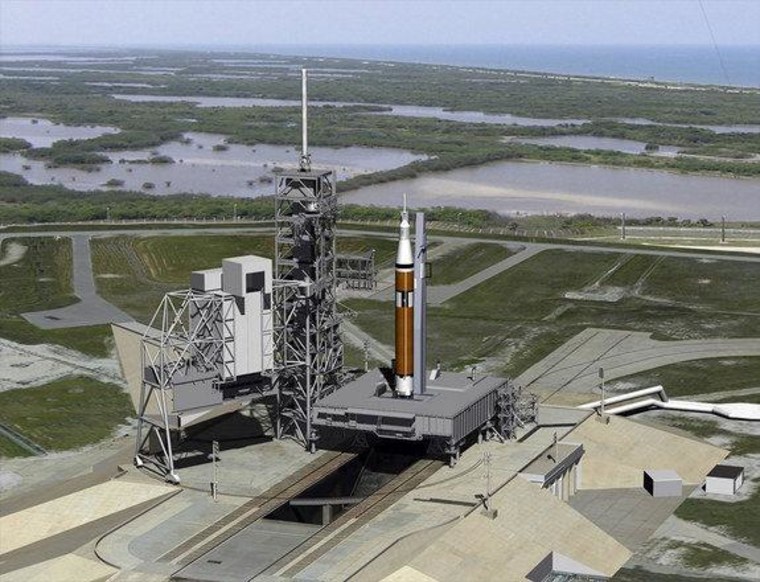 A tug of war involving two billionaire-backed space ventures has forced NASA to put a hold on its plans to turn over one of its historic space shuttle launch pads to a commercial operator by the end of this month.
Now it could take until mid-December for NASA to decide whether Kennedy Space Center's Launch Complex 39A should be given over to California-based SpaceX, founded by billionaire Elon Musk; or Blue Origin, the Washington state company founded by Amazon.com's Jeff Bezos.
The competition demonstrates two kinds of clout at work: Musk's SpaceX was once seen as an upstart challenger to the space establishment — but after a string of successes, it now plays a leading role in NASA's vision for commercial spaceflight. Bezos' Blue Origin doesn't have as much of a track record in spaceflight, but it does have powerful allies in the launch industry as well as in the halls of Congress.
Because of the continuing tug of war, NASA will have to keep maintaining Launch Complex 39A past Oct. 1 rather than ceding that responsibility to the private sector — and taxpayers will have to foot the bill, to the tune of an estimated $100,000 a month.
The reason for the delay? On Sept. 3, Blue Origin lodged a protest with the Government Accountability Office over the way NASA was soliciting bids for the right to manage and operate Pad 39A. "The protest is a challenge to the solicitation," Ralph White, GAO's managing associate general counsel for procurement law, told NBC News. "That means they think there's a problem with the solicitation that needs to be addressed."
That filing triggered a 100-day clock for a GAO ruling on the protest, with a ruling due by Dec. 12. NASA has until early next month to respond to the protest, and SpaceX has signaled that it's weighing in as well.
White declined to comment on the substance of the protest. Neither NASA, nor Blue Origin, nor SpaceX, nor any of their lawyers responded to NBC News' inquiries about the specifics of the case on Friday. But one of Blue Origin's main objections is thought to focus on what NASA Administrator Charles Bolden and other agency officials have been saying about Launch Complex 39B, Kennedy Space Center's other launch pad.
A tale of two pads
Since the retirement of NASA's shuttle fleet in 2011, both 39A and 39B have been idle. NASA intends to use 39B for launches of the heavy-lift Space Launch System, or SLS, which is currently in development. The space agency sees 39A as surplus to its needs, and that's why it wants to lease the pad to a commercial launch operator for at least the next five years.
SpaceX wants exclusive use of 39A to launch its Falcon 9 rockets, for commercial satellite missions and potentially for sending crew to the International Space Station. The pad could also serve as a home for the more powerful Falcon Heavy rocket, which is still in development.
Blue Origin, meanwhile, wants to operate 39A as a multi-user pad that could handle launches staged by a variety of companies, potentially including SpaceX. United Launch Alliance, SpaceX's biggest competitor, voiced support for the multi-user concept, along with other unnamed launch companies.
Here's where 39B, the pad earmarked for SLS launches, comes into the picture: In July, Bolden said 39B could also handle launches by commercial ventures. Essentially, Bolden was offering 39B as the multi-user pad in place of 39A. This could have been interpreted as signaling that Bolden favored reserving 39A for one company's exclusive use — and that was one of the factors setting off Blue Origin's protest.
Politics enters the picture
The protest comes against the background of a back-and-forth debate over the future shape of the space industry.

SpaceX's Falcon 9 rocket and Dragon cargo capsule have made three  successful  runs to the International Space Station, and the company is pushing ahead with the Falcon Heavy as well as a prototype fly-back booster project known as Grasshopper. It's conceivable that SpaceX could start flying NASA astronauts to the space station within the next three or four years.
Blue Origin weathered a failed flight test in 2011, but is nevertheless pressing ahead with its suborbital and orbital test programs in line with Bezos' motto: "Gradatim ferociter," which is Latin for "Step by step, courageously." Blue Origin plans to send its spaceships into orbit by 2018. It's the same strategy Bezos has applied to Amazon.com and his latest acquisition, The Washington Post.
In addition to his allies in the launch industry, Bezos has advocates in Congress. In July, House Republicans Frank Wolf of Virginia and Robert Aderholt of Alabama sent a letter to Bolden, voicing concerns about leasing the pad for one company's exclusive use. Another such letter was sent this month by five U.S. senators: Republican David Vitter and Democrat Mary Landrieu of Louisiana; Democrat Patty Murray of Washington state; Oklahoma Republican James Inhofe and Utah Republican Orrin Hatch.
"Blocking use of the pad to all but one company would essentially give that company a monopoly, stifling competition in space launches and therefore raising costs," the senators argued. They urged Bolden to withdraw the current solicitation and start over with a new one that would require any leaseholder to give other companies access to 39A.
The 100-day cycle that was put into motion by Blue Origin's protest could give NASA a chance to plead its case — not only with the GAO, but with congressional critics as well. It could provide a break for NASA to negotiate changes that would somehow satisfy Blue Origin as well as SpaceX. Or it could lead to a hardening of the political lines — and yet another round of uncertainty about the fate of America's most famous launch pads.
Update for 10:15 p.m. ET Sept. 18: Florida's entire congressional delegation has sent letters to Bolden supporting NASA's current process for determining who gets Launch Complex 39A. One letter was sent by the Florida's two U.S. senators on Sept. 13, and another was sent by the state's 29 House representatives on Sept. 16. (NASA Watch has posted copies of both letters.)
The letters could bolster NASA's case for going ahead and giving SpaceX exclusive use of 39A, if that's the way the process turns out. For more about the latest twists and turns, check out the updates from Florida Today and Space News. 
More about Kennedy Space Center's future:
Alan Boyle is NBCNews.com's science editor. Connect with the Cosmic Log community by "liking" the NBC News Science Facebook page, following @b0yle on Twitter and adding +Alan Boyle to your Google+ circles. To keep up with NBCNews.com's stories about science and space, sign up for the Tech & Science newsletter, delivered to your email in-box every weekday. You can also check out "The Case for Pluto," my book about the controversial dwarf planet and the search for new worlds.