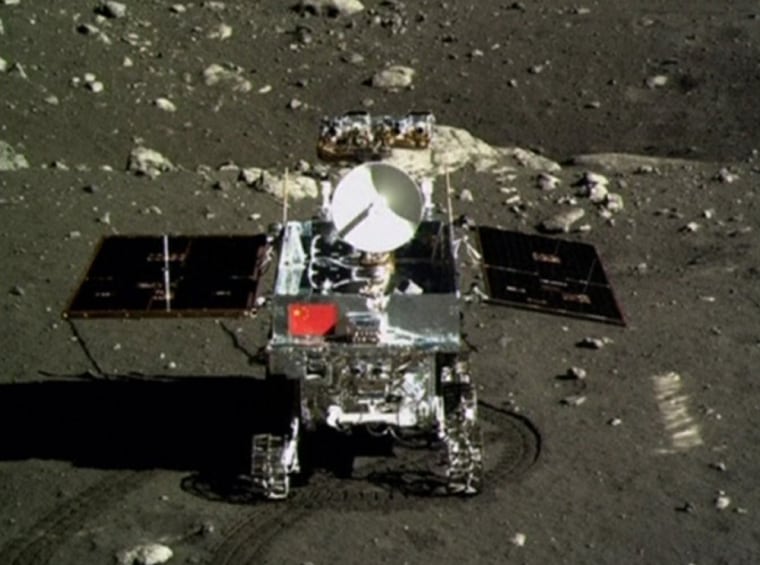 BEIJING — China aims to launch its next unmanned lunar probe in 2017, with the goal of collecting and bringing home lunar samples, an official said on Monday after the country's first rover landed successfully on the moon.
China's leaders have set a priority on advancing its space program, with President Xi Jinping calling for the country to establish itself as a space power.
The Chang'e 3 probe, named after a goddess in traditional Chinese mythology, landed on the moon on Saturday, setting down a lunar rover called Yutu (Chinese for "Jade Rabbit," Chang'e's companion).
The development of the Chang'e 5 probe, tasked with the moon sampling mission, is well under way and is due to be launched around 2017, a spokesman for the State Administration of Science, Technology and Industry for National Defense said.
"After the success of the Chang'e 3's mission, the lunar exploration program will enter the third phase, with the main goal being to achieve unmanned automatic collection of samples and returning them" to Earth, spokesman Wu Zhijian told a news conference.
When Wu was asked if China planned to send astronauts to the moon, he replied that the country's space effort has yet to announce its ambitions beyond the sampling mission.
"Our country's lunar exploration program is a technology program for the peaceful uses of outer space, as well as an open program," said Wu, citing cooperation with Russian and European counterparts and international bodies.
The U.S. Defense Department has highlighted China's increasing space capabilities, however, saying it was pursuing activities aimed at preventing its adversaries from using space-based assets during a crisis.
Despite considerable advances, China's space program still lags behind those of the United States and Russia.
Zhou Jianliang, chief engineer of the Beijing Aerospace Control Center, said the country did not have 24-hour monitoring of probes operating far from Earth's orbit. Its two deep-space monitoring stations are both located in China.
"It is imperative to build a deep-space monitoring station abroad in order to make up for blind measurements and realize round-the-clock monitoring," Zhou said.
During China's latest manned space mission in June, three astronauts spent 15 days in orbit and docked with an experimental space laboratory, part of Beijing's quest to build a working space station by 2020.