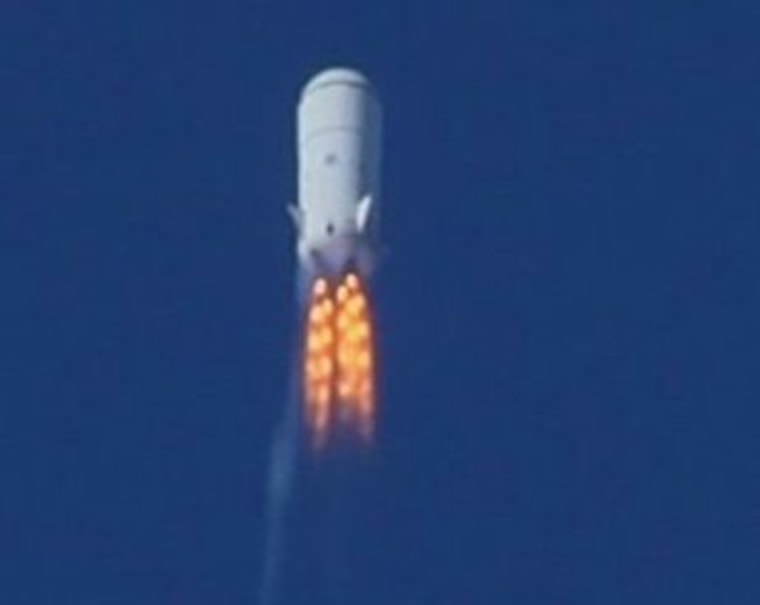 Blue Origin's experimental rocket ship crashed last week when a high-altitude flight test went awry, says Amazon.com billionaire Jeff Bezos, who founded the secretive rocket venture 11 years ago. The Aug. 24 mishap marks a setback for Blue Origin's efforts to develop a spaceship capable of carrying tourists on suborbital space rides.
The loss of the cylindrical unmanned vehicle first came to light today in an online report by The Wall Street Journal, and was confirmed by a posting to Blue Origin's website.
"Three months ago, we successfully flew our second test vehicle in a short hop mission, and then last week we lost the vehicle during a developmental test at Mach 1.2 and an altitude of 45,000 feet," Bezos wrote. "A flight instability drove an angle of attack that triggered our range safety system to terminate thrust on the vehicle. Not the outcome any of us wanted, but we're signed up for this to be hard, and the Blue Origin team is doing an outstanding job. We're already working on our next development vehicle."
The test flight unfolded at Bezos' private spaceport, about 25 miles north of Van Horn, Texas — the same site where Blue Origin's first experimental vehicle was tested in 2006.
Since then, NASA has awarded Blue Origin more than $25 million to develop its space vehicle as well as a "pusher" launch abort system. In documents filed with NASA, Blue Origin says it intends to build an orbital space vehicle capable of carrying astronauts and cargo to the International Space Station, to be launched initially on an expendable rocket such as United Launch Alliance's Atlas 5.
Plans for private passengers
Blue Origin also plans to offer suborbital spaceflights for private passengers, which would involve vertical trips powered by its own reusable propulsion module. Earlier this year, Blue Origin reported that the suborbital capsule was "undergoing final assembly."
The Aug. 24 test involved the suborbital spaceship, rather than the work covered by NASA's agreement with Blue Origin.
Bezos said the crew capsule was not mounted on the propulsion module for the test flight. "The development vehicle doesn't have a crew capsule — just a close-out fairing instead," he explained. "We're working on the suborbital crew capsule separately, as well as an orbital crew vehicle to support NASA's commercial crew program."
Blue Origin spokeswoman Gwen Griffin declined to comment on the test program, other than to point to Bezos' statement and previously released documents. The Wall Street Journal quoted unnamed sources as saying that officials at NASA and the Federal Aviation Administration were told in advance about the launch and were aware of the failure. The Journal's Andy Pasztor quoted officials as saying that parts of the vehicle were recovered on the ground and are now being analyzed by Blue Origin.
Some reports suggested that the rocket ship was blown up in the air, in response to commands from the range safety system. "The talk around town is, people saw it in the air," Larry Simpson, the publisher of the Van Horn Advocate, told me. "I heard talk that people saw it from 25 miles away."
Simpson himself didn't witness the test flight. With the exception of Bezos' updates and government-required documents, Blue Origin has been extremely reticent about discussing past or future operations. Blue Origin is required to tell the FAA about upcoming flight tests so that the agency can issue advisory "notices to airmen," or NOTAMs. Such a notice was issued for the Aug. 24 test.
New questions about space commercialization
Although Bezos indicated that the venture's NASA-funded development project is unaffected, the crash could spark new questions about NASA's post-shuttle push to commercialize space station resupply operations. In addition to Blue Origin, which has its production facility and heaquarters in Kent, Wash., south of Seattle, three other companies are receiving shares of nearly $270 million from NASA: the Boeing Co., Sierra Nevada Corp. and SpaceX.
Last year, SpaceX conducted a successful orbital test flight of its Dragon space capsule, launched atop a Falcon 9 rocket. Another test is planned for as early as November, during which a cargo-carrying Dragon would link up with the space station. A second company, Orbital Sciences Corp., is gearing up for its first test flight. SpaceX and Orbital could split up to $3.5 billion in NASA cargo contracts if their tests are successful.
The next phase of NASA's commercial spaceship development program could involve awards totaling $800 million. All four of the companies currently receiving funds say that their spaceships could be ready to carry NASA astronauts to the space station by 2015 or 2016 if NASA provides enough money for development.
In addition to an image from last week's test flight, Blue Origin released these pictures from the successful "short hop" test three months ago: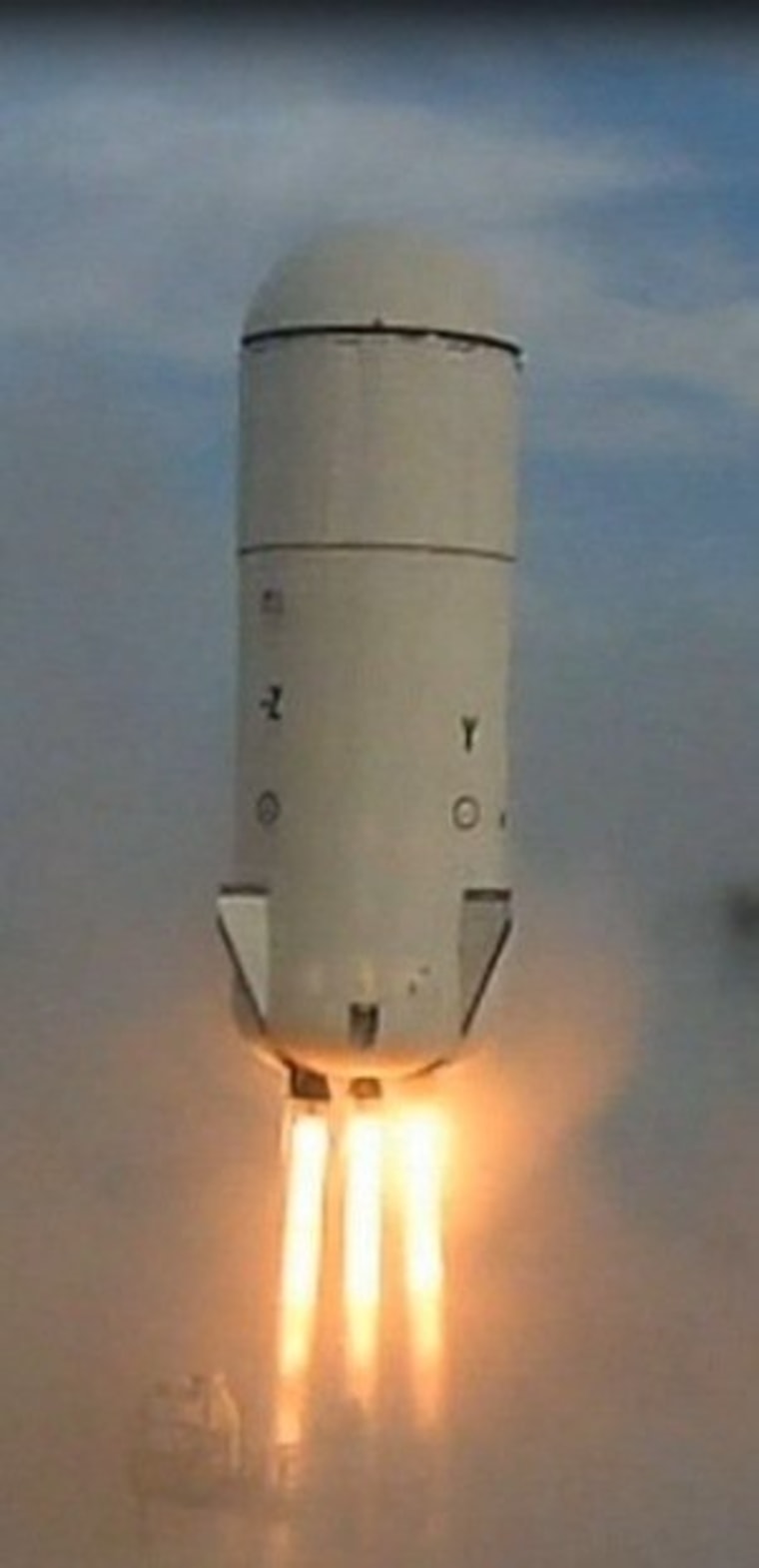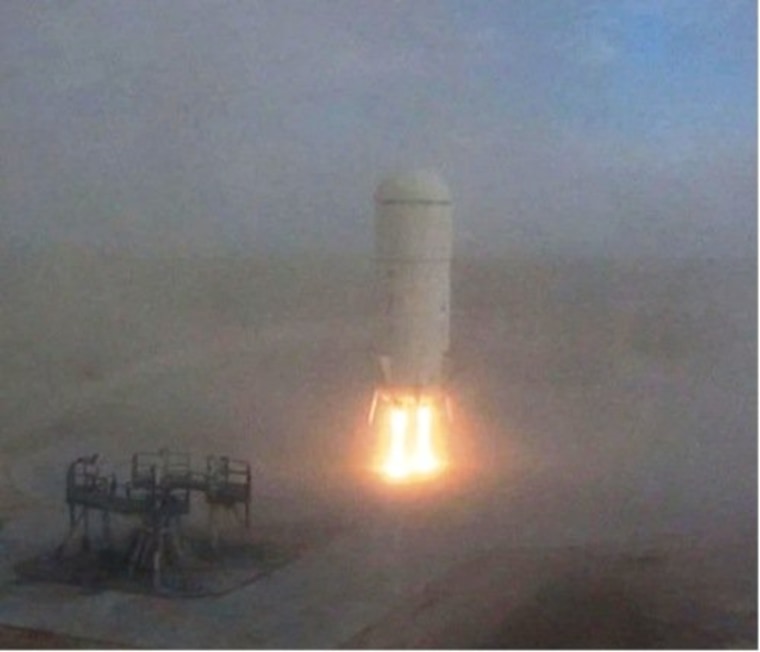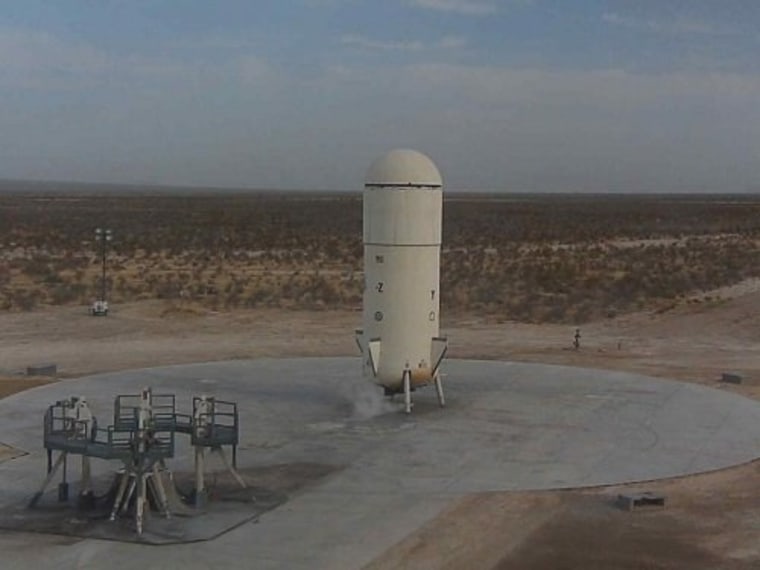 Update for 9:10 p.m. ET: Where does Blue Origin stand in the commercial space race? Here's an assessment from NBC News space analyst James Oberg:
"Bezos is working on a 'dark horse' up-down space tourist vehicle with some downstream orbital capabilities. He's not in serious competition with Virgin Galactic's SpaceShipTwo, which will probably start powered flight tests into space early next year, nor the Elon Musk SpaceX orbital vehicles. But he was a 'long shot' trying some innovative designs.
"The coincidence with the explosion of the tried-and-true Russian Progress freighter last week is worth noting. Both occurred on Wednesday, August 24. The Russian ship took off at 1300 GMT (9 a.m. EDT), and the Blue Origin vehicle had reserved a time slot from 1200 to 1700 GMT (8 a.m. to 1 p.m. EDT) — the actual time has not been disclosed  —  but clearly, at most, a few hours apart.
"You expect unpleasant surprises at the ragged edge of flight testing, a la Bezos, but not after 30 years of routine orbital operations [Progress]. Implications of both failures remain to be evaluated."
The Russians quickly reported that the Progress problem originated in a third-stage gas generator, and the problem is expected to be resolved in time to keep International Space Station operations on an even keel. Blue Origin may need more time to get back on track. One of the time frames being bandied about is a year, but there's really no way of knowing at this point.
More about commercial spaceflight:
Connect with the Cosmic Log community by "liking" the log's Facebook page, following @b0yle on Twitter or adding me to your Google+ circle. You can also check out "The Case for Pluto," my book about the controversial dwarf planet and the search for other worlds.