The band is getting back together: Seven years after winning the $10 million Ansari X Prize, software billionaire Paul Allen and aerospace guru Burt Rutan are teaming up with SpaceX and other top-flight rocketeers to create an air-launched orbital delivery system. They say the venture will require the construction of the largest aircraft ever flown.
Allen unveiled his new company, Stratolaunch Systems, at a Seattle news conference today. It marks his first space venture since the partnership with Rutan to build the prize-winning SpaceShipOne rocket plane, which became the first privately developed craft to reach outer space in 2004.
The Seattle native, who made his fortune as a Microsoft co-founder, said he's long dreamed of following up on SpaceShipOne's success with another revolutionary space effort. "You have a certain number of dreams in your life that you want to fulfill, and this is a dream I'm very excited about," he told journalists and VIPs at the headquarters of Vulcan Inc., which serves as the umbrella company for many of Allen's ventures.
Rutan, who retired from Scaled Composites in April at the age of 67, will serve as a board member for Stratolaunch. He said Allen was the "perfect team member and customer" when they worked on SpaceShipOne. "I'm looking forward to doing that again," Rutan said.
The new venture is significant for the revival of the Allen-Rutan partnership, with the addition of California-based SpaceX and Alabama-based Dynetics as new suppliers. It's like putting Roy Orbison and Bruce Springsteen on the same music stage. 
Other players include Gary Wentz, a former chief engineer at NASA, who will serve as Stratolaunch's CEO and president; and former NASA Administrator Mike Griffin, who is on the board.  Griffin said the Stratolaunch air-launch system could make spaceflight more routine by removing many of the constraints associated with ground-based launches. However, getting the company off the ground will require a large investment as well as "the courage to fly through failure to get to success," Griffin said.
Allen agreed that his latest venture won't come cheap. He said he'll spend "at least an order of magnitude more than I put into SpaceShipOne." Allen's investment in SpaceShipOne was estimated at $25 to $30 million, which suggests he's prepared to put at least $250 million to $300 million into Stratolaunch.
Mothership plus rocket
The Stratolaunch system would super-size the arrangement used for the SpaceShipOne launches: Scaled Composites has been tapped to build a carrier airplane that weighs more than 1.2 million pounds, with a wingspan of more than 380 feet. That tonnage rivals the weight of the Antonov An-225, which is recognized as the world's heaviest aircraft. Stratolaunch's dual-fuselage plane would be powered by six 747 engines, and would require a 12,000-foot runway for landing.
Wentz said the venture already has a contract to acquire two Boeing 747s. The engines as well as other subsystems would be used on the Stratolaunch super-carrier. However, Scaled Composites President Doug Shane told me that the 747's metal skin wouldn't go onto the plane. Instead, the new plane's wings and fuselage structure would be fabricated from advanced carbon composites.
Rutan joked that the plane was "relatively close to building, as soon as we can get a building big enough."
The plane would be capable of flying up to 1,300 nautical miles to reach its launch point. SpaceX would provide a shortened version of its Falcon 9 rocket for the next phase of Stratolaunch's route to orbit. Wentz described it as a "Falcon 4 or 5." The multistage booster would be attached to the plane using a mating and integration system developed by Dynetics, and released during the mothership's flight at 30,000 feet. After release, the 490,000-pound rocket would light up to send commercial and government payloads weighing up to 13,500 pounds into low Earth orbit.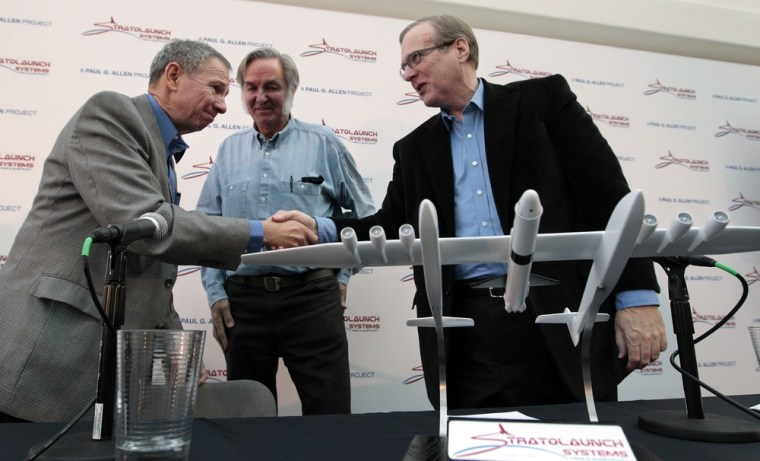 Griffin said the Stratolaunch system would initially serve "a thriving commercial satellite market, small to medium" — the type of market previously served by the now-retired Delta 2 rocket.
Wentz said the rocket to be developed by SpaceX would not compete with SpaceX's own Falcon 9, which can lift 23,050 pounds to low Earth orbit from Cape Canaveral. Allen said "we're in a different class of payload size," and SpaceX's vice president for government sales, Adam Harris, concurred. "There's room in that [payload] class for something new," Harris told me.
Allen said the Stratolaunch system won't take on human passengers until the system's safety and reliability are fully demonstrated. But if and when it does, "we could be very competitive" with the $60 million-a-seat fee that the Russians will be charging NASA over the next few years, he said. Rutan suggested that people could make up a significant share of the payloads in the longer term. "I don't think there's any limit to the number of payloads in that category," he said.
Stratolaunch's briefing materials said more than 100 people have already been assigned to the effort in California and Florida as well as in Alabama, where the company is headquartered. Flight tests of the plane are due to start in 2015, with the rocket added to the test phase in 2016. The plane will be tested at the Mojave Air and Space Port in California, but the base for launch operations has not yet been selected.
Re-entering the space race
Allen and his partners say air-launched systems can send payloads into space at lower cost, with greater safety, more flexibility and faster turnaround time than ground-launched systems. That would be because the carrier airplane effectively gives the rocket a head start on its ascent to orbit, and can launch from a variety of midflight locations. But the launch industry is becoming more competitive, thanks in part to the rise of SpaceX and smaller rocket companies such as Masten Space Systems and Armadillo Aerospace.
Someday, Allen and Rutan may find themselves in competition with Virgin Galactic, which has incorporated SpaceShipOne technology into the SpaceShipTwo rocket plane and is expected to start commercial service in the next year or two. Today, however, Virgin Galactic issued a statement welcoming the new venture.
"It takes me back to the exciting conversations the three of us had in 2004 when we first started talking about commercializing SpaceShipOne technology," Virgin Galactic's founder, British billionaire Richard Branson, said in the statement. "We've come a long way since then; WhiteKnightTwo and SpaceShipTwo are built and flying, and we have nearly 500 private individuals and science researchers signed up and ready to fly. The potential of the industry we are leading is immense but will depend on the continuing emergence of truly safe, affordable and transformative technologies. Burt and Paul's record in that respect is unmatched. I hope that in due course, in partnership with Stratolaunch and others, we will be able to repeat the pattern that has worked so spectacularly well in the suborbital sphere, for orbital spaceflight."
The commercial space race may have changed over the past seven years, but Allen clearly wants to get back on the track. At the end of his autobiography, "Idea Man," he dropped a broad hint about the plans announced today. "I'm just now considering a new initiative with that magical contraption I never wearied of sketching as a boy: the rocket ship," he wrote. "Someone, after all, is going to have to get behind SpaceShipThree."
But does Allen expect to ride the Stratolaunch into space someday? During the news conference, the 58-year-old billionaire said he'd probably wait until a good number of flights have been flown. "I'm actually a really conservative guy in some aspects," he confessed.
More on the future of spaceflight:
Last updated 11:20 a.m. ET Dec. 14.
Correction for 4:20 p.m. ET Dec. 13: I originally wrote that two failed NASA missions (Orbiting Carbon Observatory and Glory) were launched using air-launched systems — but they were actually launched from the ground, using Orbital Taurus XL rockets. Sorry about the error. I had the Orbital Pegasus XL in mind, which has recorded a string of successful launches from the air going back to 1997. The Taurus XL was derived from the air-launched Pegasus XL.
Alan Boyle is msnbc.com's science editor. Connect with the Cosmic Log community by "liking" the log's Facebook page, following @b0yle on Twitter and adding the Cosmic Log page to your Google+ presence. You can also check out "The Case for Pluto," my book about the controversial dwarf planet and the search for new worlds.