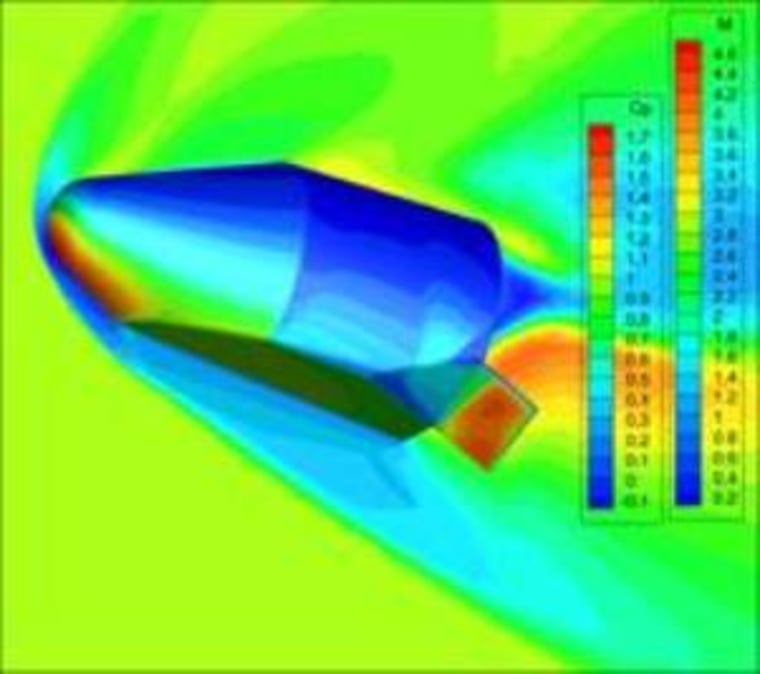 In a rare news release, Blue Origin — the rocket venture backed by Amazon.com billionaire Jeff Bezos — says it has successfully tested the design for its orbital spaceship during a series of wind-tunnel tryouts.
Blue Origin is the most publicity-shy of four companies that are receiving $320 million from NASA to work on technologies for commercial space crew transports. (The other three are the Boeing Co., Sierra Nevada Corp. and SpaceX.) NASA aims to begin using commercial vehicles to send astronauts to the International Space Station as soon as 2017. During the next phase of funding, NASA aims to support at least two commercial space efforts, but some in Congress are pressuring the space agency to fund only one effort.
The fact that Blue Origin is involved in such a public competition to develop America's next-generation space taxis has led the company to become less reticent. Today's news release, detailing the wind tunnel tests, could be seen as part of that trend. Here's the full release, issued from the company's corporate headquarters in Kent, Wash.:
"Blue Origin successfully tested the design of its next-generation Space Vehicle, completing a series of wind tunnel tests to refine the aerodynamic characteristics of the spacecraft's unique biconic shape. The tests were carried out as part of Blue Origin's partnership with the National Aeronautics and Space Administration (NASA) under the agency's Commercial Crew Development (CCDev) program. Blue Origin is designing the Space Vehicle to provide safe, affordable transport of up to seven astronauts to low-Earth orbit and the International Space Station.
"'Our Space Vehicle's innovative biconic shape provides greater cross-range and interior volume than traditional capsules without the weight penalty of winged spacecraft,' stated Rob Meyerson, president and program manager of Blue Origin. 'This is just one of the vehicle's many features that enhance the safety and affordability of human spaceflight, a goal we share with NASA.'
"The wind tunnel tests validated Blue Origin's analysis of the Space Vehicle's aerodynamics during descent through the atmosphere and the ability to change its flight path, increasing the number of available landing opportunities each day and enhancing the vehicle's emergency return capability.  More than 180 tests were conducted over the past several weeks at Lockheed Martin's High Speed Wind Tunnel Facility in Dallas.
"Under CCDev, Blue Origin is maturing the design of the Space Vehicle, including its aerodynamic characteristics, culminating in a System Requirements Review in May of this year. Blue Origin will conduct tests of its pusher escape system later this year, demonstrating the ability to control the flight path of a subscale crew capsule using an innovative thrust vector control system.  Also under CCDev, Blue Origin is conducting tests of the thrust chamber assembly (TCA) for the BE‑3 100,000-lbf liquid oxygen, liquid hydrogen rocket engine, which was recently installed on the E‑1 complex test stand at NASA's Stennis Space Center."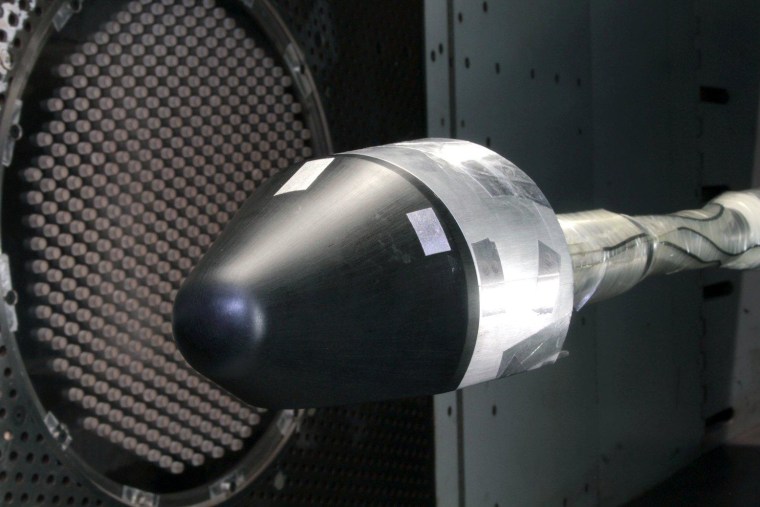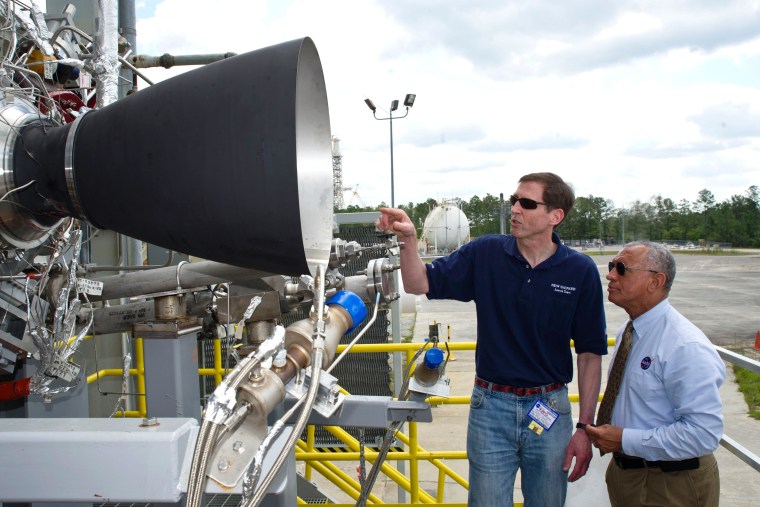 In addition to the NASA-funded work on the orbital Space Vehicle, Blue Origin has a separate development program for a suborbital crew capsule and propulsion vehicle, designed to take passengers and scientific experiments past the boundary of outer space for a few minutes of weightlessness. That effort suffered a setback last year when a test vehicle crashed, but in a statement issued at the time, Bezos said the suborbital program was continuing. Later, Meyerson indicated that Blue Origin was committed to building a space launch system even if it took 30 years.
More about Blue Origin and commercial space:
Alan Boyle is msnbc.com's science editor. Connect with the Cosmic Log community by "liking" the log's Facebook page, following @b0yle on Twitter and adding the Cosmic Log page to your Google+ presence. You can also check out "The Case for Pluto," my book about the controversial dwarf planet and the search for new worlds.