Thirty years ago, Bob Crippen was on the first space shuttle crew. Twenty-four years ago, his daughter Susan became part of the space effort as well, taking a job as a shuttle crew trainer at NASA's Johnson Space Center in Houston. Now the shuttle program is ending, and so is Susan Crippen's job.
I asked her whether her famous father had any advice for her. "No," she replied. "He just worries about me getting laid off."
Crippen, 46, is just one of an estimated 4,500 NASA contract employees due to lose their jobs between now and mid-August, including about 1,000 in the Houston area. She works for United Space Alliance, the shuttle program's prime contractor, as a training instructor for simulated shuttle launches and landings.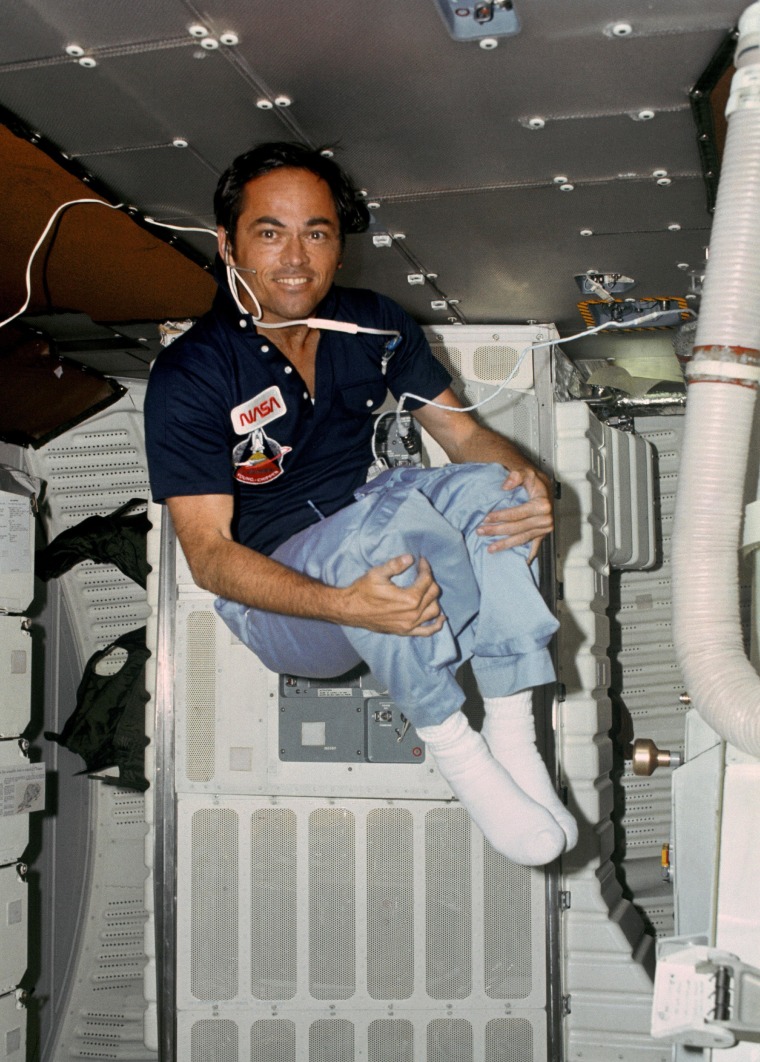 The shuttle Atlantis' astronauts went through their final simulations last Friday. After the sim, the crew of four gave Crippen and her colleagues a round of goodbye hugs. Now the shuttle crew is in Florida, getting ready for this Friday's scheduled launch. The motion-base simulator on which they trained will go to Texas A&M's aerospace engineering department.  Other training equipment will be divvied up among museums across the country. And in just a few weeks, the shuttle training team will be disbanded.
For the next few years at least, NASA's astronauts will be trained in Russia to ride in Soyuz spacecraft to and from the International Space Station, under the command of Russian cosmonauts. They'll still get training in Houston for operations aboard the space station, and for the spacewalks that will need to be conducted from the station. Eventually, the astronauts might have to learn their way around the commercial space taxis that are just now in the design and development phase. But from now on, no one will ever need to be trained to fly the space shuttle. 
When I visited the team's control room on Friday, just hours after the final sim, a half-dozen trainers were reflecting on their storied past and their uncertain future. Susan Crippen studied physics at the Unversity of Texas at Austin, and went to work at Johnson Space Center right after graduation. She's not yet sure what she's going to do after she's laid off, but it sounds as if aerospace is in her blood — in part because of the family connection.
Bob Crippen was a naval aviator who was assigned to the Air Force's military astronaut program in 1966. He became a NASA astronaut in 1969, just after the Apollo 11 moon landing. In 1981, Crippen and Apollo 16 commander John Young flew Columbia on the shuttle program's first space mission — a mission that historians now say was riskier than NASA thought at the time. After STS-1, Bob Crippen flew on the shuttle three more times. He took on a variety of management posts at NASA, left the space agency in 1995, then worked as an aerospace executive until his retirement in 2001.
Susan Crippen, the second of three daughters, still remembers that first shuttle flight.
"I did go to the first launch, but I'm not going to the last launch," she told me.
Instead, she'll be standing by at Mission Control, along with other trainers from the team.
"If anything occurs that's unexpected, our teams will get called for real-time support, and we'll go over here to the simulators, and we'll run through those procedures, kind of like in Apollo 13," shuttle training team lead Juan Garriga told the Houston Chronicle.
During Friday's final simulation run, the trainers were wearing matching green polo shirts, emblazoned with the logo for Atlantis' final mission, which is known as STS-135. Garriga made it sound as if there was a little magic in the number: He told me that when he tallied up his team's requests for the STS-135 shirts, the number of entries came to ... 135.
Maybe it's a good omen for the future. The shuttle team could sure use one.
More from Johnson Space Center:
The shuttle story in depth:
Connect with the Cosmic Log community by "liking" the log's Facebook page or following @b0yle on Twitter. You can also check out "The Case for Pluto," Alan's book about the controversial dwarf planet and the search for new worlds.