Lady Gaga is already a huge name in the music world, but now she's a scientific name as well — thanks to fans at Duke University who named an entire genus of ferns after the gender-bending pop star.
Nineteen species in Central and South America, Mexico, Arizona and Texas belong to the newly designated genus Gaga, the researchers report in a paper published by Systematic Botany. The genus is a grouping of closely related species that was split off from an earlier named genus known as Cheilanthes on the basis of subtle differences (for example, the number of spores per sporangeum) as well as DNA analysis.
The new genus' 19 species include two new ones: Gaga germanotta was found in Costa Rica and has a species name that pays tribute to the family of the artist, whose birth name was Stefani Germanotta. The species name for Gaga monstraparva, a newfound type of Mexican fern, honors Gaga's fans. ("Monstra parva" is Latin for "Little Monster," Gaga's term of endearment for her followers.)
It's clear from Duke's news release that Gaga's Little Monsters include the Duke researchers who proposed the new genus name.
"We wanted to name this genus for Lady Gaga because of her fervent defense of equality and individual expression," said biologist Kathleen Pryer, director of the Duke Herbarium. "And as we started to consider it, the ferns themselves gave us more reasons why it was a good choice."
Duke pointed out that the ferns go through a stage in which they have somewhat fluid definitions of gender. During their bisexual reproductive stage, the ferns' gametophyte takes on the appearance of a blue-green Gaga costume. Even the DNA analysis turned up a Gaga angle: One of the genus' distinguishing strings of base pairs reads GAGA (guanine-alanine-guanine-alanine).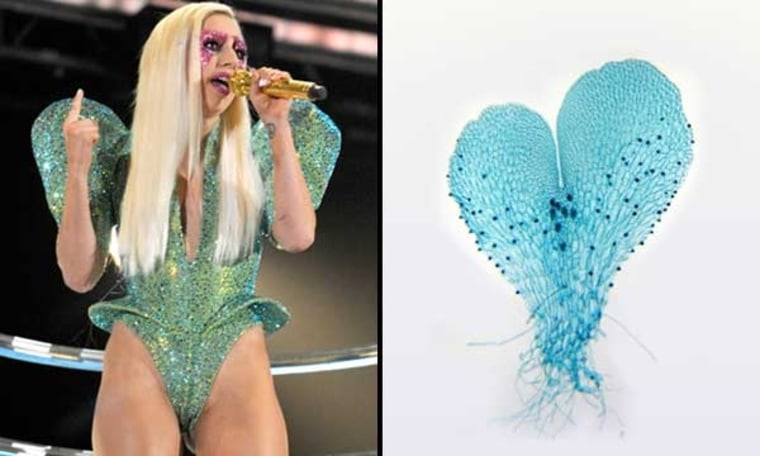 But the main motivation for the naming is to pay tribute to a superstar who's been an inspiration.
"We often listen to her music while we do our research," Pryer said. "We think that her second album, 'Born This Way, is enormously empowering, especially for disenfranchised people and communities like LGBT, ethnic groups, women — and scientists who study odd ferns."
Lady Gaga is a "remarkable, unexpected, perfect" choice for the scientific tribute, said Duke faculty member Cathy N. Davidson, whose was involved in a MacArthur Foundation initiative that helped the pop star create a national anti-bullying project called the Born This Way Foundation.
"Encouraging her fans and kids everywhere to be brave, bold, unique, creative and smart is what Lady Gaga is about," Davidson said in Duke's news release. "It's rare that a celebrity so young gives back so much to society."
There may be future opportunities out there for performers who count botanists among their fans. Pryer, who is president of the American Fern Society as well as the American Society of Plant Taxonomists, points out that genetic analysis may well reorganize the family tree of ferns over the long term — leading to more scientific categories that will need new names.
Update for 6:20 p.m. ET: In a follow-up phone call, Pryer told me she was inspired to go for a genus named Gaga after seeing the performer's blue-green getup during the broadcast of the 2010 Grammy Awards.
"When she emerged in what I saw as a fern gametophyte, I just felt that she was speaking to us," Pryer said.
She and her colleagues had been focusing on ferns for five years or so, and detailed studies of the plants' characteristics as well as DNA readings were leading them to the conclusion that many of the ferns that had been classified as belonging to the genus Cheilanthes really belonged in a separate category. "This is going to come as a shock to some botanists that they can't be called Cheilanthes anymore," she said.
Lady Gaga's appearance, basically in a fern costume, was the key moment for Pryer. "That was the initial 'Oh, my gosh, it would be wonderful if we could name a genus after her,'" the biologist said. When the research article was submitted to Systematic Botany for review, she and her colleagues sought Gaga's permission to use her name.
"Within 24 hours, her manager sent us an email and said 'Great,' with a smiley face," Pryer said.
She noted that U.S. taxpayers, including fans of Lady Gaga, help fund her lab's research through the National Science Foundation. "A lot of 'Little Monsters' are out there supporting the work in this field," Pryer said. Maybe knowing there's a scientific classification out there with Gaga's name on it will inspire the littlest Monsters to pursue careers in science. But in any case, the name will stand as an enduring tribute to a person who's done so much to promote basic human kindness through her music and the Born This Way Foundation, Pryer said.
"It's a way for us to give a gift," she said. "A forever gift."
More celebrity species:
In addition to Pryer, the authors of "Gaga: A New Fern Genus Segregated from Cheilanthes (Pteridaceae)" include Fay-Wei Li and Michael D. Windham. The research was funded in part by the National Science Foundation.
Alan Boyle is NBCNews.com's science editor. Connect with the Cosmic Log community by "liking" the log's Facebook page, following @b0yle on Twitter and adding the Cosmic Log page to your Google+ presence. To keep up with Cosmic Log as well as NBCNews.com's other stories about science and space, sign up for the Tech & Science newsletter, delivered to your email in-box every weekday. You can also check out "The Case for Pluto," my book about the controversial dwarf planet and the search for new worlds.