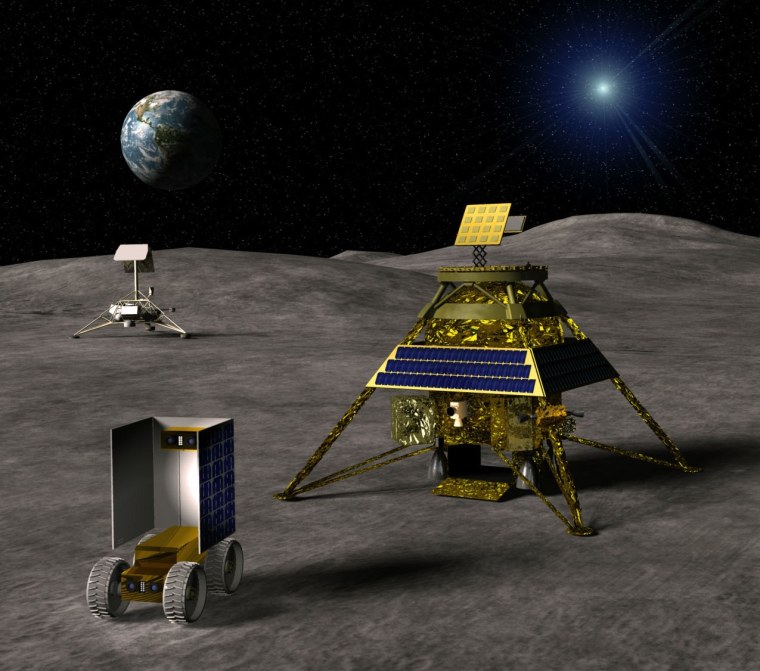 New business ventures could find a profitable place in space — in Earth orbit, on the moon and beyond. Suddenly, private-sector spaceflight is becoming one of the biggest things in the solar system. I'll be chatting about these developments during an online event this weekend, and I hope you'll join the conversation.
Sunday marks the premiere of "Virtually Speaking Science" on BlogTalkRadio and in Second Life, at 8 p.m. ET (5 p.m. PT/SLT). My co-host is Robin Snelson of the Space Studies Institute, and our first guest is Tim Pickens, the team leader for the Rocket City Space Pioneers, one of the teams entered in the $30 million Google Lunar X Prize.
We'll be talking about the Space Pioneers' bid to put a lander and a rover on the moon. Tim provides an overview of the competition in this YouTube video:
The competition sets aside millions of dollars for the first private-sector team to land a probe on the moon and meet all of the X Prize's mission objectives, as long as the deed is done before the end of 2015. The action is already heating up: Just this week, another GLXP team, Astrobotic, announced that it's reserved a SpaceX Falcon 9 launch for a moon mission to take place as early as 2013. Pickens' team, meanwhile, is well into its design phase as well as its educational outreach effort.
We'll also talk about the general state of private spaceflight. Suborbital space ventures such as Virgin Galactic's SpaceShipTwo could be ready to take on paying passengers in "this coming year," the company's president and CEO told me recently. And on the orbital side of things, lots of companies are going after NASA's money for the development of crew transport vehicles capable of reaching the International Space Station. The program — known as Commercial Crew Development Phase 2, or CCDev 2 — could award as much as $200 million next month.
This month, word emerged that United Space Alliance, the venture that currently operates the shuttle fleet on NASA's behalf, was proposing to continue flying space shuttles as commercial spaceships. This week, ATK, the company that builds the shuttle's solid-rocket boosters, said it was partnering with Europe's Astrium aerospace company to offer a rocket called Liberty for NASA's use. And today, t/Space's Gary Hudson confirmed that he and his colleagues have submitted a proposal for CCDev 2 funding as well. Here's the design concept: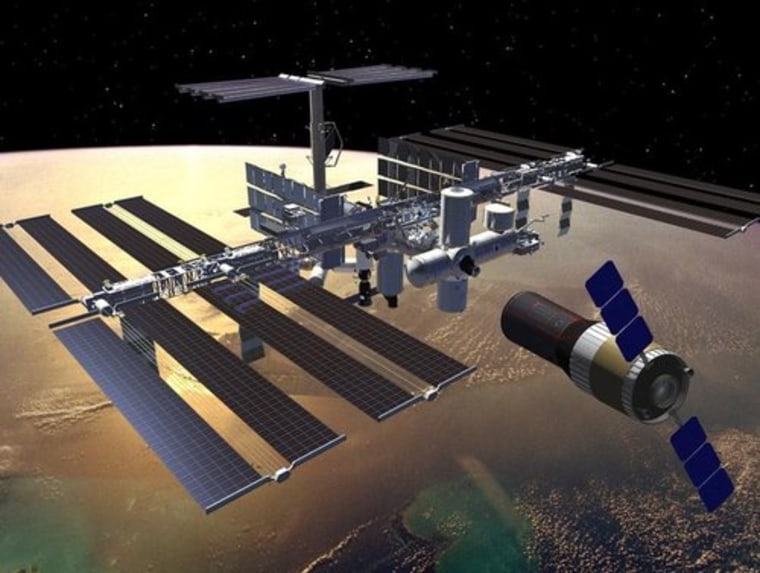 In an e-mail, Hudson said the proposal calls for the development of a spaceship that could be sent into space on a variety of launch vehicles. For the rocket fans among you, here are some of the details, straight from Hudson's e-mail:
"Up to eight crew, Soyuz-like architecture (recoverable reusable crew element, expendable orbital/cargo module).  Incorporates HMX's patented integral abort system (uses OMS/RCS propellant in separate abort engines).  Can fly on Atlas 401 [a configuration for the Atlas 5 rocket], F9 [SpaceX's Falcon 9] or Taurus II (enhanced) but with a reduced cargo and crew capability on the latter vehicle.  Goal is to be the lowest-price provider on a per-seat basis.  Nominal land recovery with water backup (not revealing the technique until after CCDev 2 awards)."
T/Space is the latest CCDev 2 competitor to come to light, joining United Space Alliance and the ATK/Astrium venture as well as Boeing, Orbital Sciences, Sierra Nevada Corp., SpaceX and United Launch Alliance.
No matter who wins out in the CCDev 2 contest, it's clear that commercial spaceflight is the wave of the future (or, to paraphrase President Barack Obama, the way to "win the future"). The first mission to Mars may well turn out to be a privately funded affair, if a novel plan drawn up by a team of experts becomes a reality.
All this public-private enterprise should give us plenty to talk about over the weekend. If you can't tune in, please feel free to leave your comments and questions below — and I'll try to get to them while we're on the air.
Click here for the "Virtually Speaking Science" show at 8 p.m. ET (5 p.m. PT/SLT) on Sunday.
On Saturday, I gave a talk in Second Life about this month's findings from NASA's Kepler planet-finding probe. The event was sponsored by the Meta Institute for Computational Astrophysics. The audio podcast is being archived with other MICA talks (including my discussion of "The Case for Pluto" last May).
Join the Cosmic Log community by clicking the "like" button on our Facebook page or by following msnbc.com science editor Alan Boyle as b0yle on Twitter. To learn more about Alan Boyle's book on Pluto and the search for planets, check out the website for "The Case for Pluto."