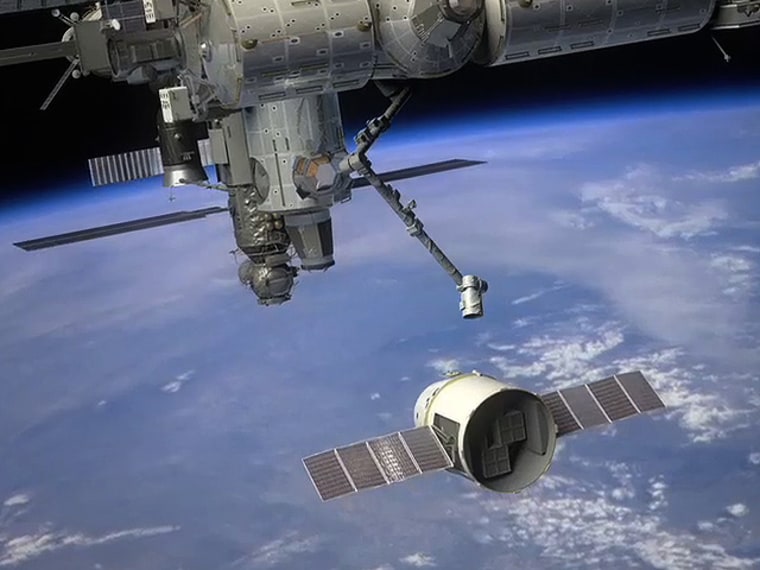 The next chapter in commercial spaceflight is due to open in February when SpaceX launches its Dragon cargo capsule for the first linkup of a private-sector craft with the International Space Station, NASA announced today.
The Feb. 7 launch date was announced by NASA's deputy administrator, Lori Garver, during a Future Forum at Seattle's Museum of Flight. This second Future Forum of the year, following up on an August event in Maryland, is focusing on NASA's efforts to commercialize space operations in low Earth orbit.
NASA is paying private space ventures hundreds of millions of dollars to design and build new spaceships for its use, with cargo flights to the space station scheduled to begin next year. Crew-capable spacecraft could start flying sometime in the middle of this decade, marking the first time since the space shuttle fleet's retirement that U.S. astronauts can fly on U.S.-made spaceships.
"Contrary to what you've heard, it is not the end," Garver said. "It is not even the beginning of the end, but perhaps it is the end of the beginning."
She said NASA's vision is "to reach for new heights and reveal the unknown," and the agency is moving ahead with a multibillion-dollar program to develop a new heavy-lift rocket and crew exploration capsule for missions to a near-Earth asteroid and eventually to Mars. As the space agency turns its focus beyond Earth orbit, it plans to hand over orbital operations — including space station servicing — to less expensive commercial "space taxis."
The would-be taxi operators, including SpaceX, Boeing, Sierra Nevada and Blue Origin, say they should be able to match the Russians' current price of $50 million a seat for flying astronauts to the station. Until their spaceships are ready, NASA will have to pay the Russians for every seat required by U.S. astronauts, and that price is due to rise in the years ahead.
Garver said some at NASA have been "frustrated" by the challenges involved in changing the way the space agency does business. She cited a quote from "Moneyball," a book and movie about the business of baseball, in which a character says that change drives some people "bat-[guano] crazy."
"That's what we're up against as we try to develop and change," Garver said. (Space consultant Jeff Foust wondered on Twitter whether Garver's comment marked the first time that the four-letter word for guano had ever been uttered on NASA TV.)
Crucial SpaceX mission
But there have been advances. SpaceX's next launch could mark one of most significant steps to date. SpaceX launched its Falcon 9 rocket twice last year, including a December mission that put its Dragon capsule into orbit for the first time.
If all the safety requirements are met, the February test flight would involve sending the uncrewed Dragon all the way to the space station, where it would be grappled using a robotic arm and brought in to a docking port. The capsule would then be undocked from the station and sent back down to a Pacific splashdown.
A fully successful test would "open up a new era in commercial cargo delivery for this international orbiting laboratory," Bill Gerstenmaier, NASA's associate administrator for human exploration and operations, said in a news release. Commercial cargo flights could begin in earnest later next year.
Another company, Orbital Sciences Corp., is developing a separate cargo delivery system for NASA and could begin flight tests sometime in the next few months.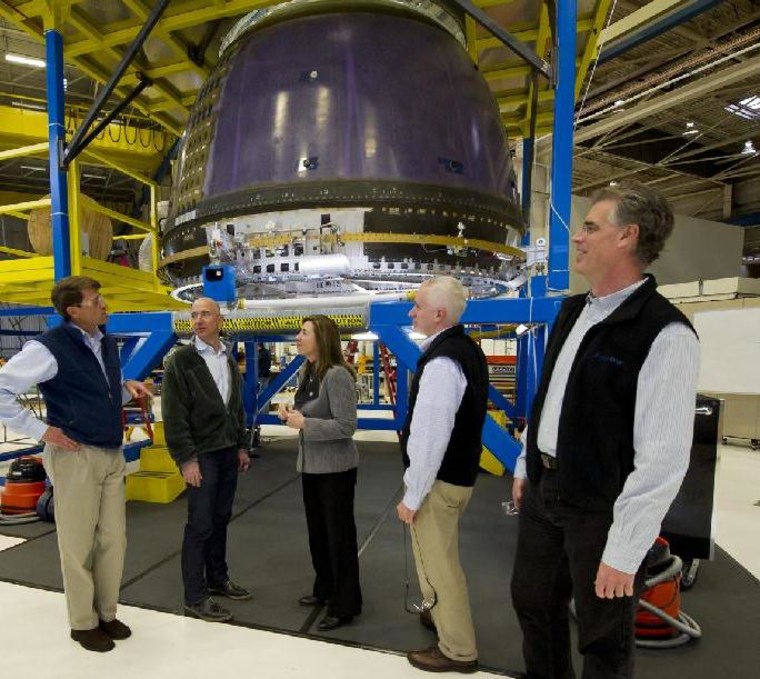 Progress at Blue Origin
Garver's visit to the Seattle area included a stopover at Blue Origin's headquarters in nearby Kent on Thursday. Blue Origin was founded by Amazon.com billionaire Jeff Bezos to develop suborbital space vehicles for tourist flights as well as orbital taxis for the space station. During the stopover, Garver met with Bezos and other Blue Origin executives, and announced that the venture's rocket thrust chamber assemblies were being sent to NASA's Marshall Space Flight Center in Alabama for testing.
"Blue Origin is creating cutting-edge technologies to take us to low Earth orbit," Garver said in a news release. "Like all of our commercial partners, they're making real progress and opening up a new job-creating segment of the economy that will allow NASA to focus on our next big challenges -- missions to asteroids and Mars."
The relatively secretive venture suffered a setback in August when a suborbital prototype vehicle crashed at the end of a supersonic test flight in August, but Blue Origin said the accident had no effect on the part of its program funded by NASA. It also said a new prototype was already being built.
Stay tuned for short updates later today from the Future Forum in Seattle by checking in with cosmiclog.com/nasafuture. You can also follow the action in real time by tuning in NASA TV on the Web or following the Twitter hashtag #nasafuture. Next week, we'll have a special video report about the commercial spaceflight revolution in Cosmic Log and msnbc.com's "Future of Technology" section.
More on commercial space:
Watch the morning talk by NASA Deputy Administrator Lori Garver on NASA's YouTube channel.
Alan Boyle is msnbc.com's science editor. Connect with the Cosmic Log community by "liking" the log's Facebook page, following @b0yle on Twitter and adding the Cosmic Log page to your Google+ presence. You can also check out "The Case for Pluto," my book about the controversial dwarf planet and the search for new worlds.