By Alan Boyle
Science Editor, NBC News 
Comet PanSTARRS has proved harder to spot in the Northern Hemisphere than some might have expected — but some hardy souls have captured time-lapse videos of the sparkle in the sky. 
"Certainly not a 'great comet' by any means," astronomer Alan Hale, the co-discoverer of 1997's Comet Hale-Bopp, wrote in a posting to the Comets-ML online forum. "The visibility should hopefully improve over the next few nights as it climbs higher out of the twilight, but I don't foresee anything spectacular."
Other veteran observers said PanSTARRS could hardly be seen with the naked eye amid the glare of sunset. As the week wears on, the comet will get progressively higher and more northerly in the sky. But it will get progressively dimmer as well.
That's what makes Tuesday's viewing opportunity so key: On March 12, PanSTARRS should be sitting just to the left of the crescent moon, as indicated in this sky chart from SpaceWeather.com. The moon will thus serve as a guidepost for you to turn your binoculars to the right spot just after sunset. 
Greg Crinklaw, who writes about comets on the Skyhound website, said the expectations for sighting PanSTARRS have been stoked by "blazing headlines." Now reality is setting in.
"There will be about a 10- to 20-minute window to catch the comet each night starting about March 12 and going through the end of the month," he wrote. "I am predicting that it will not be a naked-eye object except to expert observers at higher elevations with very little haze on their horizon."
Fortunately, some of those expert observers have been sharing their moving pictures of PanSTARRS. Fritz Helmut Hemmerich, for example, sent SpaceWeather.com an animatedsequence from Tenerife in the Canary Islands. "We went high on the Teide volcano to photograph the comet," Hemmerich said. "Each frame in the video is a 4-second exposure taken with a Canon 1100D digital camera set at ISO 400."
Hemmerich's son, Hanoch, contributed a video to the Vimeo website, and you can watch it further on down below. I'm also including some other PanSTARRS movies from the Northern Hemisphere as well as the Southern Hemisphere, courtesy of Vimeo. In all cases, it's best if you go for the full-screen HD view. For still more comet sightings, check out the gallery on SpaceWeather.com.
Did you see the comet? Got any tips? Please feel free to share your tips as comments below, and share your photos via our FirstPerson photo-upload page. Here's our first FirstPerson submission, from Vik Sridharan in San Pedro, Calif: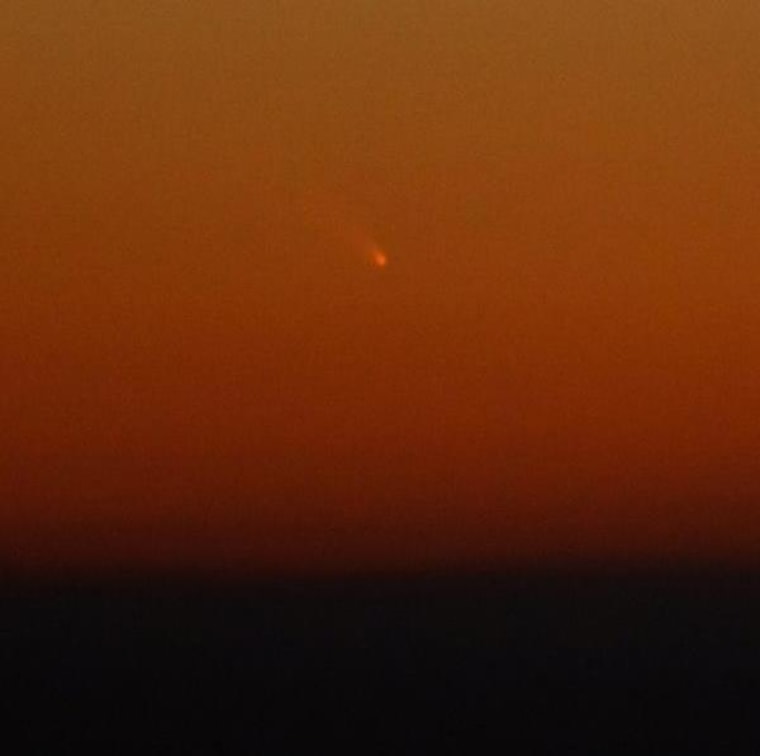 More about comets:
Alan Boyle is NBCNews.com's science editor. Connect with the Cosmic Log community by "liking" the log's Facebook page, following @b0yle on Twitter and adding the Cosmic Log page to your Google+ presence. To keep up with Cosmic Log as well as NBCNews.com's other stories about science and space, sign up for the Tech & Science newsletter, delivered to your email in-box every weekday. You can also check out "The Case for Pluto," my book about the controversial dwarf planet and the search for new worlds.