Even as SpaceX prepares for its first visit to the International Space Station, it's looking for another spaceport to handle a whole different kind of launch traffic.
The California-based company is increasingly in the news because of its role as the first private-sector successor to the just-completed space shuttle program. Just this week, SpaceX confirmed that it had reached an agreement in principle with NASA to launch its next Dragon space capsule atop its Falcon 9 rocket on Nov. 30, carrying cargo to the International Space Station.
The original plan called for one test flight to approach the station without berthing, and for another to go all the way to the hookup. As long ago as last December, however, company founder and CEO Elon Musk said he hoped to combine those two tests into one initial resupply mission. Pending a final safety review, NASA is willing to go ahead with SpaceX's plan — which also calls for the Falcon 9's second stage to deploy two Orbcomm OG2 telecom satellites after the Dragon heads off for the station.
The blend of commercial and NASA business is a hallmark of the "new space" approach to spaceflight: Development costs are covered by revenue from multiple clients, rather than having the government pay the entire bill for a project.
For now, NASA is SpaceX's prime customer: SpaceX's current manifest anticipates flying four resupply missions to the space station during 2012, which will call for a stepped-up production rate. It's been almost nine months since the company's last launch, which involved a surprisingly successful initial test of the full Falcon/Dragon system. In an exclusive interview this month, Musk acknowledged that "things always take a little more time than we think," but maintained that "we're arguably better than average as far as our schedules are concerned."
"We have built four rockets this year," Musk told me as we sat in his corner cubicle at SpaceX's headquarters in Hawthorne, Calif. "Last year we built two rockets, next year we'll build eight rockets. So our production rate is increasing quite rapidly."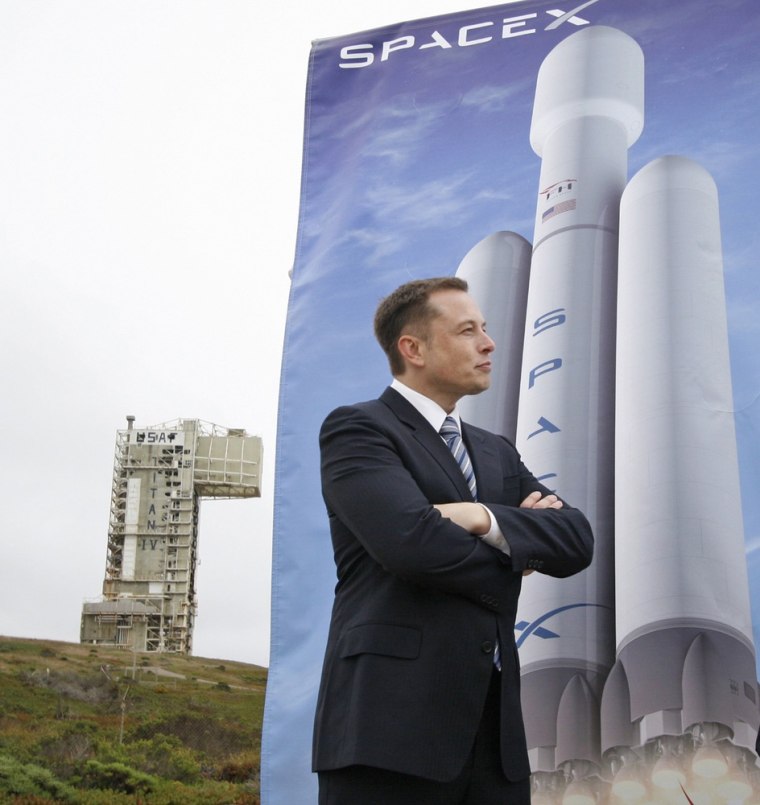 SpaceX is one of several companies in line for NASA's business — not only to fly cargo to the station, but eventually to fly astronauts as well. NASA has set aside nearly $270 million to support the development of the Dragon and spaceships offered by three other companies (Blue Origin, Boeing and Sierra Nevada Corp.) as vehicles for station-bound astronauts. The Dragon is the only one of the four proposed spaceships that's already been in space.
"At least for the next several years, we are the main thing that is flying to space from the United States," Musk noted. "And we're the principal means of resupplying the space station, and the only means of bringing cargo back from the space station. And then hopefully in about three years, we'll be transporting astronauts."  
So how does it feel to have the burden of the post-shuttle era on your shoulders? "I get less nervous with each passing flight," Musk answered. And there are many more flights to come.
Another base ... in Texas?
Musk has already said that SpaceX is thinking about establishing an additional base for launching Falcon rockets, to supplement its facilities at Cape Canaveral Air Force Station in Florida and the pad that's currently being renovated at Vandenberg Air Force Base in California. The Vandenberg pad is planned as the home base for SpaceX's Falcon Heavy rocket, which is designed to go after the Air Force's satellite launch business.
Last month, local officials in Texas hinted that SpaceX was ready to invest up to $50 million in the Gulf Coast Regional Spaceport, south of Houston. Musk told me that he hadn't yet decided where the third base would be located, but he made it sound as if he was firmly set on expanding operations. He also explained why an extra space base was on SpaceX's agenda:
"We have our main launch facility, which is Cape Canaveral in Florida. Then we are in the process of developing our second launch facility, which is Vandenberg in California. And we do intend to develop a third launch facility. Texas is one of the possible states. But we're also looking at a number of other locations: Puerto Rico, potentially another location in Florida, potentially Hawaii. And there are a few other locations that could work. So we're trying to make the right decision for the long term.
"The third launch site would open early, in perhaps three or four years. So we want to make sure we make the right decision. But we do think we need three launch sites in order to handle all of the launch demand that we have been able to get. ...
"It would be a purely commercial launch site, whereas Cape Canaveral and Vandenberg are actually Air Force bases — in the case of Cape Canaveral, it's sort of a joint NASA-Air Force activity. So it makes sense to have NASA and Defense Department launches occur from Cape Canaveral and Vandenberg, but then probably shift most of our commercial launches to a purely commercial launch site that's really aimed at being the best customer for a commercial launch provider. Just as there are Air Force bases and commercial airports ... there's some logic to separation."
So at a time when a lot of folks are wondering whether America's aerospace industry is heading toward atrophy, Musk is bullish about his company's future. SpaceX's work force has already risen to 1,500 employees, and that's just one company. Other new players in the spaceflight industry, such as Sierra Nevada Corp. and AdamWorks, are talking about expansion as well.
In the coming weeks, we'll be presenting a package of videos and stories about the future of spaceflight as part of msnbc.com's "Future of Technology" special report. What you're reading today is just a little taste from my wide-ranging interview with Musk. We also talked about his Red Planet ambitions, his perspectives on electric cars and other technological frontiers, and how he manages to wedge in a personal life as well. Stay tuned for much more to come, not only from Musk, but also from other leading figures in the spaceflight revolution.
More perspectives on the post-shuttle era:
Connect with the Cosmic Log community by "liking" the log's Facebook page or following @b0yle on Twitter. You can also add me to your Google+ circle, and check out "The Case for Pluto," my book about the controversial dwarf planet and the search for new worlds.