Pictures from around the world are casting a spotlight on this weekend's supermoon — the biggest, brightest full moon of the year — and now is the perfect time to get in on the action yourself.
The moon is even getting some love from the International Space Station, where NASA astronaut Karen Nyberg tweeted out a picture of moonrise over New Brunswick. In her picture, the lunar disk doesn't seem all that super, because of the comparison with Earth's broad, gently curving horizon.
It's true that this full moon is only about 14 percent wider and 30 percent brighter than it would be at its dimmest. Nevertheless, Supermoon Weekend is a fine occasion to shower some extra attention on our closest celestial neighbor. There's a super view on Saturday night as well as Sunday night.
This full moon is the year's brightest because two lunar phenomena come together at almost the same time. At 7 a.m. ET Sunday, the moon is at the closest point in its egg-shaped orbit around Earth. The moon's full phase officially occurs 32 minutes later. The proximity when the moon turns full is what gives the moon its maximum brightness, as seen from Earth. We explained all that in more detail in this report from earlier this week — and in this one from May 2012, when last year's supermoon took place.
Unless you're clued in to the supermoon, you might not even notice that it's happening. Despite all the folk tales you may have heard, there's no clear scientific link between full moons and misfortune (whether we're talking about emergency room visits or werewolf bites). We may be in for higher tides than normal, but that's nothing to get alarmed about.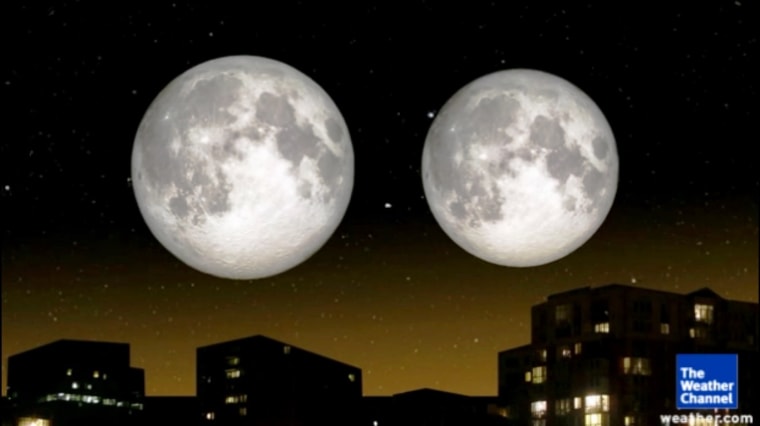 "Probably the biggest effect is hopefully that people just get to go outside and look up at the moon over the weekend," Noah Petro, a researcher at NASA's Goddard Space Flight Center, told The Weather Channel.
People are already doing that, as you can see from the slideshow above. Why not snap a picture yourself? This photography guide tells you how to get a great picture of the moon. This report from CNET explains how to put an iPhone and a telescope together to make that supermoon photo even more super, and this video from PhotoPills shows you how to make a super-duper time-lapse video of the full moon's passage through the sky.
More about the supermoon:
Alan Boyle is NBCNews.com's science editor. Connect with the Cosmic Log community by "liking" the NBC News Science Facebook page, following @b0yle on Twitter and adding the Cosmic Log page to your Google+ presence. To keep up with NBCNews.com's stories about science and space, sign up for the Tech & Science newsletter, delivered to your email in-box every weekday. You can also check out "The Case for Pluto," my book about the controversial dwarf planet and the search for new worlds.