The minerals of a sea urchin's tooth, a heart that beats in virtual reality and a wiring diagram based on a macaque monkey's brain are among the top honorees in the 2013 International Science and Engineering Visualization Challenge, sponsored by the journal Science and the National Science Foundation.
The annual contest, now in its 10th year, highlights works in visual media that promote understanding of scientific research. This year, 215 entries were received from 18 countries. The winners were selected by a panel of judges, and in addition, People's Choice awards were given out based on 3,155 public votes recorded via the Internet.
"These winners continue to amaze me every year with their remarkable talent and drive to engage the public," Monica Bradford, Science's executive editor, said Thursday in a news release announcing the top picks. "The visuals are not only novel and captivating, but they also draw you into the complex field of science in a simple and understandable way."
For example, take a look at "Alya Red: A Computational Heart," which won top honors in the video category as well as a People's Choice award. The film combines illustration, three-dimensional renderings and live-action video to describe the basic science of the heart in easy-to-understand language. "Understanding our organs — and the heart in particular — in deep detail is one of the challenges of modern medicine," Fernando Cucchietti of the Barcelona Supercomputing Center said in the news release. "The video presents the approach of our particular project ... which aims at developing large-scale numerical simulators of the heart."
The first-place illustration is "Connectivity of a Cognitive Computer Based on the Macaque Brain," which diagrams the connections between the major regions of a macaque monkey's brain. Such diagrams are helping researchers at IBM develop a new generation of "neuro-synaptic" computer chips that can be connected to form a brainlike network.
"Biomineral Single Crystals" looks like an abstract painting, but it's actually a photograph showing the structure of a sea urchin's tooth. The picture won first place in the photo category as well as a People's Choice award. "The shapes in this image are naturally formed in the sea urchin tooth," explained Pupa Gilbert of the University of Wisconsin-Madison. "Color is added in Photoshop to heighten the visual impact of the structure, and to emphasize how interconnected and intertwined the crystal forms are."
In all, the judges highlighted 15 top entries among photos, videos and illustrations, as well as posters and graphics, plus games and apps. Here's the full rundown:
OTHER TOP PHOTOS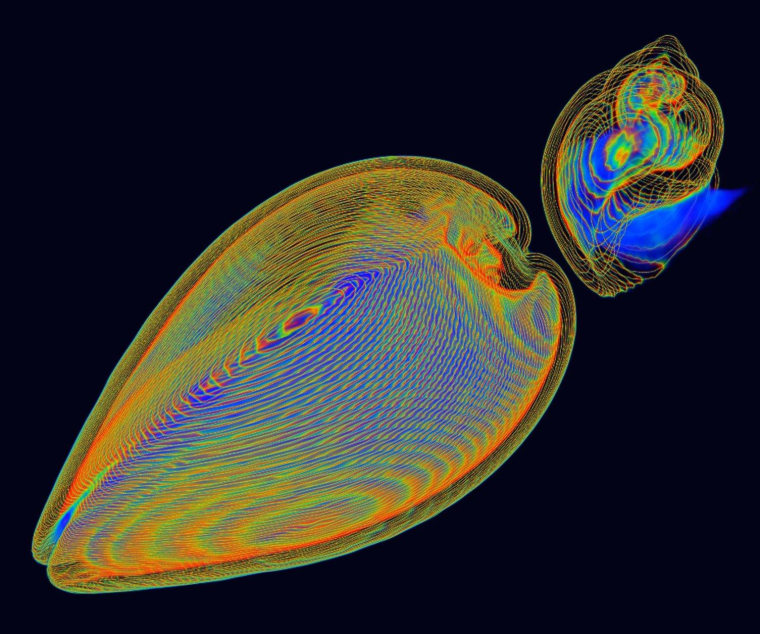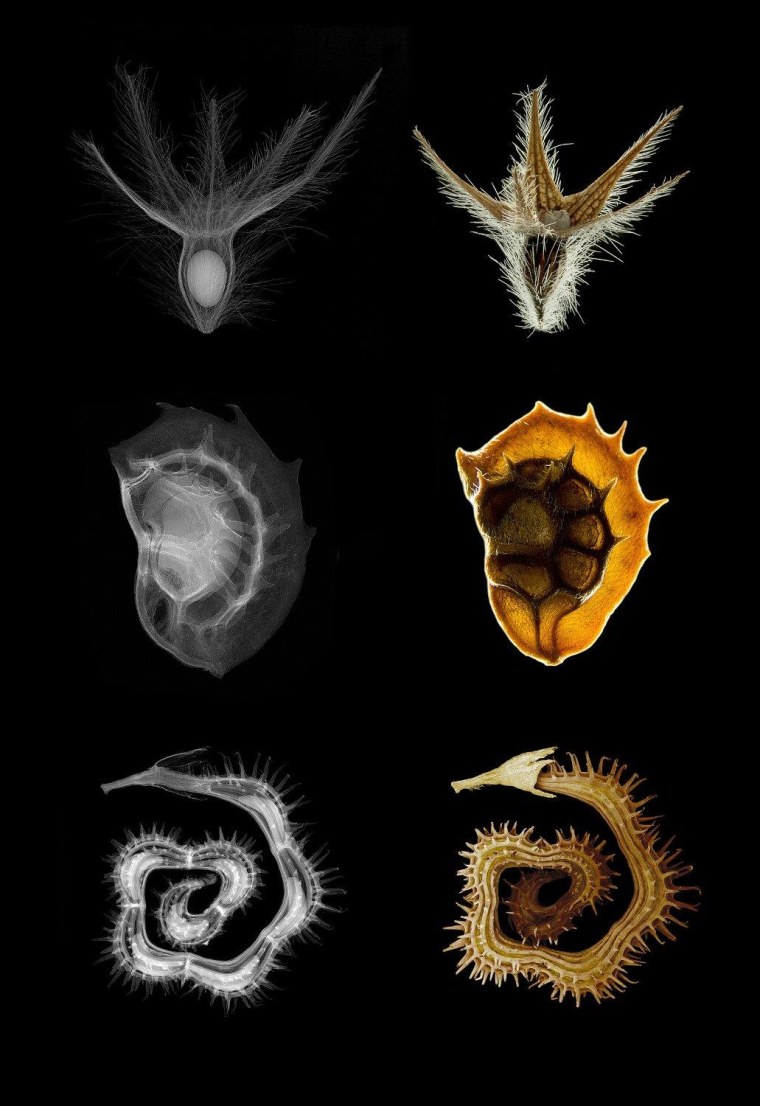 ILLUSTRATIONS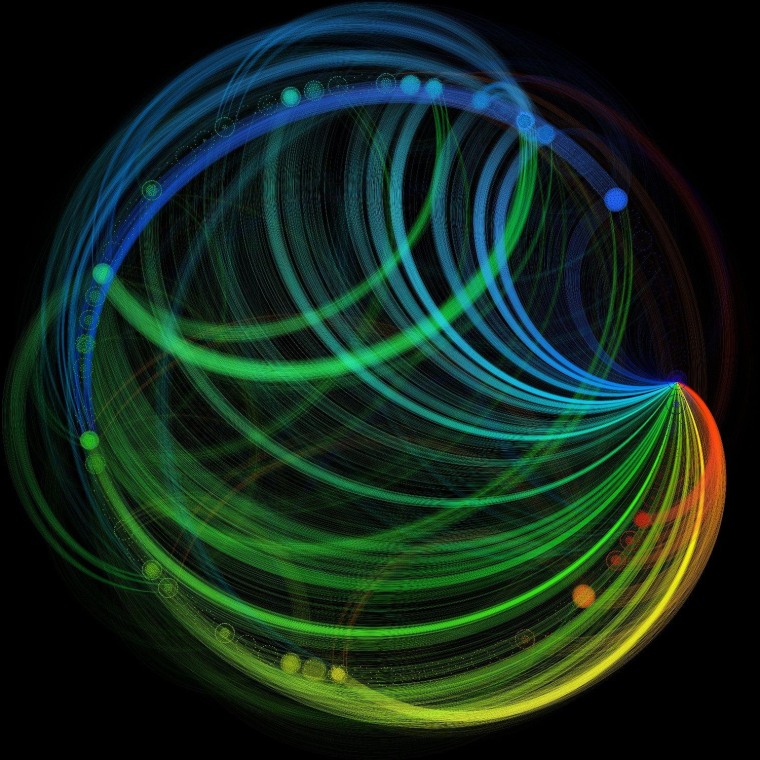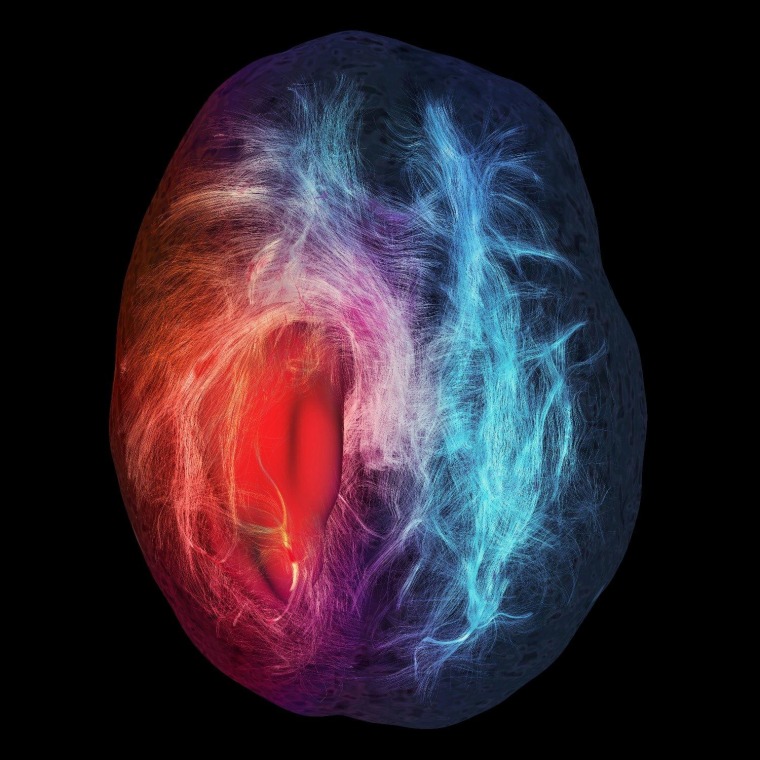 VIDEOS
POSTERS AND GRAPHICS

First place: "Adaptations of the Owl's Cervical and Cephalic Arteries in Relation to Extreme Neck Rotation" is a large-format poster that was created as part of a master's thesis study on the ability of owls to rotate their necks around 270 degrees. The arterial structure of 12 deceased owl specimens were examined through dissection as well as digital subtraction angiography. The full study team included Fabian de Kok-Mercado, Michael Habib, Tim Phelps, Lydia Gregg and Phillippe Gailloud of the Johns Hopkins University School of Medicine. The research resulted in a paper that was published in this week's issue of Science.
Honorable mention: "Earth Evolution: The Intersection of Geology and Biology" is an educational poster showing how geological and biological processes have shaped Earth's environment during its 4.6 billion-year history. The poster was created by Eriko Clements, Mark Nielsen, Satoshi Amagai, Bill Pietsch, Davey Thomas and Andy Knoll, from The Educational Resources Group, Howard Hughes Medical Institute and Astronaut 3 Media Group.
People's Choice: "The Pharma Transport Town: Understanding the Routes to Sustainable Pharmaceutical Use" is an informational graphic that shows the complex transport routes of pharmaceuticals in the environment, and considers psychological influences upon drug use and disposal. It was created by Will Stahl-Timmins, Clare Redshaw and Matthew White of the European Center for Environment and Human Health, University of Exeter Medical School.
GAMES AND APPS
Honorable mention: "Velocity Raptor," created by Andy Hall of TestTubeGames, is a Flash game about special relativity. Set in a world where you move at nearly the speed of light, the game starts off easy, and slowly adds in relativistic effects.
Honorable mention: "CyGaMEs Selene II: A Lunar Construction GaME" lets players construct Earth's moon to discover and apply concepts in Earth and space science. The game's creators include Debbie Denise Reese, Robert E. Kosko, Charles A. Wood and Cassie Lightfritz of the CyGaMEs Project, Center for Educational Technologies, Wheeling Jesuit University; and Barbara G. Tabachnick of the University of California at Northridge.
People's Choice: "Untangled," created by Gayatri Mehta of the University of North Texas, has users compete to create the most compact layouts of circuit elements on a grid. The game uses realistic algorithms that players are mapping onto different chip architectures that could be manufactured in silicon. 
More adventures in visualization:
Alan Boyle is NBCNews.com's science editor. Connect with the Cosmic Log community by "liking" the log's Facebook page, following @b0yle on Twitter and adding the Cosmic Log page to your Google+ presence. To keep up with Cosmic Log as well as NBCNews.com's other stories about science and space, sign up for the Tech & Science newsletter, delivered to your email in-box every weekday. You can also check out "The Case for Pluto," my book about the controversial dwarf planet and the search for new worlds.