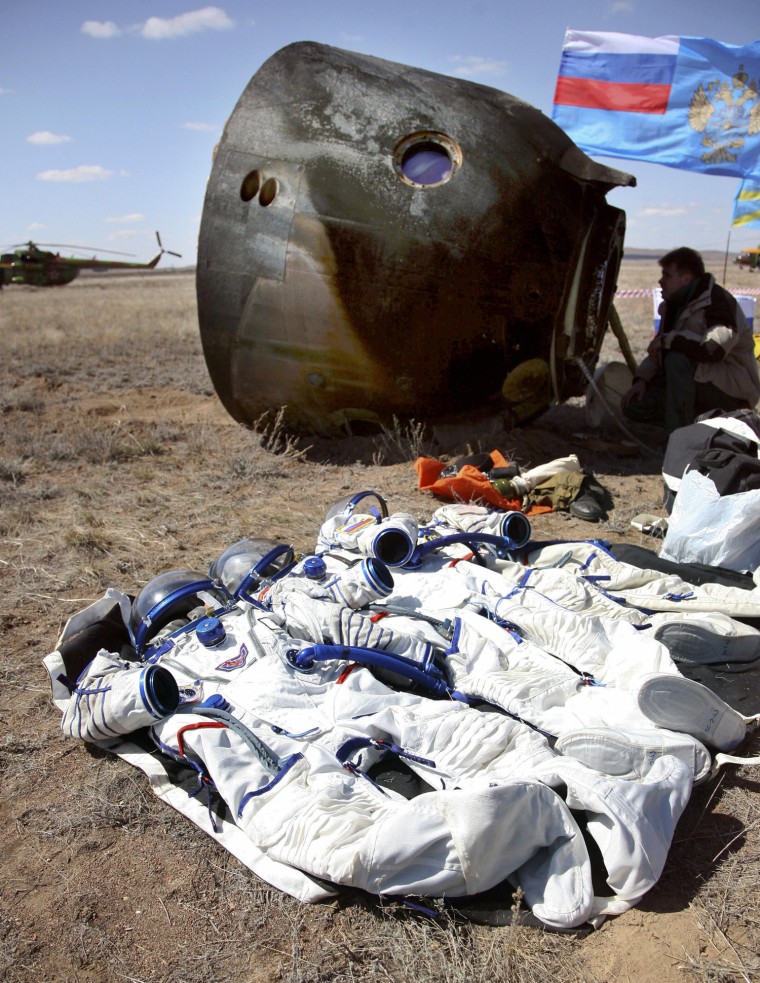 Space billionaire Charles Simonyi says he'll let Seattle's Museum of Flight show off the Russian Soyuz spaceship that sent him into space in 2009, along with his spacesuit and "a real, working space toilet" from Russia.
The arrangement, announced today, comes on top of the $3 million that Simonyi and his wife contributed to construction of the museum's newly named Charles Simonyi Space Gallery.
In addition to Simonyi's artifacts, the $12 million, 15,500-square-foot facility will feature a space shuttle mockup that was once used to train NASA astronauts. The full-fuselage trainer is expected to be delivered to Seattle by NASA's Guppy transport airplane in stages beginning in June.
Simonyi, a Hungarian native who made his billion-dollar fortune as a Microsoft executive, took trips to the International Space Station in 2007 and 2009 at a estimated cost of $25 million to $35 million. (The price went up between those two flights.) In all, he has spent 26 days, 14 hours and 27 minutes in space, "which is more than anybody who doesn't work for the government," quipped Doug King, the museum's president and CEO.
Simonyi's Soyuz is still in Russia being prepared for the trip to Seattle, but King said he expected it to arrive in March, well in advance of the gallery's official opening in June.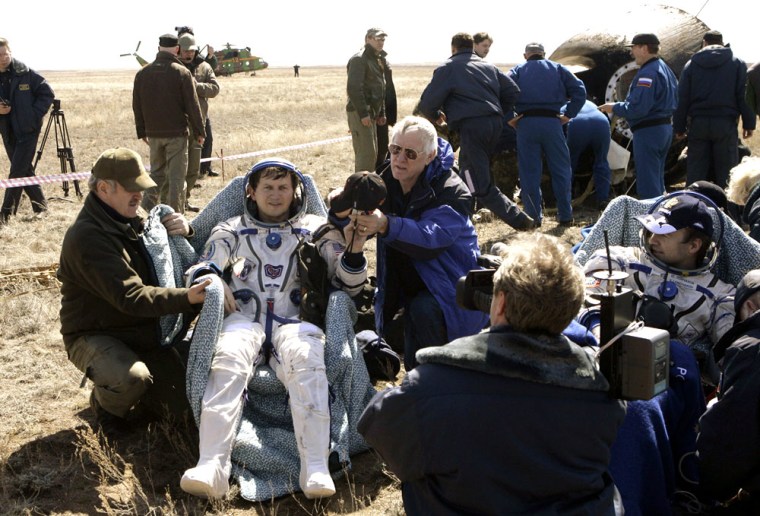 The TMA-14 spacecraft was launched from the Baikonur Cosmodrome in Kazakhstan on March 26, 2009, sending Simonyi and two other spacefliers to the International Space Station. Simonyi spent 13 days in space, and came back down on a different Soyuz with two returning space station residents, NASA's Mike Fincke and Russia's Yuri Lonchakov.
TMA-14 stayed docked to the space station until Oct. 11, 2009, when it made the successful trip home with three other spacefliers. After the landing, the sensitive electronic items were removed and the capsule was sold to Simonyi at an undisclosed price. In the past, Russian crew capsules have been sold at auction for $1.7 million and $2.9 million — which suggests Simonyi paid a seven-figure price for his Soyuz. 
"It's a used spacecraft," Simonyi told me jokingly. "It is junk, basically." Nevertheless, he said he made a pact with his wife, Lisa Persdotter, that the Soyuz would serve as his birthday, Christmas and anniversary present ... "perhaps even in perpetuity."
The spacecraft will be on indefinite loan to the Museum of Flight. This won't be the first slightly used Soyuz capsule to be purchased by a passenger and put on display: An earlier spaceflight participant, New Jersey inventor/entrepreneur Greg Olsen bought the Soyuz he rode in on, and it's due to be exhibited at New York's Intrepid Sea, Air and Space Museum.
More travelers on the way?
Among those on hand for today's christening of the gallery was Eric Anderson, chairman of Space Adventures, the Virginia-based company that brokered orbital spaceflights for Simonyi and other deep-pocketed space passengers. Anderson told me that his company was aiming to fly three clients on Soyuz craft beginning in 2013. The arrangement with the Russians calls for the passengers to go up to the space station on a series of flights, rather than all at once. The price tag is likely to be well in excess of the estimated $40 million paid out in 2009 by Cirque du Soleil founder Guy Laliberte, the most recent private space passenger to take a seat.
Now that the space shuttle fleet has been retired, NASA has to pay the Russians more than $50 million for each U.S. astronaut going to the space station. The price that private clients will pay for their 10-day trips is likely to be in the same ballpark.
Space Adventures is also offering round-the-moon trips for two passengers, on a beefed-up Soyuz craft that would be piloted by a professional Russian cosmonaut. The cost for each seat is estimated at $100 million to $150 million. One of the seats has been sold, and Anderson said he hoped to announce the second sale in 2012.
One thing is certain: Simonyi won't be on that flight. The 63-year-old says he has his hands full as the founder and chairman of Intentional Software ... and as the father of a 9-month-old daughter. "I promised my wife I wouldn't even consider it," he told me.
More about space artifacts:
Update for 6:10 p.m. Feb. 11, 2012: It turns out that the Soyuz brought to Seattle was the TMA-14 spacecraft, rather than the TMA-13, as originally reported. I've updated this item to reflect the situation, as described by the Museum of Flight.
Microsoft, where Simonyi used to work, is a partner along with NBC Universal in the msnbc.com joint venture. I helped prepare a mission pamphlet for Simonyi's first spaceflight in 2007 as a freelance project.
Connect with the Cosmic Log community by "liking" the log's Facebook page, following @b0yle on Twitter and adding the Cosmic Log page to your Google+ presence. You can also check out "The Case for Pluto," my book about the controversial dwarf planet and the search for new worlds.