To be 30 years younger is the wish of many an aging soul. For actor Jeff Bridges, movie magic makes the dream a reality in "Tron: Legacy," the sequel to the 1982 sci-fi blockbuster, in which the actor plays his younger self in a digital universe with his long-lost son.
The feat is the result of new technology that allowed filmmakers to record the actor's facial movements and superimpose them onto a digital model of Bridges' younger self.
"He's the first actor in cinematic history to play opposite a younger version of himself," the movie's visual-effects supervisor, Eric Barba, said in a Daily Mail profile of the 60-year-old actor.
In the original movie, Bridges played video game hacker Kevin Flynn, who got sucked into a computer and was forced into playing gladiatorial games. In the $300 million sequel, which opens Dec. 17, Flynn's son enters the "Tron" virtual universe -- where he encounters a youthful version of his dad captured in the digital body of Clu 2, one of his creations. The Daily Mail explains the tech behind Clu2:
"Bridges' face was scanned in three dimensions and a 3D model produced, marked with 52 points on the cheeks, eyes, forehead and mouth –- everything that moves when we express an emotion. This digital version of the actor's face was then 'de-aged,' based on footage of the young Bridges from 1984's 'Against All Odds.'"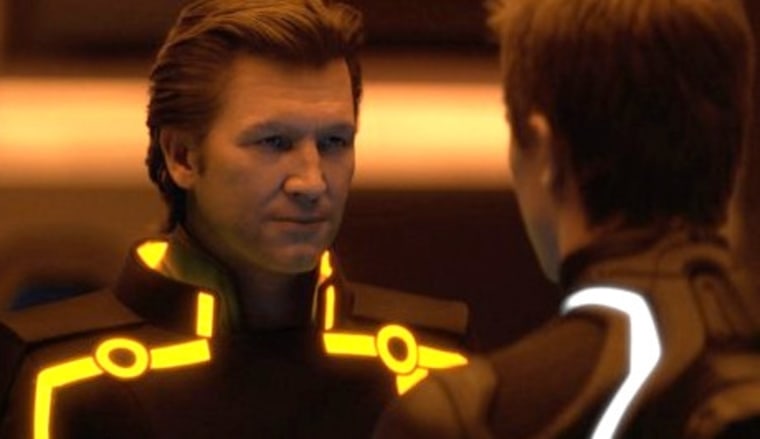 While acting as Clu 2, Bridges had his own face marked with dots in the same 52 places and wore a tiny head-mounted camera that tracked their motion. The facial expressions of the real Bridges were then mapped onto the digital Bridges.
Ohio State University computer scientist Rick Parent predicted the ability of movie technology to turn back time on an actor in a 2002 msnbc.com interview -- which was sparked by Andy Serkis' virtual performance as Gollum in the "Lord of the Rings" movies. 
The new "Tron" movie, he told me, shows that the technological goal of replacing real actors with virtual actors has been reached ... "to a degree."
"With a movie like 'Tron,' the whole premise of that lends itself to computer graphics because it's inside a computer, and therefore the audience has some tolerance for not exactly a real person," he said. But there's a difference between that kind of movie and using a virtual or synthetic replacement "for an actor in a real live scene," he added.
That type of technology still requires advances in motion control, as well as the ability to portray realistic effects such as light reflecting off skin and hair. Faster computers and bigger studio budgets are bringing the technology closer and closer, Parent said, "but there's still a ways to go."
If digital technology continues on its current course, Bridges said the day may come when he could appear in movies without actually acting. "I could still make films," he told the Daily Mail. "I can say, 'I'll lease you my image.'"
Maybe. But Parent said Bridges would still need to do the motion capture work -– the recording of facial and body movements for mapping onto his synthetic likeness. For better or worse, the technology is nowhere near completely replacing real live actors.
"With removing the actor completely, now you've got a whole different problem of building those body motions, those facial motions, the speech -– which is a whole other problem. Building that essentially from scratch … that's a whole other level of complexity, and we are not there at all," Parent said.
John Roach is a contributing writer for msnbc.com. Connect with the Cosmic Log community by hitting the "like" button on the Cosmic Log Facebook page or following msnbc.com's science editor, Alan Boyle, on Twitter (@b0yle).