Back in 1873, Rocky Mountain spring water put the Coors brewery in Golden, Colo., on the map for lovers of beer. Now, lovers of all things green will mark the facility as well: This week, the largest brewery in the country moved to landfill-free status.
The accomplishment, announced Monday, means that the 135 tons of waste the brewery generates each month is now recycled or reused. Spent grains, for example, are fed to livestock, while all paper, glass and pallets are recycled.

The 0.3 percent of residual refuse — the stuff that normally heads to the trash bin, such as floor sweepings and soiled paper towels — is hauled off to a facility in Oklahoma where it is burned to generate energy.
Achieving landfill-free status at a brewery with the capacity to turn out 22 million barrels of beer a year is remarkably low-tech, noted Kelly Harris, a production specialist with MillerCoors who led the landfill-free initiative.
"It is about education and it is about culture change," he told NBC News. "And to do that, you have to have a system that is simple. Nobody likes change."
The system he implemented revolves around the use of color-coded bins. Yellow is for aluminum, for example. True trash goes into the red bins, a color meant to make people think twice before throwing anything into it. The company spent about $1 million on new bins and paint to get the job done.
The Golden brewery is the fifth of MillerCoors' eight breweries in the U.S. to gain landfill-free status. According to the company, no other breweries in the country, including micro and macro brewers, have managed to achieve this milestone.
That said, the movement is part of a green corporate trend. Anheuser-Busch-InBev, the world's largest brewer by volume, reports it has achieved zero-waste to landfill status at 118 of its plants worldwide, which means at least more than 90 percent of the waste generated is diverted from landfills.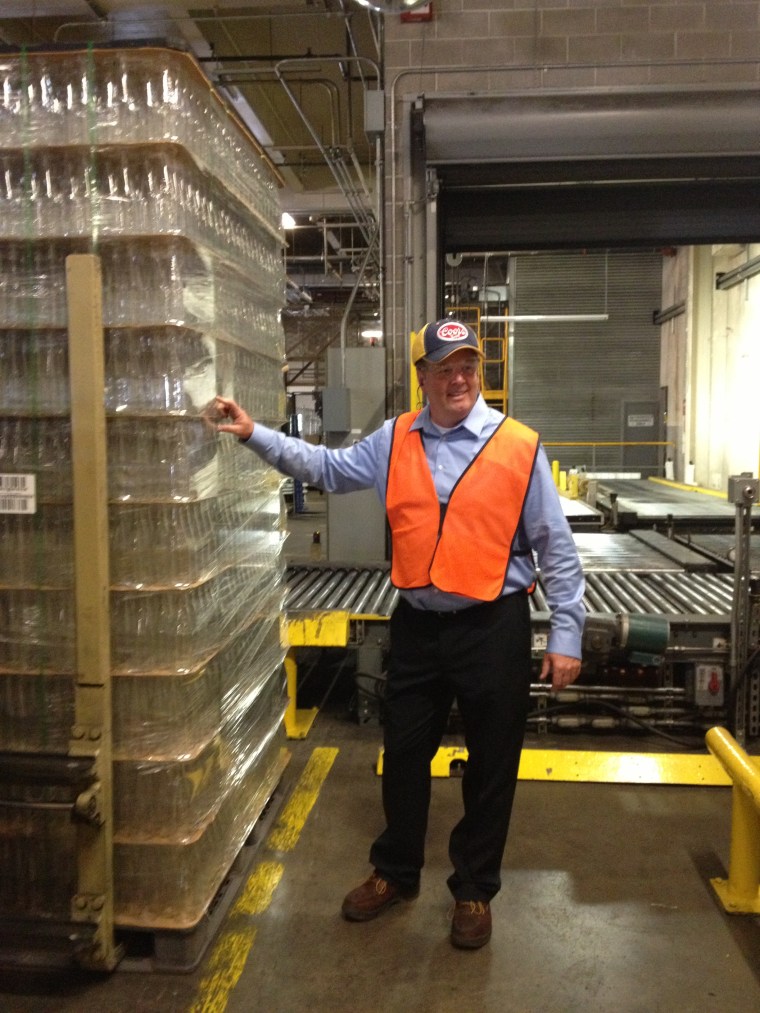 Craft brewers too embrace a green ethos, according to Bart Watson, a staff economist with the Colorado-based Brewers Association.
"Craft brewers tend to be particularly sensitive to environmental issues and there are definitely a number of breweries working on landfill-free as a goal," he said in an email to NBC News.
Odell Brewing in Colorado, for example, is on a mission to be landfill free by 2014. Boulevard Brewing, in Kansas City, Mo., notes on its website that it became a zero-landfill company in early 2011.
Outside the brewing industry, the zero waste and landfill-free movements are equally as strong. General Motors, for example, has achieved landfill-free status at 105 of its facilities and several other companies including Xerox are on a similar path.
Harris, the MillerCoors recycling guru, applauds the efforts in and outside the brewing industry. "My personal wish would be yes, every company would do it," he said, adding that "sustainability is all about using the resources of today and minimizing that so you have resources for tomorrow."
MillerCoors aspires to attain landfill-free status at its remaining U.S. breweries by the end of 2015.
John Roach is a contributing writer for NBC News. To learn more about him, visit his website.