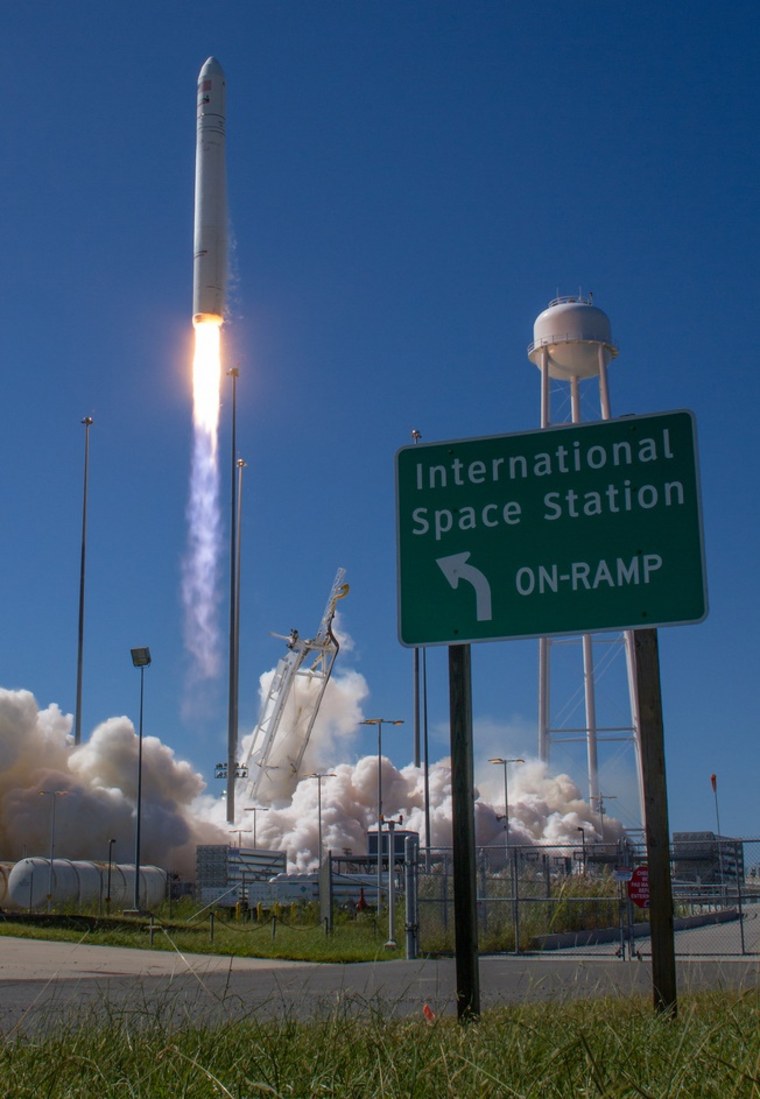 A new kind of commercial spaceship took to the air for the first time, with the launch of Orbital Sciences Corp's Cygnus cargo craft toward the International Space Station from a Virginia launch pad on Wednesday.

Orbital's two-stage Antares rocket lifted off at 10:58 a.m. ET from Launch Pad 0A at the Mid-Atlantic Regional Spaceport, at NASA's seaside Wallops Flight Facility in Virginia. The ascent could theoretically be seen from a swath of the East Coast stretching from New York to the Carolinas, although partly cloudy skies at the launch pad reduced visibility.
The unmanned Cygnus capsule rode atop the Antares rocket into outer space, bringing about 1,300 pounds (590 kilograms) of supplies to the orbital outpost. But the main objective of this mission is to demonstrate Cygnus' capabilities, clearing the way for Orbital to start resupplying the space station in earnest under the terms of a $1.9 billion, eight-flight contract with NASA.
"This is the way of the future," Frank Culbertson, a former astronaut who now serves as Orbital's executive vice president, told reporters at a post-launch news conference. "This is how we're going to have to operate going forward in order to maintain a robust space program."
Only a few hiccups came to light during the countdown: Monitors had to check on houses near the launch pad when weather projections suggested that a launch blow-up might pose a risk of blowing out windows. "We had to work that pretty hard, right up to the end," Culbertson said. In a worst-case scenario, houses might have had to have been evacuated, but everything turned out fine.
The nearly flawless launch put the Cygnus craft just a mile or two from its target orbit, traveling at 17,500 mph (28,000 kilometers per hour) and closing in on the space station.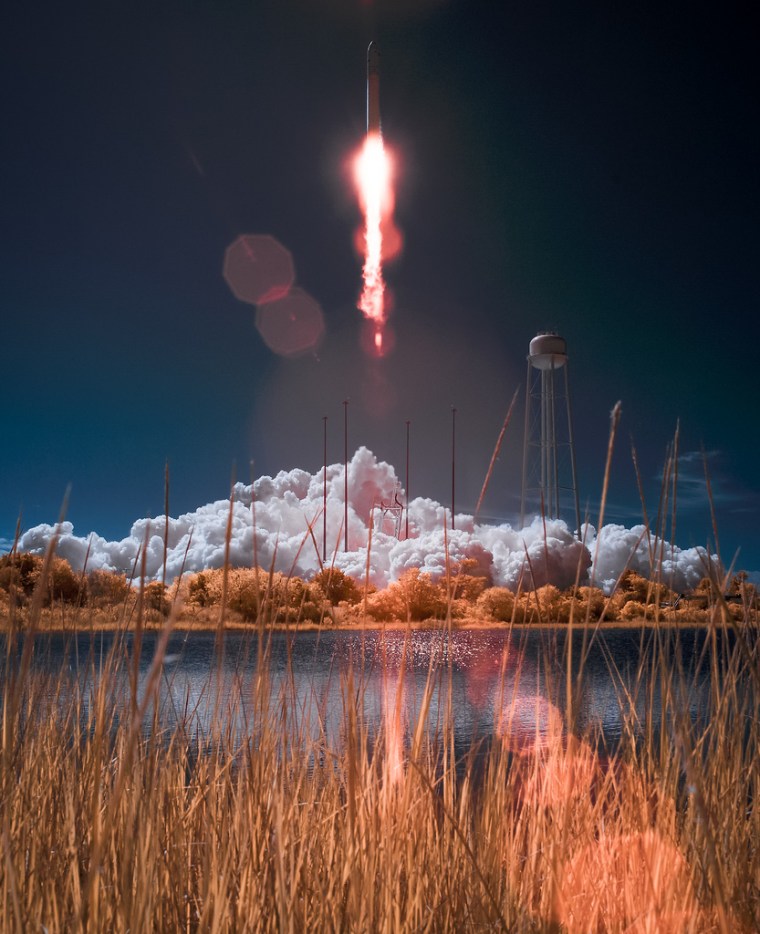 It didn't take long for the kudos to come in from NASA:
"If you needed more tangible proof that this is a new era of exploration, it's right here, right now in Virginia," NASA associate administrator Robert Lightfoot told reporters at a post-launch news conference.
"This is another historic day for commercial spaceflight, a very proud day for NASA, and an amazing accomplishment for our partner, Orbital Sciences," Alan Lindenmoyer, manager of NASA's Commercial Crew Program, added in. 
"Today marks a milestone in our new era of exploration as we expand the capability for making cargo launches to the International Space Station from American shores," NASA Administrator Charles Bolden said in a statement. 
Virginia-based Orbital was selected in 2008 to join California-based SpaceX as a carrier of cargo for the space station in the wake of the space shuttle fleet's retirement. SpaceX has a separate $1.6 billion resupply contract, and has already sent three of its Dragon cargo capsules to the space station and back.
This week's Antares launch follows up on an earlier orbital demonstration mission in April. For that mission, the two-stage Antares merely launched a dummy capsule that simulated the cylindrical Cygnus' shape and heft. Thus, this mission marks the Cygnus' first honest-to-goodness flight to orbit.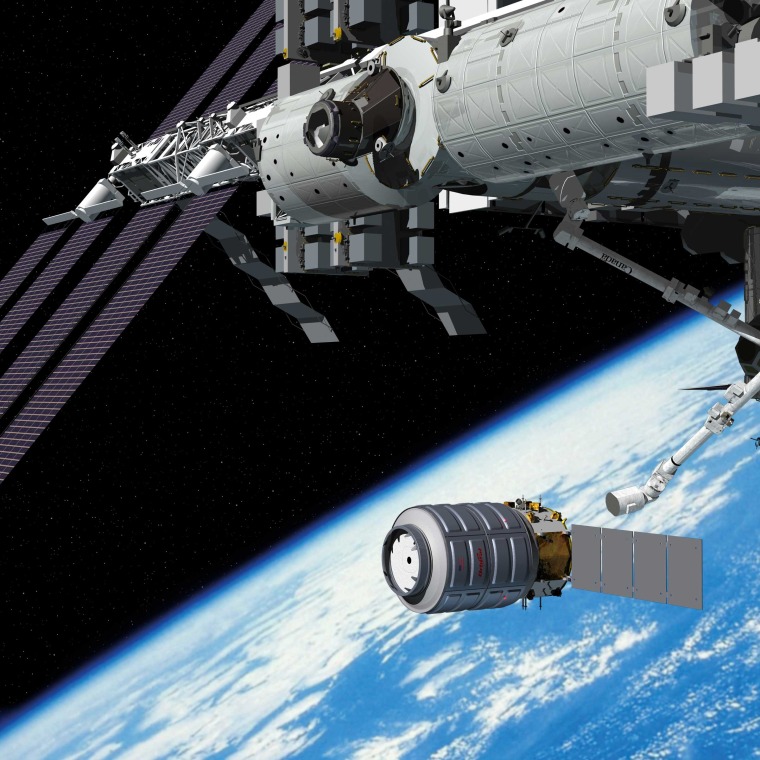 Cygnus is due to rendezvous with the space station on Sept. 22. Astronauts will use the station's Canadian-built robotic arm to grab onto the cylindrical, car-sized craft and pull it in for its berthing onto the station's Harmony module. "We're waiting for you Sunday with (ahem) open arm!" the Canadian Space Agency tweeted after Wednesday's launch.
After the cargo is unloaded, the crew will stow trash aboard the capsule. Unlike SpaceX's Dragon, Orbital's cargo craft is not designed to return to Earth. About a month after its arrival, the Cygnus will be set loose and guided through atmospheric re-entry to its fiery doom over the South Pacific. 
The next window of opportunity for a space station resupply mission comes in the December-January time frame, but Lindenmoyer said NASA hasn't yet decided whether Orbital or SpaceX will take that spot. The space agency will wait at least until after the Cygnus makes its re-entry to choose between the competitors — a situation that might have been hard to imagine during the space shuttle era.
"Planning the traffic to the space station is quite a busy job," Lindenmoyer said. "There are a lot of vehicles coming and going to the space station nowadays." 
More about the Cygnus debut:
You can watch coverage of the Cygnus mission to the space station via NASA TV's website.
Alan Boyle is NBCNews.com's science editor. Connect with the Cosmic Log community by "liking" the NBC News Science Facebook page, following @b0yle on Twitter and adding +Alan Boyle to your Google+ circles. To keep up with NBCNews.com's stories about science and space, sign up for the Tech & Science newsletter, delivered to your email in-box every weekday. You can also check out "The Case for Pluto," my book about the controversial dwarf planet and the search for new worlds.