WASHINGTON — There are plastic shopping bags, bottles, action figures, bottle caps, pacifiers, tooth brushes, boots, buckets, umbrella handles, fishing gear, toilet seats and much more. Researchers unveiled Wednesday what they called the most scientifically rigorous estimate to date of the amount of plastic litter in the oceans — about 269,000 tons — based on data from 24 ship expeditions around the globe over six years.
"It's everything you can imagine made of plastic," said Marcus Eriksen, research director for the Los Angeles-based 5 Gyres Institute. He led the study published in the scientific journal PLOS ONE. Ninety-two percent comes in the form of "microplastic" — particles from larger items made brittle by sunlight and pounded to pieces by waves, bitten by fish or otherwise torn apart, Eriksen said.
Discarded fishing nets kill by entangling dolphins, sea turtles and other animals. Plastic fragments lodge in the throats and digestive tracts of marine animals. Larger plastic objects often float into the world's five subtropical gyres — spinning currents in the North and South Pacific, North and South Atlantic and Indian Ocean. Huge "garbage patches" in the middle of these gyres act as shredders, Eriksen said. The study estimated that there are 5.25 trillion particles of plastic litter.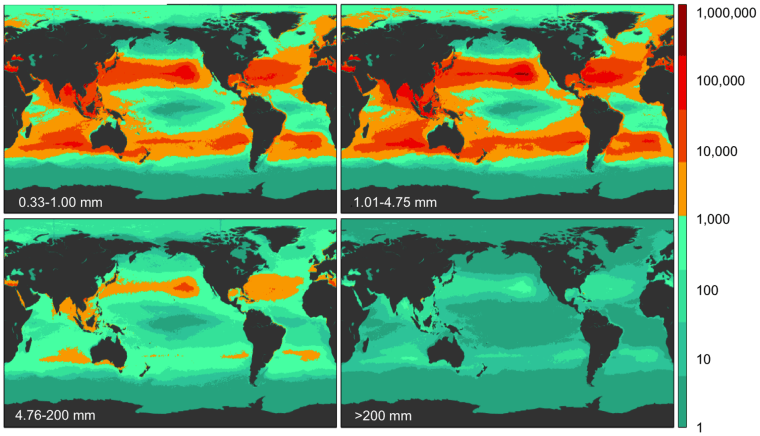 The graphic above shows density of four plastic sizes across the world's oceans. Click here for a larger size at PLOS ONE.
IN-DEPTH
SOCIAL
— The Associated Press