This is definitely not your parents' Earth Day.
On April 22, 1970, millions of people took to the streets for '60s-style demonstrations and marches, calling attention to the perilous pollution of America's land, air and water. Ten thousand flocked to the Washington Monument for a folk music concert featuring Pete Seeger and U.S. Sen. Edmund Muskie.
Today, Earth Day isn't just a national event; it's a global phenomenon. And it's not just one day; it's a whole week.
"It is now the largest secular event in the world," Kathleen Rogers, president of the Earth Day Network, told NBC News. "We have over 1 billion participants from 192 countries."
Tens of thousands came to Washington's National Mall on Saturday to hear Gwen Stefani, Mary J. Blige and other pop stars, as well as the United Nations' secretary-general and the World Bank's president, at a music-packed kickoff for 2015's Earth Day observances.
"Is Earth Day still relevant? I think so," Rogers said.
The call to action that started with Earth Day has had a huge impact as well:
And yet, even Rogers acknowledges that the challenges facing the environmental movement are at least as daunting as the pollution woes that led to that first Earth Day 45 years ago.
"Back then, we could see it," she said. "Although there's still lots you can see — you can see landfills from space — what we have now is a much more insidious and harder-to-see problem called climate change."
From consensus to conflict
It was a relatively simple, if expensive, matter in the 1970s to identify the sources of pollution and do something about them. Environmental policy was a mostly bipartisan affair: It was Republican President Richard Nixon who created the Environmental Protection Agency, in concert with a Democratic-led Congress.
Today, environmental policy is fiercely partisan — in part because measures to cope with climate change could have wide-ranging economic consequences.
Just last week, House Science Committee Chairman Lamar Smith, R-Texas, criticized President Barack Obama's pledge to reduce greenhouse-gas emissions as "nothing more than a power grab" that would "do lasting damage to our nation, all for little to no environmental benefit."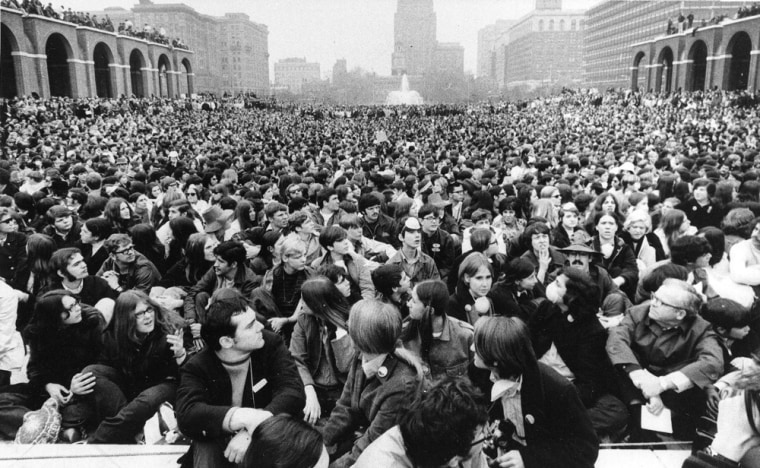 The acrimony over climate change and its implications has led some experts, such as Paul Ehrlich of Stanford University's Center for Conservation Biology, to wonder whether the broad-based Earth Day campaign has outlived its usefulness.
"Today, much of the so-called environmental movement has been basically bought by industry," he told NBC News. "I think Earth Day is kind of 'let's all get together and recycle' and so forth, and therefore it's probably got more of a moral hazard than not. The changes that we are facing are so beyond anything that the average Earth Day program imagines, that Earth Day is probably not useful anymore."
Lester Brown, founder of the Earth Policy Institute, is more optimistic than Ehrlich when it comes to Earth Day, but he agrees that the policy landscape has changed dramatically.
"It used to be that the environmental groups' lobbying was what brought about the changes," Brown told NBC News. "In the future, they will still have a role to play — but there will be other powerful forces at work that will make their job easier."
Market-driven change
If cleaner energy sources come to the fore, it'll be because of economics. "We are looking at a restructuring of the energy economy that is largely market-driven," said Brown, the lead author of a book titled "The Great Transition: Shifting From Fossil Fuels to Solar and Wind Energy."
Slumping oil prices and the boom in natural gas have been keeping the spotlight on fossil fuels, but in the background, renewable sources are gaining ground. In some parts of the world, fossil-fuel facilities are getting onto the bandwagon for solar and wind energy.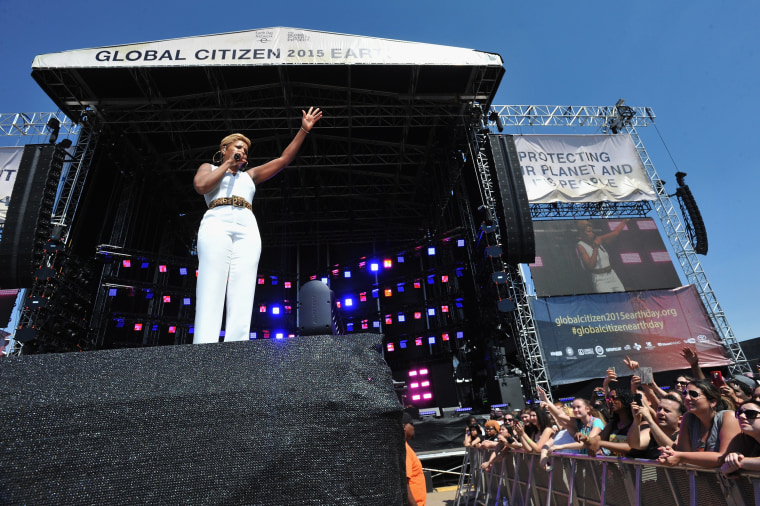 "I don't think we've yet begun to grasp what this transition from coal and oil to solar and wind is going to translate into," Brown said.
Earth Day 2015 is on the bandwagon as well: In addition to the performers and the politicians, the stars at this weekend's National Mall concert included the Toyota Mirai, a hydrogen-powered fuel cell electric vehicle.
"It's no longer just about movement-building, it's about technology," said Rogers, the president of the Earth Day Network. "It's not about reflection, it's about doing things."