About 70 million people remained under heat alerts Monday afternoon after a record-breaking weekend of warmth across much of the U.S. South.
The National Weather Service said it expects dangerously hot daytime temperatures expanding from the desert Southwest into Texas and extending eastward along the Gulf Coast into parts of the Southeast and Florida on Monday and into Tuesday.
In cities like Phoenix, New Orleans, Miami, Houston and El Paso, Texas, the temperatures for Monday into Tuesday are forecast at 5 to 15 degrees above average, with daily highs expected to reach into the 90s and the 100s. Temperatures that feel more like 105 to 115 are possible across the South in areas with high humidity.
The National Weather Service has forecast some relief from the heat in parts of the Southwest and the Southeast as the week continues. But in cities across the southern Plains, concentrated in New Mexico, Texas and Louisiana, the extreme heat is expected to continue throughout the week.
Baton Rouge, Louisiana, will have its 10th consecutive day at or above 100 after it officially broke its streak set in 1921 on Sunday, and nearby New Orleans is expected to continue breaking daily record highs this week, with temperatures just below 100.  
In Houston, temperatures will be at or above 100 for the ninth straight day, reaching 104 on Monday and hovering in the 100s through the week. The heat has become unbearable even for some Houston residents who typically endure sweltering summers.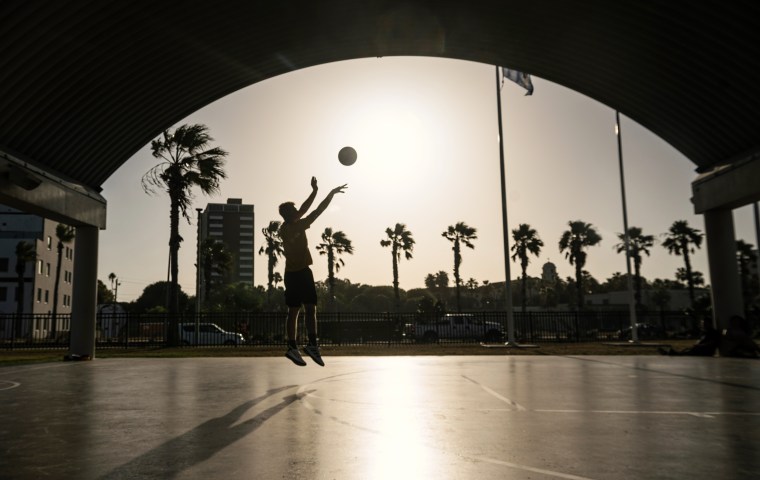 "This is the hottest summer I can recall," Houston native Courtney Barrett told NBC News correspondent Priscilla Thompson in an interview for the "TODAY" show. "Even going outside around 6 o'clock isn't an option this year. It's just too hot."
The National Weather Service has also warned residents in parts of the Four Corners states and parts of Texas of elevated fire weather risk due to extreme heat combined with dry ground conditions and gusty winds.  
While heat sweeps the Southern tier of the country, the Northeast is expected to get some severe storms over the next two days. Eighty-seven million people are at risk for severe weather Monday, with the National Weather Service forecasting increased threats for severe thunderstorms and flash flooding from the Tennessee and upper Ohio River valleys into much of the Eastern U.S.
The region most at risk stretches from Virginia up through Pennsylvania, which is likely to get damaging winds, heavy rain and potentially large hail and a few tornadoes. Through Tuesday, up to 4 inches of rain is possible in some locations, including northwest New Jersey, western New York and eastern New Hampshire into Maine.