The Baltic Sea is a troubled sea, and one of its recurring troubles is algal blooms that render its waters toxic — but, when viewed from far above, eerily beautiful. This image, captured Aug. 7 by the European Space Administration's Sentinel-2A satellite and published on Friday, shows the extent of a recent such bloom — one that has continued through the summer due to warm, mild weather. You can see a ship cutting a path through the algae, leaving behind it a trail of clear water.
Related: Toxic Algae Blooming in Warm Water from California to Alaska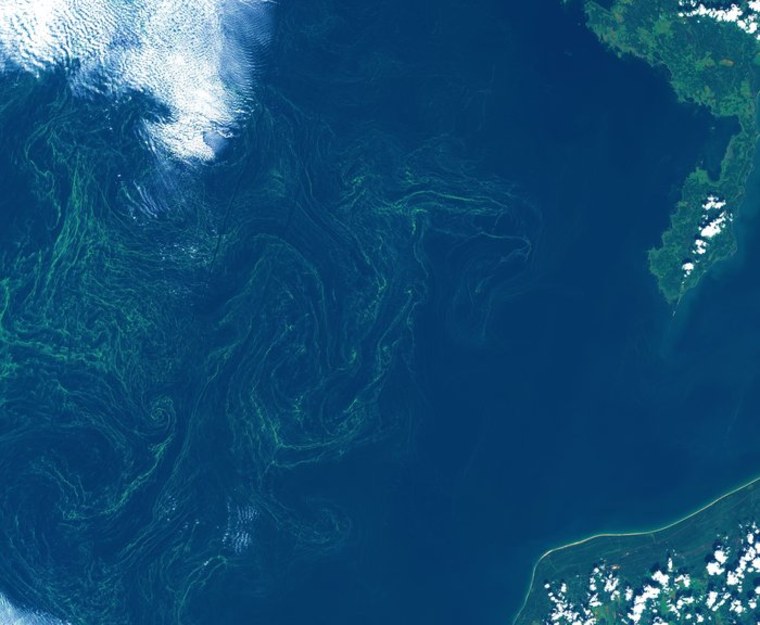 There are many types of algae, some more benign than others, but concentrations like this are often devastating to larger sea life. Animals that must breathe or hunt in algae-suffused waters internalize huge numbers of the tiny creatures. This summer, for instance, sea lions on the U.S. West Coast have been stricken with seizures due to high algae levels.
Those creatures that do survive remain toxic themselves — such as shellfish harvested during or even long after a "red tide," another form of algal bloom. It's a serious problem that only worsens as oceans warm — but satellites like Sentinel-2A at least give scientists the tools to monitor the situation, even if, for now, we are powerless to improve it.