Long hailed as a game changer that will allow unlimited amounts of wind and solar energy onto the electric power grid, big rechargeable batteries are beginning to move out of research labs and find a home amid the real-world tangle of smokestacks, turbines and power lines. Today, the reality falls short of the hype about fossil-fuel-free electricity — but experts say that future could be in store.
For the foreseeable future, electric utilities will rely on coal, gas and nuclear power plants to provide a steady base of power, according to Paul Denholm, a senior analyst at the National Renewable Energy Laboratory in Golden, Colorado. But batteries can help balance the flow of electricity as demand ramps up and down throughout the day.
"That is where the hot applications are right now for energy storage," he told NBC News.
Traditionally, utilities maintain a little "wiggle room" on their system, he explained. For example, they might run power plants at 90 percent capacity, so that extra juice can be made available when a dark cloud passes overhead and thousands of people flick on their lights.
Operating power plants that way is hard on a system. It's inefficient, and expensive. Batteries, which can add extra juice nearly instantaneously, are a more cost-efficient way to keep the grid humming. What's more, this load leveling usually only requires 15 to 30 minutes' worth of energy. "You can have a relatively small storage device and make a decent amount of money on it," Denholm said.
While the market for this type of battery usage is limited, it is an entry point for a technology in need of experience on the grid, he explained.
Balancing the load
Load leveling is precisely what Avista Corp. in the Pacific Northwest plans to do with the 3.6-megawatt capacity vanadium flow battery it is purchasing for its grid in Pullman, Washington, with the help of a $3.2 million matching grant it received in July from Washington state to advance energy storage technology.
In theory, the battery from Mukilteo, Wash.,-based UniEnergy Technologies could be installed next to a wind farm to store excess generated electricity, for occasions when wind speeds go so high that turbines are shut down to prevent damage, or when the wind suddenly dies out.
"But that carries with it a lot of cost [for] a single purpose … and you still have to send it across the transmission lines to get it to the load," Curt Kirkeby, a senior electrical engineer and technical strategist with Avista in Spokane, Washington, told NBC News.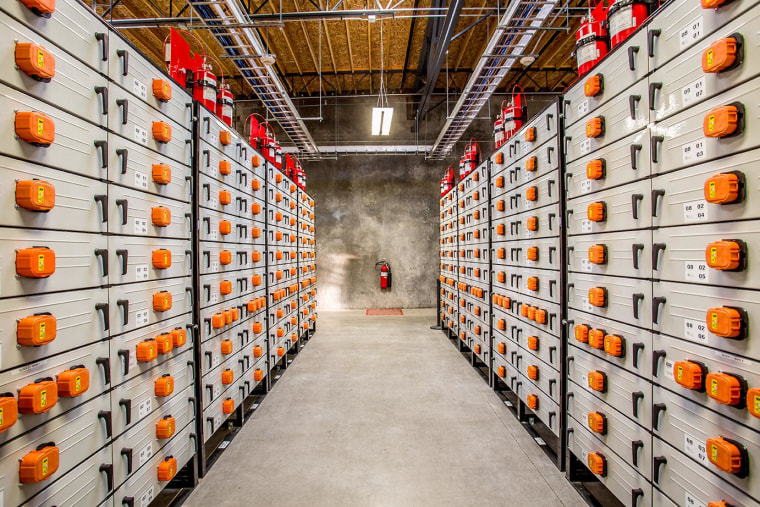 Instead, the company will put the battery at a substation to help balance the load on the entire distribution system, he explained. "That doesn't preclude it, of course, from being used in aggregation with other storage to take care of that wind farm problem or to take care of a solar panel problem."
Solar panel problems may grow particularly acute in California, which leads the country in installed solar capacity with 7,136 megawatts, enough to power about 1.7 million average homes. Sensing a growing need to balance the intermittent nature of solar energy, the California Public Utilities Commission told the state's three largest utilities to add a total of 1,325 megawatts of storage to their systems by 2020.
"We are trying to get to the stage where we have a robust set of options, storage being one of them, for addressing renewable integration and grid stability issues," said Julie Fitch, chief of staff for CPUC Commissioner Carla Peterman, who led the California initiative.
Poised for growth
State grants and mandates "will certainly have a huge impact on the energy storage market, because you are providing some long-term expectation of potential customers for energy storage companies to build a business around," Logan Goldie-Scot, an energy storage analyst with Bloomberg New Energy Finance in London, told NBC News. He forecasts the stationary storage market will grow ninefold to more than 11 gigawatts of capacity by 2020 from 1.2 gigawatts in 2013.
As the market grows, costs could be driven down by efficiencies of scale in manufacturing such as at Tesla Motors' Gigafactory, as well as continued improvements in storage technology such as a recent breakthrough in lithium batteries. That should help utilities "manage the grid in scenarios with increased renewable energy penetration," Goldie-Scot said.
But for now, using storage purely to manage renewable integration doesn't make financial sense, according to Denholm. "It's not like we've got a lot of spare wind or solar capacity that can't be used," he explained. "That value proposition will have to increase. We are going to need a lot more renewables before you see the point where it makes sense to store it."