California's push to lead the nation's shift to renewable energy hit a bump early Saturday, as the state Legislature defeated a pair of bills to create a regional electrical grid and a measure that would have required all electricity in the state to come from non-carbon sources by 2045.
Even with big Democratic majorities in both houses of the state government, the 100 percent renewable energy bill could not overcome a wall of opposition from the state's massive, publicly owned utilities and from a labor union representing electrical workers in Northern California.
"It's a political setback, but it is not going to stop the momentum in California," said Kathryn Phillips, chief lobbyist for the Sierra Club in the state Capitol. "Fortunately, the public understands better than the Legislature that we don't have time to waste."
If approved, Senate Bill 100 would have made California the biggest economy on earth committed to getting 100 percent of its power from wind, solar and other clean alternatives. Hawaii has already set that goal, but it is a fraction of the size and population of California, with more than 39 million residents.
Related: California Lawmakers Begin Push for 100% Clean Energy by 2045
The bill ran afoul of the powerful International Brotherhood of Electrical Workers, Local 1245, which said that sponsor Kevin de Leόn, the president of the State Senate, had gone back on a promise to include amendments to protect union jobs and to assure the security of the power grid.
De Leόn's office denied that he promised any amendments to the local, which represents most utility workers in Northern California.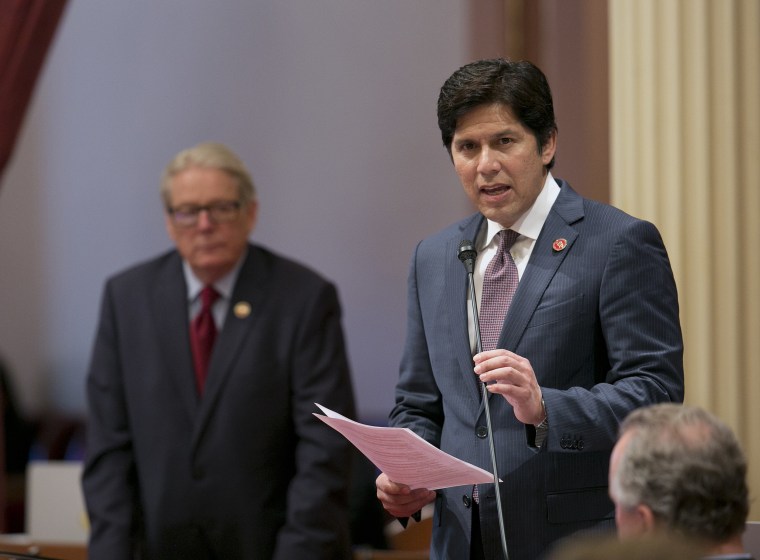 The state's biggest public utilities — Pacific Gas & Electric Company, Southern California Edison and San Diego Gas & Electric Company — also opposed SB 100. They said in a joint letter that the bill did not do enough to protect consumers, should the use of non-fossil fuels lead to higher electric rates. The big three utilities also said there were not safeguards to assure the 100 percent renewable goal was applied equally to smaller, upstart competitors.
Also passed over for final consideration late Friday were two measures that would have smoothed the way for a regional electrical grid. The sharing of electricity over state borders is designed to improve access to wind, solar and other renewable power sources. But utilities balked at a provision that could have forced them to speed up their adoption of the new technologies.
"It's a political setback, but it is not going to stop the momentum in California."
SB 100 and the two electric grid measures were pushed aside in the rush to pass other legislation before California lawmakers ended their session in the wee hours of Saturday morning. Among other bills that took priority — a $4 billion parks bond measure that the state's Assembly and Senate voted to put on next June's ballot.
The failure of the 100 percent renewable bill was significant, but far from fatal to California's clean energy push. The state's big, investor-owned utilities already get nearly 28 percent of their power from wind, solar and other clean sources. They are on target to meet a previous standard of 50 percent renewable power by the year 2030.
Related: California and Other States Step Into the Climate Policy Void
The de Leόn bill would have moved that requirement up to 60 percent renewables by 2030, then allowed another 15 years for the state to get all its electric power without burning coal and natural gas. The bill left open the question of whether other sources, like hydro power, would be considered eligible toward meeting the goal. (While hydro-electric dams create clean energy, environmentalists have been loath to rely on them because of damage their construction does to ecosystems.)
In a press release at the end of the legislative session, de Leόn chose to focus on successes earlier in the year on clean energy. One initiative set a goal of replacing many of the diesel-burning trucks owned by big utilities with electrical vehicles.
And another bill approved the extension of California's ground-breaking cap-and-trade program from 2020 to 2030. The continuation of the pollution-credit trading system put the state in the forefront of the campaign to limit greenhouse gas emissions and to slow the warming of the planet.