Some of California's biggest lakes are making dramatic comebacks as the state's "big melt" of snowpack reshapes the landscape in historic — and perhaps unexpected — ways. 
Owens Lake, which dried up in the 1920s after its streams were diverted to quench the thirst of Los Angeles, has re-emerged. The new water on the dry lake bed threatens to damage infrastructure designed to keep down dust, a problem that emerged when the lake was drained decades ago.  
The salt lake's re-emergence could ultimately cause more air pollution and be a setback to a yearslong project in which the Los Angeles Department of Water and Power has spent billions of dollars. 
Meanwhile, Mono Lake, beleaguered by three years of drought, is expected to rise by several feet, a welcome reprieve as the lake has struggled to reach target levels. 
The contrast between the two lakes, which are about 115 miles from one another, shows the complicated and differing impacts of the "big melt," as meteorologists have nicknamed the process. Some areas are benefiting from the water now coming from this winter's historic snowfall; others are struggling to handle flows, which are expected to peak soon in many parts of the state. 
The impacts are also a reminder that across California's heavily engineered landscape, where the climate seesaws between too wet and too dry, nature has found no shortage of methods to foil humanity's plans to control water — or control the consequences of taking that water away. 
Holly Alpert, the acting water director for Inyo County, where Owens Lake is located, said the wet year paints a picture of the past. Groundwater levels are rising; rabbit and sage brushes are broadening their reach. But climate change has intensified California's pattern of booms and busts — and Alpert said she is already planning for the next drought. 
"We're seeing so much water in the valley that it makes me think about what the valley might look like before water export," she said. "The big years, they're really interesting. You get to see this water, but what scares me more are the droughts. They do tend to be multiyear. They seem to be getting worse." 
Los Angeles took much of Owens Valley's water more than a century ago. 
In the early 1900s, representatives of Los Angeles quietly bought up land and water rights in the Owens Valley. By 1913, engineers completed the Los Angeles Aqueduct to divert much of the valley's water over more than 230 miles to the growing city. The events — which touched off violent "water wars" between Owens Valley residents and city interests — were the inspiration for the 1974 film "Chinatown." 
Owens Lake would never be the same. 
"By the early 1920s it completely desiccated and it effectively has been a dry lake since then," said Steve Bacon, an associate research professor of geology at the Desert Research Institute. 
The dried lake became the biggest source of dust in the United States, a pollution problem that hampered nearby residents' health and forced Los Angeles — after legal agreements — to control pollution. 
The Los Angeles Department of Water and Power, which operates the aqueduct and is responsible for the dust, said ratepayers have spent about $2.5 billion to control dust and that department efforts have achieved a 99.4% reduction. 
Today, in most years, a few thousand acre-feet of water typically fills portions of the lake bed, including a salty brine pool. Some areas are covered in gravel while others are flooded with a shallow layer of water or have vegetation growing — all patchwork projects on the lake bed to control dust. 
After a wild season of snow and rainfall, that work is now at risk. 
After March storms, floodwaters breached the aqueduct and about 7,000 acre-feet flowed into Owens Lake before the damage could be repaired, according to LADWP aqueduct manager Adam Perez. 
More is on the way. By April 1, the Eastern Sierra snowpack that feeds Owens Valley streams was nearly three times as large as usual — a record year causing historic flows. 
But the aqueduct sometimes can't handle the sediment in these huge flows, forcing LADWP to send some water to the dry lake bed. 
"When you look at what's potentially forecasted for Owens Lake — we're looking at 160,000 — 170,000 acre-feet of water," Perez said, referring to a measure that describes how much water it takes to cover an acre of land with one foot of water. An acre-foot of water is roughly equivalent to the volume of two Olympic-sized swimming pools.
"The valley is very green right now. You drive down 395 and you can see lots of flowers on either side of the road," Alpert said. "It looks like a massive body of water."
The department has prepared all spring for the lake to refill. Perez estimated the department will spend between $20 and $40 million to fortify and protect infrastructure. Workers raised and lowered berms around dust projects to try to direct unwanted water away from them. 
Perez said the department drained its reservoirs this spring so they could better manage peak flows, which are expected by the middle of June. The aqueduct is currently supplying about 80% of Los Angeles' water needs. Crews are directing excess water on spreading grounds — areas in the valley where water can seep in and restore the water table.
But Perez expects damage to dust infrastructure as salty water intrudes on dust-controlling vegetation, for example. 
"We'll be dealing with water well beyond this summer," Perez said. "There will be some losses."
Dust is unlikely to be a problem next year on the dampened lake bed. What happens after that is unclear. 
"It's sort of counterintuitive. We think 'more water, less dust impacts.' But as it recedes and dries again, it could lead to more dust," Alpert said. 
A 2 ½-hour drive north is Mono Lake — the most protected salt lake in the American West — where this season's heavy flows could accelerate its restoration.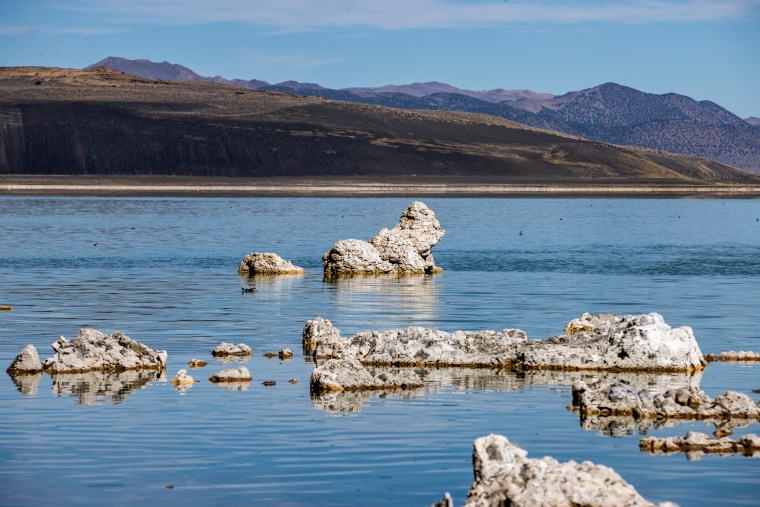 The Mono Lake Committee, a nonprofit environmental organization, expects the lake to rise more than 5 feet this summer. 
The Mono Lake Committee was formed in the 1970s to help prevent the lake from following in Owens Lake's footsteps. Mono Lake provides habitat for important saltwater species, including brine shrimp and brine flies, and is also a critical stopover for millions of migratory birds each year. The committee succeeded in court in 1983 and was able to restrict the amount of water the Los Angeles Department of Water and Power can pull from the lake. 
In the 1990s, the California State Water Resources Control Board set a target elevation for the lake at 6,392 feet above sea level. In April, before the snowmelt, the lake remained about 12 feet below that mark. 
Geoff McQuilkin, the committee's executive director, blames climate change, in part, for the shortfall, saying that longer droughts and "climate whiplash" have slowed progress. 
He's pushing for further changes to LADWP's diversion, arguing that the state should seek to preserve the gains from this winter. 
"We're pretty worried about the condition of the lake," McQuilkin said. "This past winter, like at the Great Salt Lake, is giving us a reprieve — a little extra time to figure things out."