Wildlife officials on Tuesday accused an American tourist of killing Cecil, one of the oldest and most famous lions in Zimbabwe, without a permit after paying $50,000 to two people who lured the beast to its death.
The lion was lured out of Hwange National Park using a bait and was shot by Walter James Palmer with a crossbow, Johnny Rodrigues, chairman of Zimbabwe Conservation Task Force, told reporters.
Rodrigues said Palmer paid Zimbabwean hunter Theo Bronkhorst and Honest Ndlovu, a private game park owner, to lure the 13-year-old Cecil. Bronkhorst and Ndlovu will face poaching charges on Wednesday in Hwange for the killing of the lion on July 1, Rodriguez said.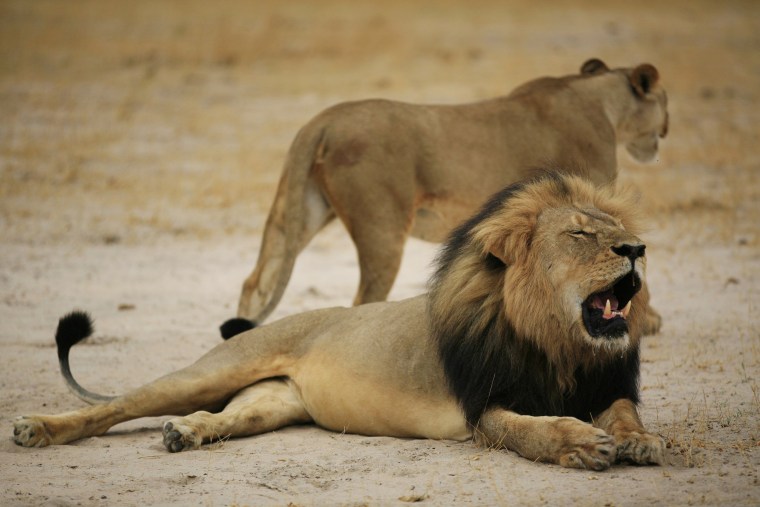 Palmer responded to the allegations in a statement Tuesday provided to NBC News, saying that he had the correct permits, worked with local guides, and had no reason to question the legitimacy of the hunt until after it was over.
"In early July, I was in Zimbabwe on a bow hunting trip for big game. I hired several professional guides and they secured all proper permits. To my knowledge, everything about this trip was legal and properly handled and conducted," Palmer said in the statement. "I had no idea that the lion I took was a known, local favorite, was collared and part of a study until the end of the hunt. I relied on the expertise of my local professional guides to ensure a legal hunt.
"I have not been contacted by authorities in Zimbabwe or in the U.S. about this situation, but will assist them in any inquiries they may have," Palmer said. "Again, I deeply regret that my pursuit of an activity I love and practice responsibly and legally resulted in the taking of this lion."
Cecil was a popular attraction at the Hwange National Park and had featured in many photographic shoots. Zimbabwe issues annual permits allowing foreign hunters to kill wildlife like the elephant, buffalo and lion, saying this allows it to raise money for conservation.