PANAMA CITY, Fla. — In 2018, Hurricane Michael flattened Tyndall Air Force Base in the Florida Panhandle. It was one of only four Category 5 hurricanes to ever hit the U.S. 
Now, almost four years to the day, the sound of construction adds to the disorienting and sometimes overwhelming sound of fighter jets taking off to run morning drills. Tyndall, a military installation of almost 30,000 acres that once housed almost 3,000 people, is being rebuilt as a first-of-its-kind base meant to withstand stronger storms and the worsening effects of climate change.
Even in the office of Col. George Watkins, the commander of the 325th Fighter Wing at Tyndall, a large thud is heard about every five seconds from the construction of a nearby hotel. His office is scattered with blueprints and models of what is being coined "the installation of the future."
The rebuild is the largest military construction project ever awarded by the Defense Department. The base is expected to be fully finished near 2026 and is estimated to cost around $5 billion.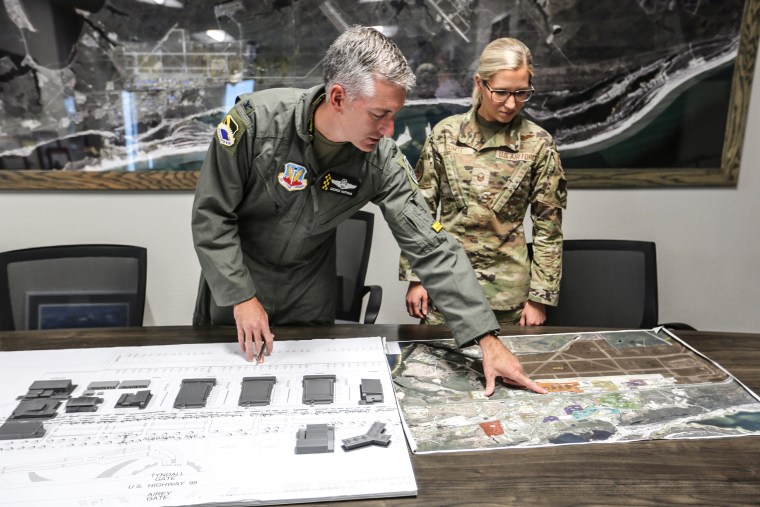 "We're focused on making sure that as we rebuild, that the base is resilient, and that we can continue this mission here for many, many years," he said in an interview.
The base serves a mission that can only be trained here on Florida's sunny beaches. It's the only airspace in the country where the Air Force can train fighter pilots to shoot down fake fighter jets in the sky and from the ground with rockets. The debris falls into the gulf of Mexico and is retrieved to be reassembled and reused.
"Tyndall has been kind of the heart of air dominance," Watkins said. "It's the core of our air power for our fighter aviation."
The notion that such an integral part of U.S. air power could be destroyed by a storm highlights the threat that climate change poses to the military. While some parts of the U.S. government and private sectors have been slow to respond to climate threats, climate risk analysis has become a major part of the military's preparations for the future. The Pentagon called climate change a risk to national security, and the Army released a climate strategy guide in February that included "a roadmap of actions that will enhance unit and installation readiness and resilience in the face of climate-related threats." 
Tyndall is now being rebuilt to withstand those enhanced threats.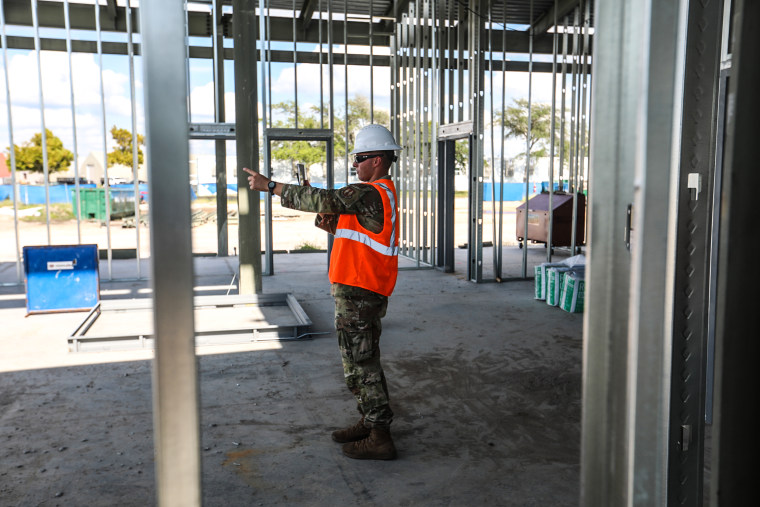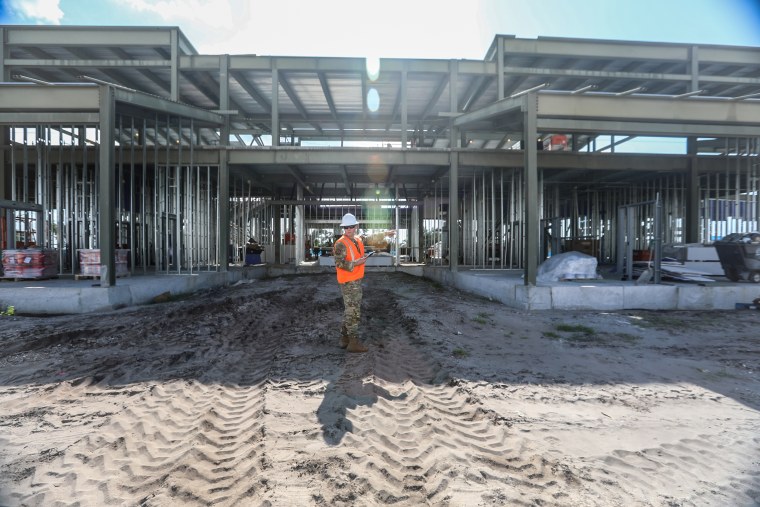 Scattered between makeshift airplane hangers and temporary office structures, new buildings are going up that are stronger than what was here before. Air Force engineers built new standards into what now just looks like the bones of a building. Those bones eventually will wear an armor of materials meant to withstand a Category 5 hurricane.
"We're trying to be innovative; we're trying a lot of new projects," Watkins said. "Some of them will be successful and will carry over to how we build Air Force bases in the future and how we do coastal resiliency in the future, not just on Air Force bases."
Combined with stricter building codes, the rebuild is using the base's natural habitat as a first line of defense against powerful storms. Tyndall sits on a peninsula, making it particularly vulnerable to storm surge, flooding and wave erosion if a strong storm directly hits its coast.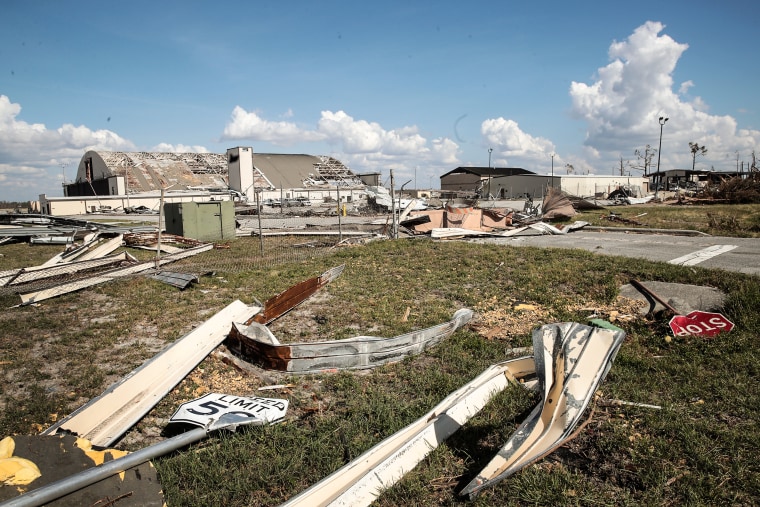 A utility terrain vehicle ride past the bay and out to a barrier island shows just how expansive the 129-mile coastline restoration project has become.
Col. Robert Bartlow, the chief of the Natural Disaster Recovery Division within the Air Force Civil Engineer Center, and his team were tasked with exactly how to use the Florida coast's powdery beaches to their advantage. 
"The natural environment provides that first line of defense against storms," he said.
Included in that first line of defense will be a salt marsh enforcement, a built-out shoreline, a protective oyster reef and reinforced sand dunes.
Walking toward the sand dunes, Bartlow joked about being in engineering school never thinking he'd be working with a natural environment.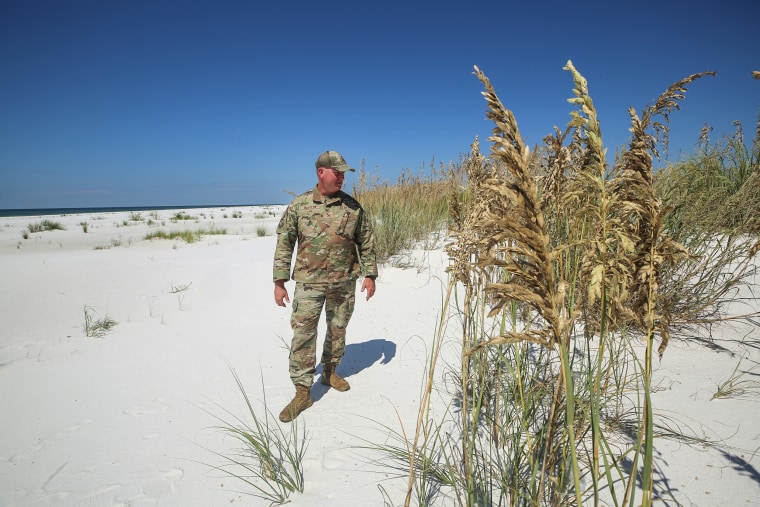 "It's not something we traditionally do in Air Force civil engineering," he said. Now, maneuvering around sea oats (the coastal plants that dot the area), he explained they are "the glue that holds these dunes together." 
"When a storm comes through and the storm surge comes in, having these dunes built up provides a natural barrier against that storm surge ... and protects the base that sits on the other side," he said.
Going beyond physical measures, the Defense Department asked Air Force engineers to develop new technology that helps forecast threats from future storms. Lt. Nicholas Cap, the chief of innovation within the Natural Disaster Recovery Division, showed off through a virtual reality headset what they developed.
The technology, known as the base's "digital twin," aggregates every planning and design detail of the rebuild and allows engineers to use virtual and augmented reality to prepare for challenges before they occur.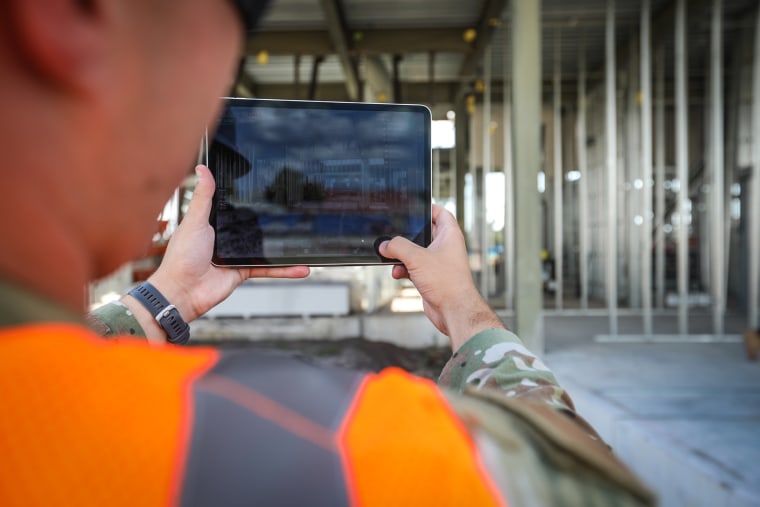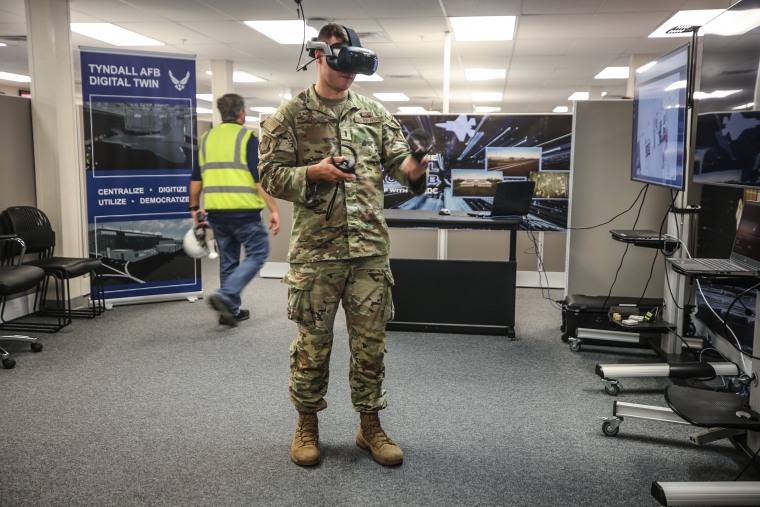 Cap is able to interact with the new hangers, which will house F-35 fighter jets next year. 
"I can now look and see, OK, we know the storm is going to be a Category 3. … Let's run it through the base on the digital twin and see, OK, these facilities are able to withstand that," he said. "Instead of being reactive, it allows us to be proactive to future threats."
Watkins said the Air Force plans to use what it learns from Tyndall to help establish best practices for fortifying nonmilitary buildings along the Florida coast.
"I certainly hope that what we do here and what we learn here can be scaled and can be shared," Watkins said. "There's a lot of pressure to be critical of what we do and make sure that we're doing it in the right way … so that we can share that with other communities, and other other installations around the coastline."