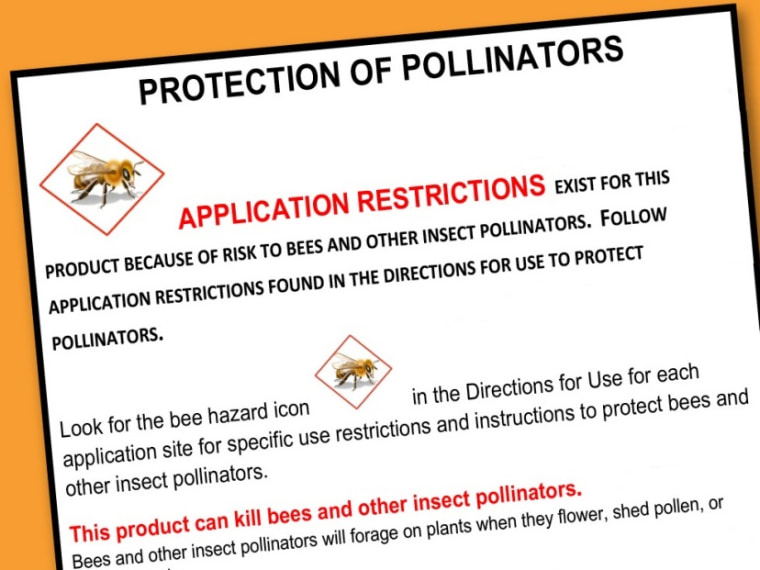 The Environmental Protection Agency has unveiled new labels that prohibit the use of some of the controversial pesticides containing neonicotinoids where bees are present.
"Multiple factors play a role in bee colony declines, including pesticides. The Environmental Protection Agency is taking action to protect bees from pesticide exposure, and these label changes will further our efforts," Jim Jones, assistant administrator for the agency's Office of Chemical Safety and Pollution Preventions, said Thursday in a news release.
The new labels have a bee advisory box and an icon with information about routes of exposure and precautions that should be taken to reduce spray drift. The label says in red letters, "This product can kill bees and other insect pollinators."
The EPA said it would work with pesticide manufacturers to change their labels so that they meet federal standards.
The labels would be used for products containing imidacloprid, dinotefuran, chlothianidin and thiamethoxam — four of the most widely used neonicotinoids. Such chemicals kill insects with a nerve-poisoning effect. They're controversial because several scientific studies have suggested that even sublethal exposure can harm bee health and contribute to colony collapse disorder.

In May, the EPA and the U.S. Department of Agriculture issued a report concluding that colony collapse disorder was caused by a complex combination of factors, including pesticides as well as parasitic Varroa mites, the Nosema gut parasite, viruses and bacterial diseases, poor nutrition and reduced genetic diversity. The report also called for more research into the effects of neonicotinoids on bees.
Meanwhile, the European Commission is implementing a ban on the use of neonicotinoids. The EPA is facing a federal lawsuit seeking limits on their use in the United States as well. Concerns about the chemicals have become more widespread since June, when tens of thousands of bumblebees were killed in an Oregon parking lot due to the improper use of a pesticide containing dinotefuran.
In its news release, the EPA noted that it recently released new guidance to law enforcement officials "to enhance investigation of bee-kill incidents."
The EPA's action on pesticide labeling came just a day after the Friends of the Earth and the Pesticide Research Council released a report raising questions about neonicotinoids in plants sold by garden stores. Lisa Archer, food program director of Friends of the Earth, said in a written statement that the EPA's new labels are "a step in the right direction," but still fall "far short of what is needed to protect bees and other pollinators from pesticides that a growing body of evidence show are harming and killing them."
"It's unclear from the EPA press statement and website if consumer products containing neonicotinoids, or plants pre-treated with these pesticides, would be required to carry this label," Archer said. "These products must be labeled."
More about the bees:
Alan Boyle is NBCNews.com's science editor. Connect with the Cosmic Log community by "liking" the NBC News Science Facebook page, following @b0yle on Twitter and adding +Alan Boyle to your Google+ circles. To keep up with NBCNews.com's stories about science and space, sign up for the Tech & Science newsletter, delivered to your email in-box every weekday. You can also check out "The Case for Pluto," my book about the controversial dwarf planet and the search for new worlds.