No one should be surprised if a magnitude-9 megaquake erupts off America's West Coast — or anywhere else around the Pacific Ocean's "Ring of Fire," for that matter.
That's the upshot of a study in October's issue of the Bulletin of the Seismological Society of America: Researchers say that computer models of future seismic activity, plus a check of past activity going back thousand of years, suggest most of the Pacific's earthquake zones are capable of generating shocks at least as strong as magnitude 9 every 10,000 years on average.
Seismologists were surprised in 2004 when a magnitude-9.3 quake and tsunami devastated Sumatra and caused more than 200,000 deaths around the Pacific Rim. They were surprised again in 2011 by Japan's 9.0 quake and tsunami, which killed more 15,000 people and touched off a nuclear catastrophe that continues to this day.
In each case, experts didn't think the area where one geological plate is diving beneath another — known as a subduction zone — was capable of generating a quake that strong.
Talking about probabilities
A research team led by Yufang Rong, a seismologist at FM Global's Center for Property Risk Solutions, addressed the bigger picture: They ran computerized Monte Carlo simulations using historical seismic data from subduction zones around the Pacific to estimate the maximum earthquake magnitude over a variety of time spans.
In addition to coming up with the 10,000-year figure for the probability of 9.0 quakes, they estimated that quakes of at least magnitude 8.5 should be expected at least every 250 years, and 8.8 quakes should be expected every 500 years.
In a news release, Rong cautioned that those figures were merely estimates based on statistical distribution. "Just because a subduction zone hasn't produced a magnitude 8.8 in 499 years, that doesn't mean one will happen next year," she said. "We are talking about probabilities."
The estimates don't apply to land-based seismic faults such as the ones that gave rise to last month's 6.0 quake in Napa, California. Nor do they apply to California's more famous San Andreas Fault. But they do apply to the Cascadia subduction zone that lies off the coast of Washington state. That area is known to have given rise to a magnitude-9ish quake back in the year 1700 — a temblor that set off a tsunami so large it raised sea levels on Japan's coast.
Catastrophe in Cascadia?
If such a quake were to hit today, experts estimate that it could kill more than 10,000 people and cause $80 billion in damage in Oregon and Washington alone.
John Vidale, director of the Seattle-based Pacific Northwest Seismic Network, told NBC News that the newly published research was "pretty much in line" with what he and his colleagues have expected from the Cascadia subduction zone.
Rong and her colleagues compared their figures with the sedimentary record for the Cascadia zone, and came up with estimates that were somewhat different for that area. They said that 9.0 quakes should be expected every 1,000 years for Cascadia, with 9.3 quakes over a 10,000-year period.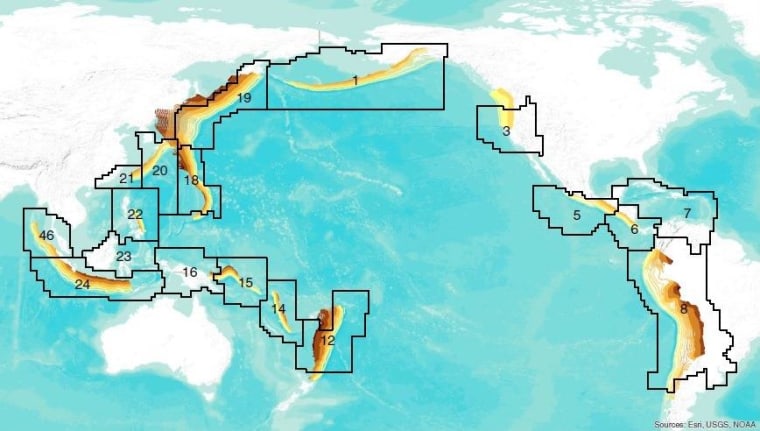 "In a sense, it's a check on their methodology," Vidale said. "A 9 every 500 to 1,000 years is already about what we expect in Cascadia."
Vidale said the bottom line from the latest research is that "we know less than we claim about how big different earthquakes can be in different parts of the world."
That means the traditional way of designing structures to be earthquake-proof may have to change. In the wake of 2011's Japan earthquake and the Fukushima nuclear disaster, experts and regulators are already coming around to the concept of "expecting the unexpected."
"They may have been designing for the most likely number, but there could be a bigger earthquake that comes along. ... It's going to be hard to rule out a 9 in a lot of places," Vidale said.