Unusually warm waters in the Caribbean Sea are fueling what some scientists say is the region's worst episode of coral bleaching ever recorded — yet another worrisome development in what has been an off-the-charts year of warmth for the world's oceans.
Reefs in and around the Caribbean are experiencing high levels of heat stress, according to researchers at the National Oceanic and Atmospheric Administration, stoking fears that widespread bleaching could lead to a catastrophic die-off of corals in the area. It comes on the heels of one of the worst bleaching events ever seen off Florida.
"Florida is just the tip of the iceberg," said the coordinator of NOAA's Coral Reef Watch Program, Derek Manzello, a coral reef ecologist. "The entire Caribbean right now is bleaching. If you picked a random spot on the map in the Caribbean and jumped in the water, you're going to see bleached corals."
Warm conditions are expected to linger in the Caribbean Sea in the coming weeks, while the Southern Hemisphere also transitions out of winter and into warmer spring temperatures. All told, it may be the start of what's known as a global bleaching event, Manzello said, which is characterized by widespread coral bleaching in all three ocean basins: the Atlantic, the Pacific and the Indian.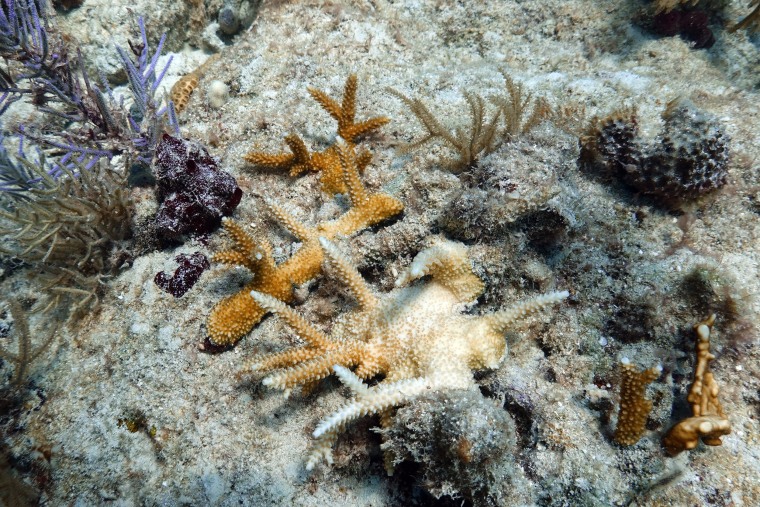 The last such global event occurred from 2014 to 2017 — a period that, like this year, also featured the return of El Niño conditions, a natural climate cycle that can compound background warming from climate change, often boosting average air and sea temperatures.
Even with El Niño, the intensity of the marine heat waves, particularly off Florida, and their longevity came as a surprise, said Ian Enochs, a research ecologist at NOAA's Atlantic Oceanographic and Meteorological Laboratory.
Heat-induced bleaching occurs as a stress response to abnormal conditions, triggering corals to expel tiny photosynthetic algae that live in their tissues. That causes the colorful corals to turn an eerily "bleached" white hue.
Bleaching doesn't necessarily cause corals to die, but the process weakens reefs and makes the marine invertebrates more susceptible to disease.
Sea surface temperatures around the world have smashed records in recent months, with some of the biggest and most persistent temperature spikes having been recorded in the North Atlantic Ocean, the Gulf of Mexico and the Caribbean basin. Over the summer, sea surface temperatures off Florida peaked over 90 degrees Fahrenheit and stayed elevated for weeks on end.
Part of Enochs' research has focused on Cheeca Rocks, a reef within the Florida Keys. For more than a decade, Enochs has been monitoring the site, collecting data to compile 3D models of changes to the reef over time. This year, he said, Cheeca Rocks experienced 100% bleaching, with not a single part of the reef left unaffected.
"I have never ever seen anything to this extent at Cheeca Rocks," he said. "We were experiencing heat stress levels that were double what we've ever experienced before at Cheeca Rocks. If that is not alarming in terms of the magnitude of this, I don't know what is." 
Phanor Montoya-Maya, a marine biologist and restoration program manager at the Coral Restoration Foundation, a nonprofit ocean conservation organization, said marine heat waves were so intense this year that many corals didn't have a chance to adjust.
"On those occasions where the temperature went up so quickly, they didn't even have time to bleach. They were burned to death," Montoya-Maya said.
The Coral Restoration Foundation works to raise genetically diverse corals in nurseries and then plant them on reefs around the globe. The goal, Montoya-Maya said, is to increase live coral cover on reefs to build back populations and boost their resilience.
The situation in the Caribbean isn't yet as dire as it is off Florida. But, Manzello said, the bleaching event is still going on, and the full extent of this year's record warmth may not be clear for months to come. What is apparent, however, is that the long-term trends are cause for alarm.
"It's concerning because every time we've had a global bleaching event, they keep getting worse and worse," he said.
Still, amid such ecological devastation, Enochs said, there is reason for optimism.
"There's not much worse than the death of these important species, but at the same time, I have been truly surprised that we have not seen more destruction as of yet," he said. "There's been a whole bunch of mortality and death, but we have seen some recovery as water temperatures have dropped down. And that, to me, it means that in the face of all of this, there's still hope."